Instant Pot Chicken Breast Recipe [VIDEO]
Instant Pot Chicken Breast is juicy, moist, and flavorful easily made using the pressure cooker. This dish comes in handy whenever additional protein is needed for your diet!
I like to pair this simple but tasty treat with my other dishes like the Quinoa Salad, Mexican Black Bean Salad, and Cheesy Potatoes!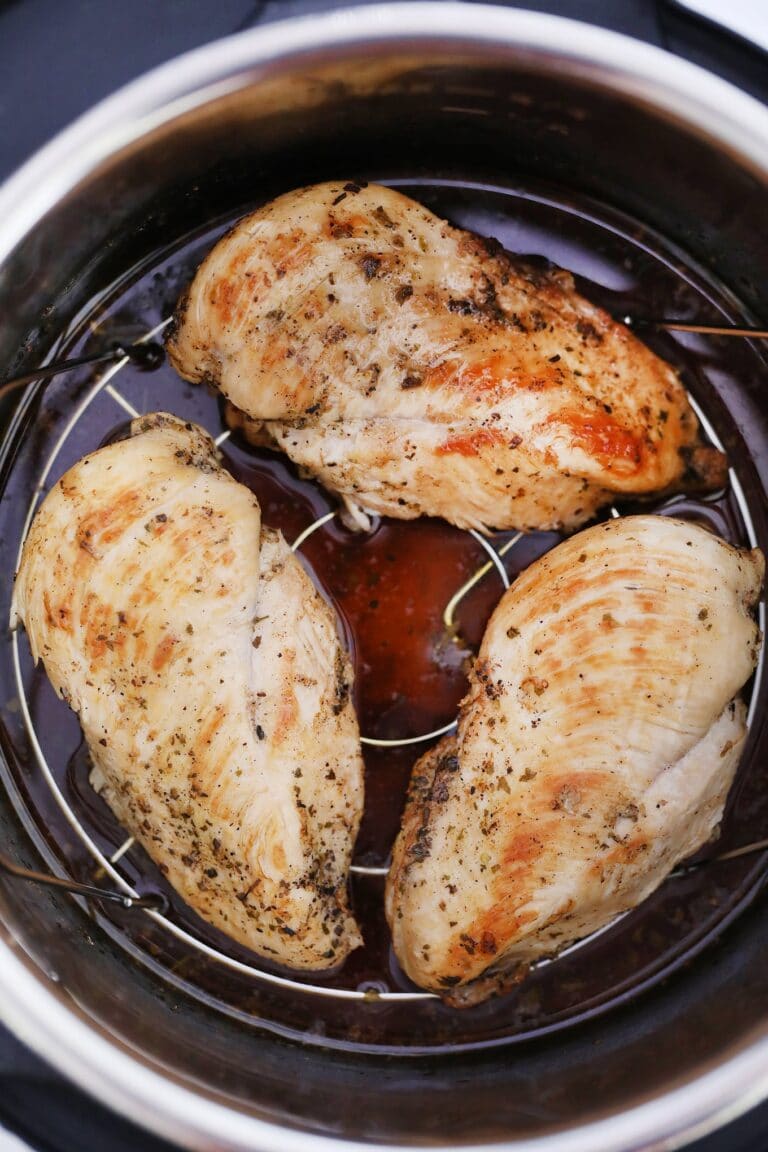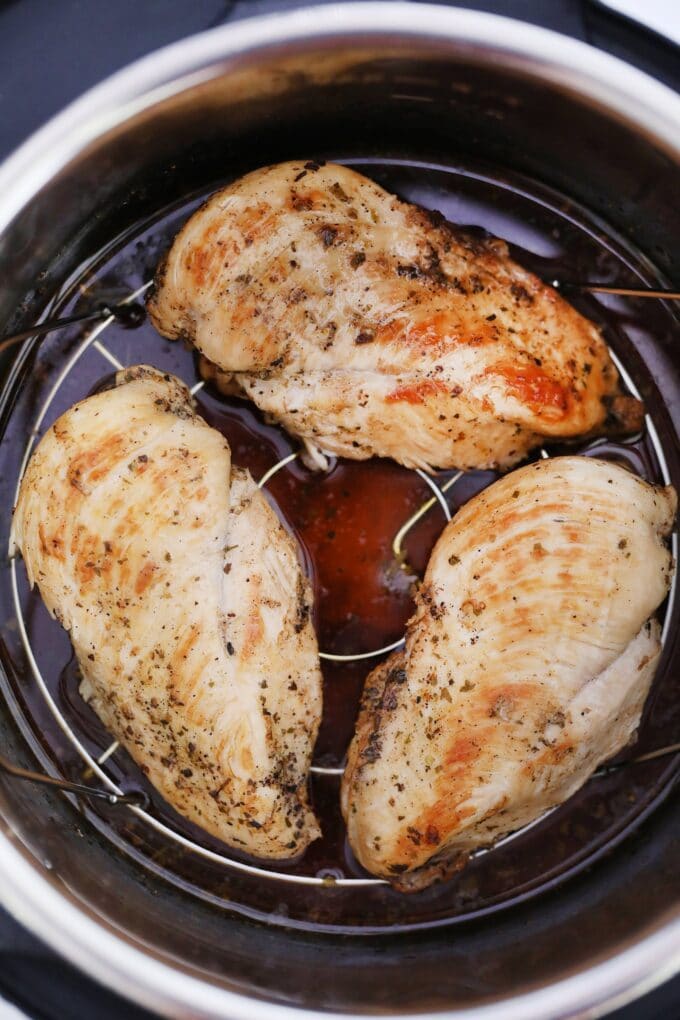 Perfect Instant Pot Chicken Breast
Chicken Breast in Instant Pot is something I prepare when I just want to have a simple meal or when I need to have cooked white meat to add in my other recipes. What comes out of this easy recipe is a tender and juicy meat that is packed in flavor in health benefits.
If you want to elevate your salad or pasta, you can simply add bits of this dish. Another great thing about using the pressure cooker is that I can prepare this while I use my stove and oven for other dishes. Not only will I have perfectly done white meat with little effort, but I can also make a whole lineup of dishes in no time!
How to cook chicken breast in instant pot?
For a quick and easy tutorial, watch the recipe video attached above. But the general steps are as follows:
Season: Season the meat first with spices and herbs for a savory flavor that compliments the meat.
Sauté: Turn on the sauté function of the IP and add oil to the pot. Brown each side of the breasts then, remove from the pot.
Pressure-Cook: Put the trivet and liquid in the bottom of the pot. Place the meat on the trivet and cook on high heat.
Pressure Release: Naturally release the pressure for five minutes and then, do a quick pressure release.
Rest: Let the meat rest for another five minutes before serving with lemons.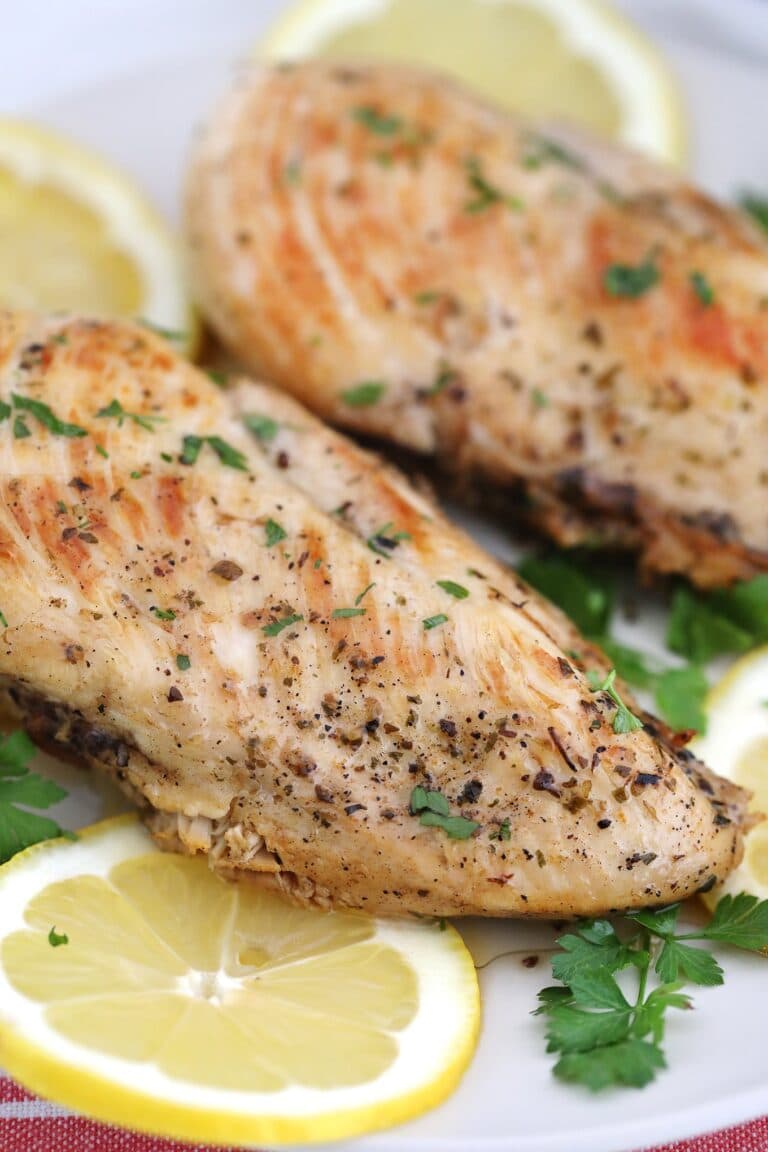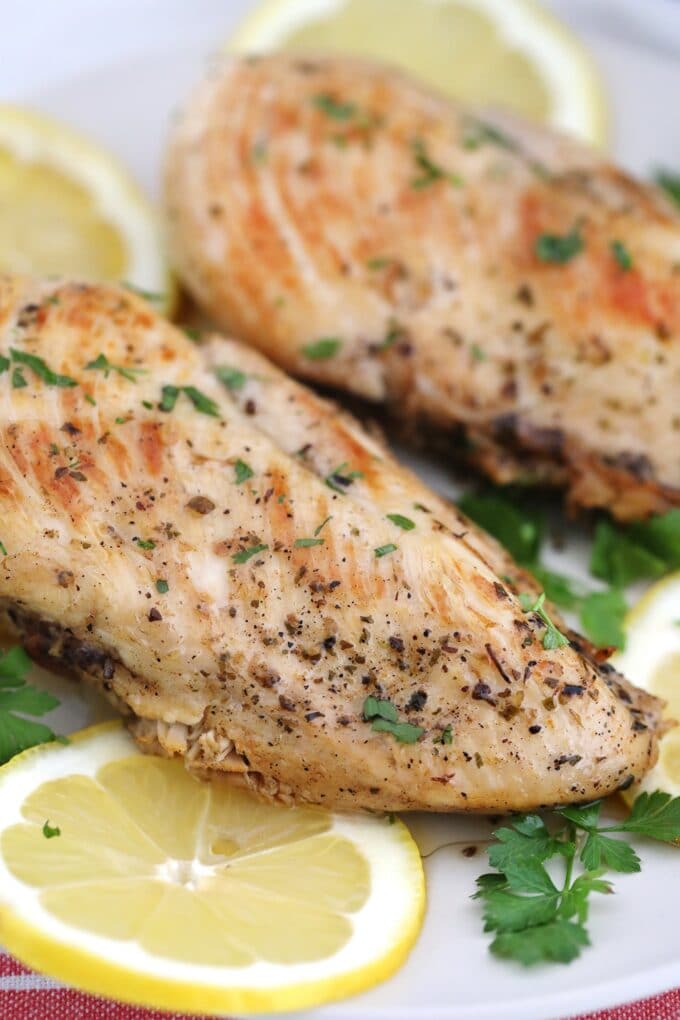 How to cook frozen chicken breast in the instant pot?
This recipe is for fresh or thawed white meat. If you want to know how to make frozen chicken breast in the Instant Pot, check my other recipe. This makes it easy to prepare frozen meat when you forgot to remove it from the freezer!
How long to cook Chicken Breasts in Instant Pot?
The meat must reach up to 165 degrees Fahrenheit and in the IP, it will need 5 minutes on HIGH for whole breasts of about 6 to 8 ounces. This set time will be different for halved ones.
For frozen breasts:
Cooking frozen ones will add another 5 minutes at the very least to build up the pressure and another 3 to 5 minutes to cook. Therefore, you should add about 10 minutes of extra cooking time for frozen once.
Also, once cooked, you can check the internal temperature of the meat. If it did not reach the desired temperature of 165 degrees F, then feel free to cook it for a few extra minutes.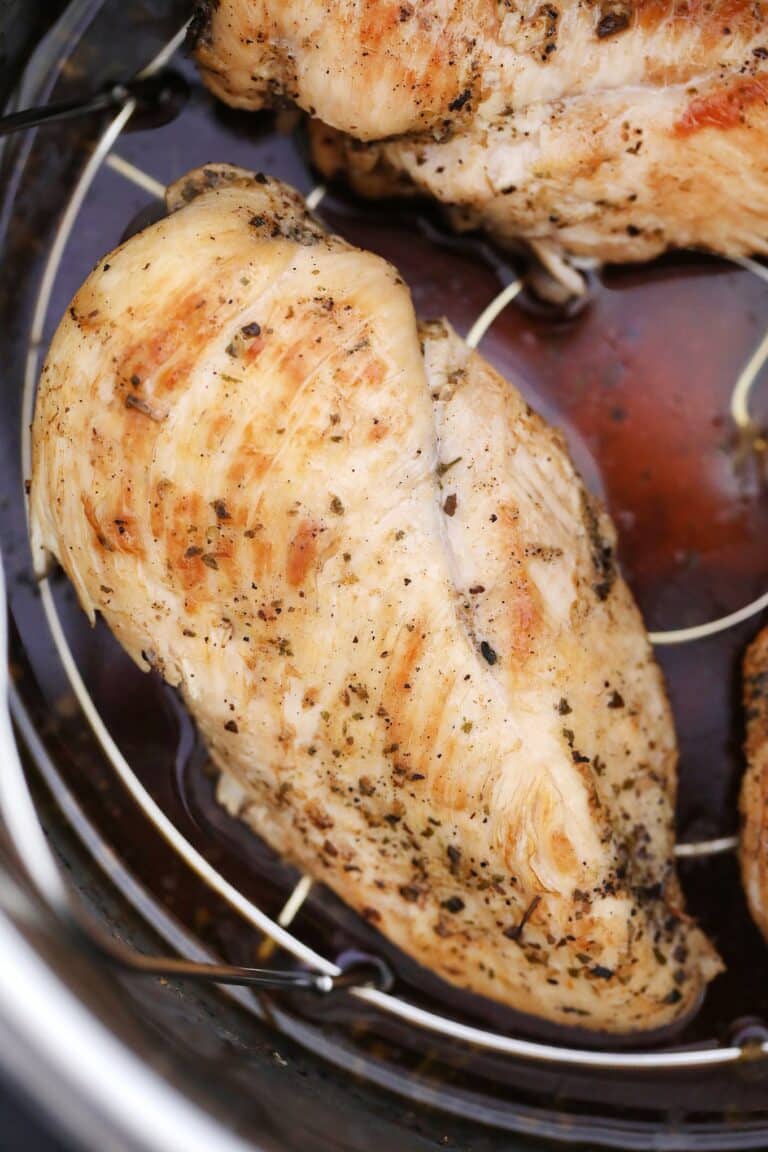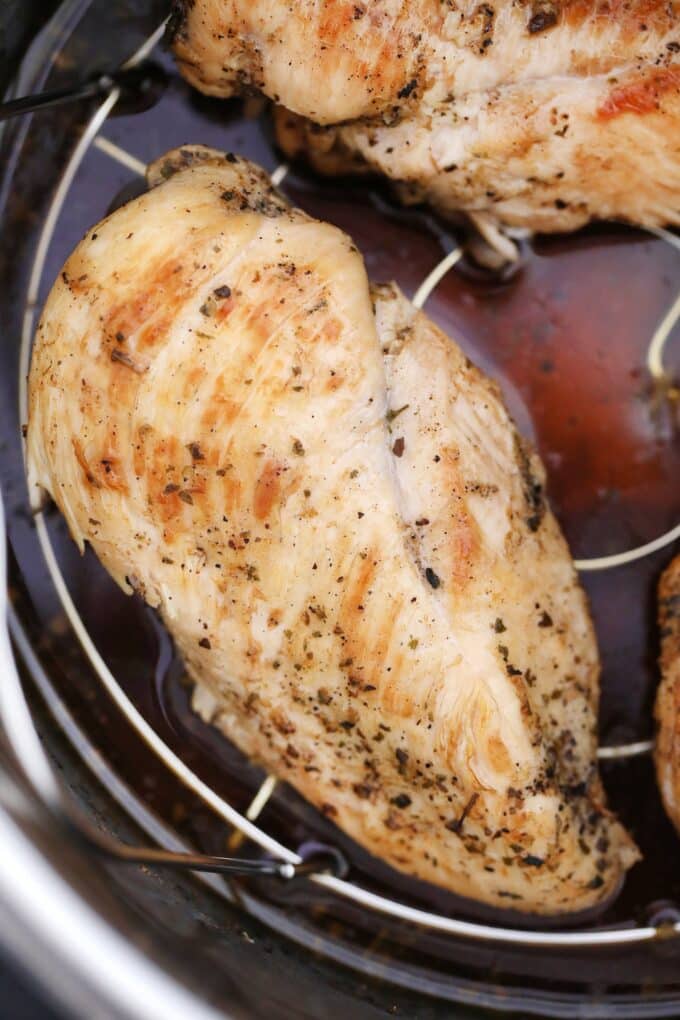 How to make juicy and moist chicken breast in the pressure cooker?
This recipe ensures that the meat will be tender and juicy. Sautéing it first locks in as much flavor and juices and the high pressure tenderizes the meat without drying out because of the liquid added.
In addition, cooking it under pressure, it will almost automatically make it juicier and more flavorful.
How much liquid do you need to add to the instant pot?
To generate enough steam to build pressure. For best results, we suggest going with about 1 1/2 cup of water or 375 mL.
Can you stack chicken in the instant pot?
Yes, you can, but it is not recommended. This will work with fresh meat, but for frozen ones, you should only put all the pieces in one layer. The frozen pieces need space and air to thaw out quickly when under pressure, therefore it is best to arrange the pieces in one layer.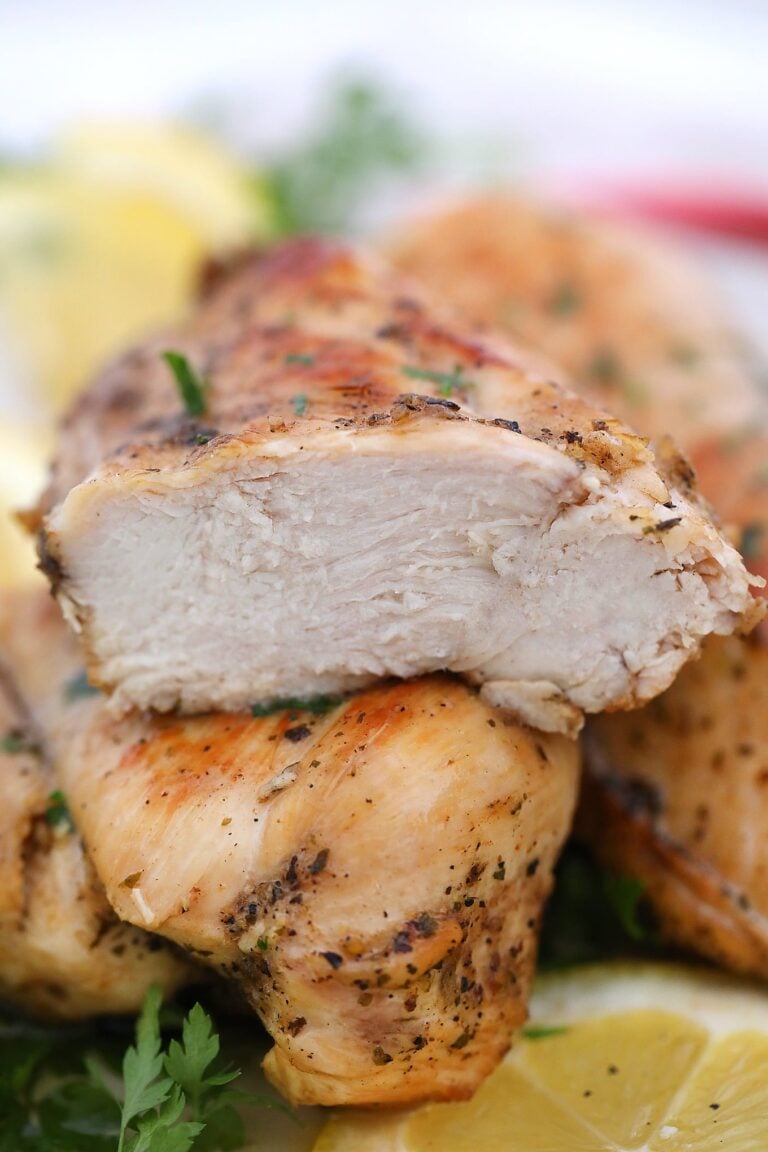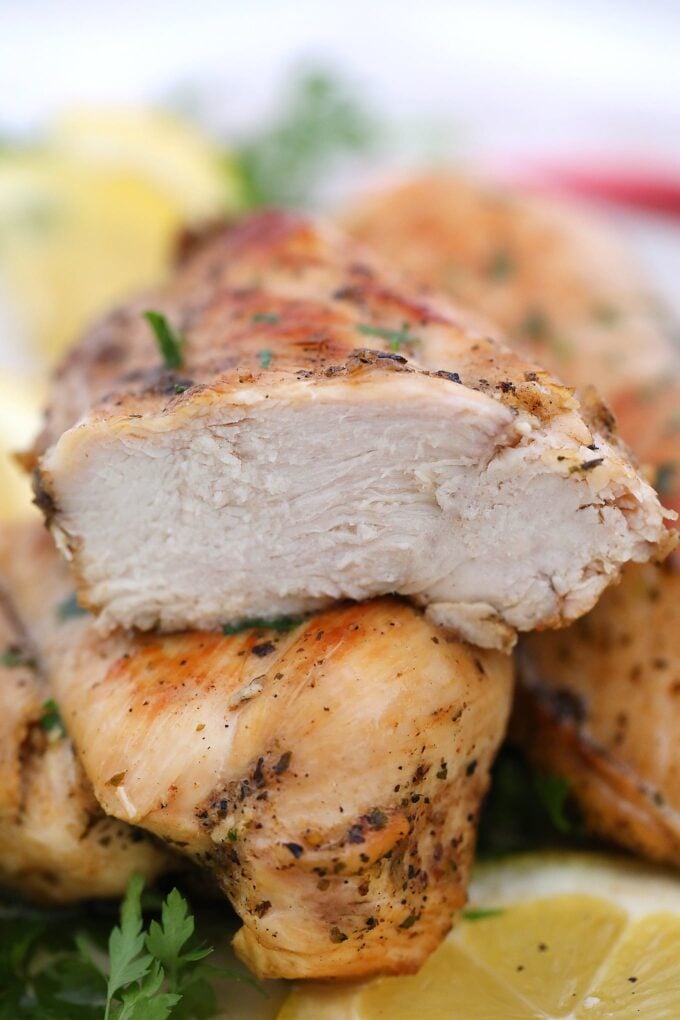 How do you instantly release an instant pot?
Unlike the NPR which will require additional waiting time, you can do the Quick Pressure Release (QPR). In QPR, you open the valve and turn it to vent. At once, steam will escape along with some hot liquid if the pot is full. Hence, this mode is not advisable to use when dealing with a lot of liquid in your IP as in soups.
What is Natural Pressure Release?
Natural Pressure Release (NPR) is what you let the pressure inside the IP dissipate on its own. The IP turns to Keep Warm mode and eventually, the valve will naturally float or become easy to open. You may unplug the IP to do NPR. The more liquid there is inside the pot, the longer it will take to release all the pressure.
Instant Pot Chicken Breast Recipe Tips:
For the liquid, you can use water or something flavorful like chicken broth or pineapple juice.
Once done, do not discard the liquid at the bottom of the pot just yet. You can make a gravy out of it! Remove the trivet and the breasts, then, turn the mode of the IP to SAUTÉ. Let the liquid boil some more and add slurry made with cornstarch and water. Let it thicken then, serve.
This dish is highly versatile. You can use this to add in our other recipes like Chicken A La King, Waldorf Chicken Salad, and Chicken Divan.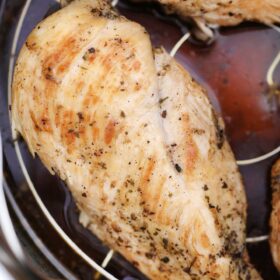 Instant Pot Chicken Breast
Instant Pot Chicken Breast is juicy, moist, and flavorful easily made using the pressure cooker. This dish comes handy whenever additional protein is needed for your diet!
Save
Share
Print
Pin
Rate
Ingredients
3

tablespoons

canola oil

4

boneless

(skinless chicken breasts, thawed)

1

cup

water
Seasoning:
1

teaspoon

garlic powder

1

teaspoon

onion powder

1/2

teaspoon

salt

1/4

teaspoon

black pepper

1/4

teaspoon

dried oregano

1/4

teaspoon

dried basil

1/4

teaspoon

dried parsley

1/4

teaspoon

paprika
Instructions
Combine all the seasoning ingredients in a shallow bowl.

Pat dry chicken breasts and toss in the seasoning to cover all sides. Set aside.

Select the sauté function on the Instant Pot at the highest setting.

After the display reads Hot, add oil to the pot and wait for it to start sizzling.

Carefully add the chicken breasts and cook about 3 to 4 minutes on each side, until golden-brown. Remove from pot with tongs and set aside on a plate.

Add 1 cup water if using a 6 qt pot ( 1 ½ for 8-quart pot), and place a trivet inside the pot.

Arrange the chicken on the trivet.

Lock the lid, point valve to sealed and cook on high pressure for 5 minutes, followed by 5 minutes natural pressure release. Then, quick release the rest.

Remove the chicken from the pot, and allow to rest for about 5 minutes before serving.

Serve with lemon slices.
Nutrition
Calories:
355
kcal
|
Carbohydrates:
1
g
|
Protein:
48
g
|
Fat:
16
g
|
Saturated Fat:
2
g
|
Cholesterol:
144
mg
|
Sodium:
557
mg
|
Potassium:
845
mg
|
Fiber:
0
g
|
Sugar:
0
g
|
Vitamin A:
130
IU
|
Vitamin C:
2.7
mg
|
Calcium:
11
mg
|
Iron:
0.9
mg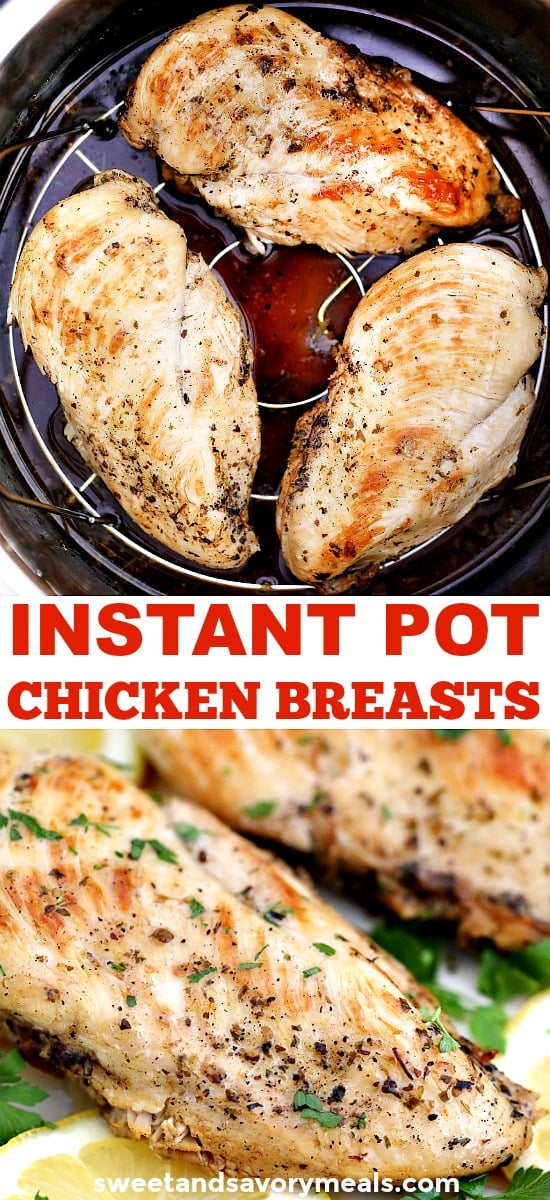 More recipes you might love