How to Have a Spa Session at Home
Essentials for  successful and stress free Spa Session at Home with fresh vitamin C packed juice and a light fruit salad to brightened your day.
How are you guys doing? I am actually looking at the rainy weather and counting the days to our trip to Mexico at the beginning of May. During cold and rainy days all I want is to be wrapped under a blanket and sleep or to gift myself a Spa Session at Home which sounds so much better.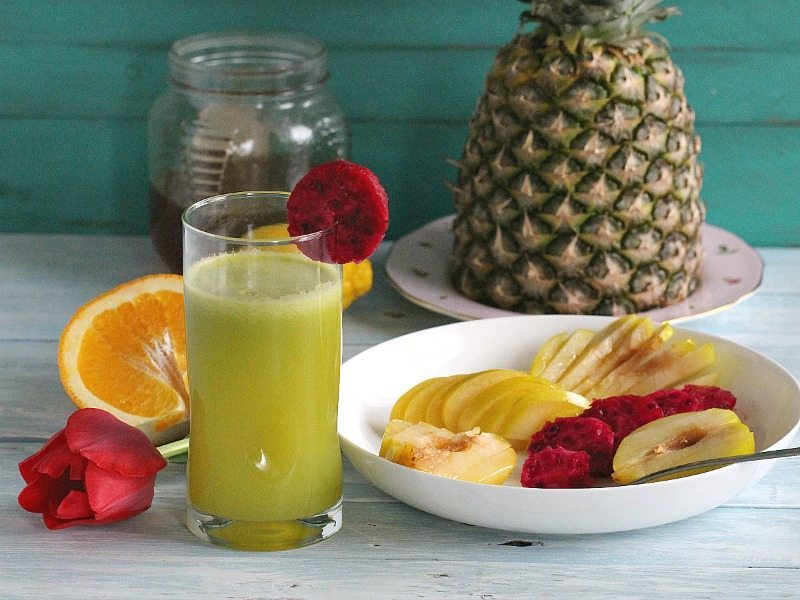 For our upcoming trip to Mexico I have made an effort to eat healthier and to exercise regularly, this definitely had a positive impact on my body and skin. Still, I have very sensitive and actually dry skin so from time to time, I try to reward myself with a Spa Session at Home where I can concentrate on my facial routine.
I usually prepare a fresh squeezed juice from pineapple, oranges, lemon and cucumber for a boost of vitamin C which is amazing for skin especially during this cold weather. The pineapple and oranges add enough sweetness and I love the freshness and the detoxifying effect of the cucumber.
Since I have sensitive and dry skin not all the products are a good match. That's why I love using Dove White Beauty Bar, since it has a 1⁄4 moisturizing cream for soft, smooth and radiant skin. The Dove White Beauty Bar is a creamy cleanser, since Dove is not a soap it is proven to be more gentle and milder than soap. Dove Beauty Bars are also hypoallergenic, noncomedogenic and mild enough for use on both the face and body. I love using it on my skin and on my baby, for a soft and healthy looking skin.
I love having this type of Spa Session at Home since they relax me and I end up with radiant, soft and clear skin.
During my home spa sessions, I usually make a light salad too, this time I went for a simple combo of golden yellow plums, prickly pear, topped with a drizzle of honey and lemon juice. What I like about these sessions is that even if you are a busy mom with an active toddler you can still have them while they nap, or you can include them and teach them about the importance of grooming while still having fun.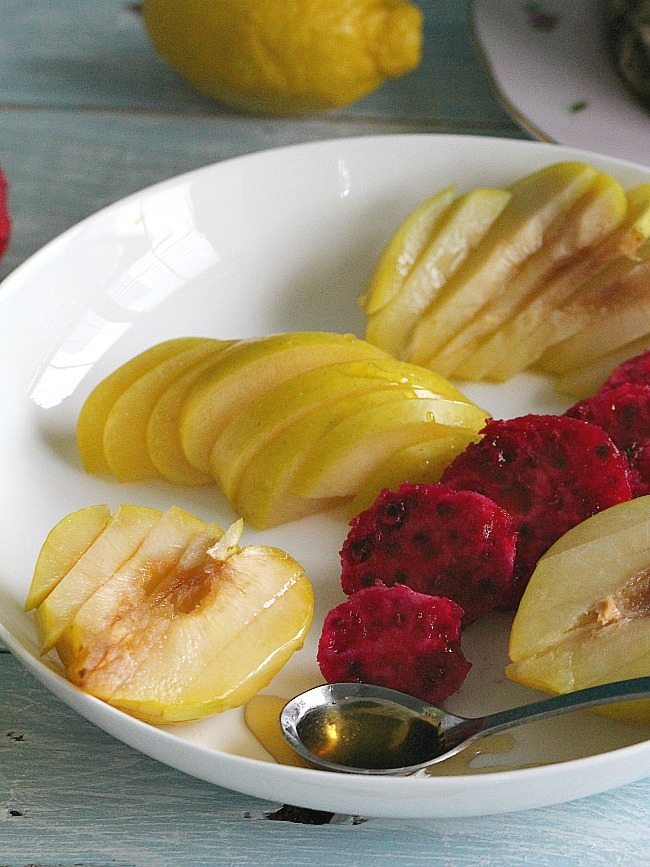 Here are my essentials for a successful and easy to put together Spa Session at Home :
A refreshing and nutrients filled fresh juice
A fruit salad
Relaxing music
Warm towels, just put them in the dryer for 10 minutes
A gentle face scrub
Dove White Beauty Bar for sensitive skin
A face mask
A toner for your skin type to be applied after you cleaned your face
A day or night cream to apply at the end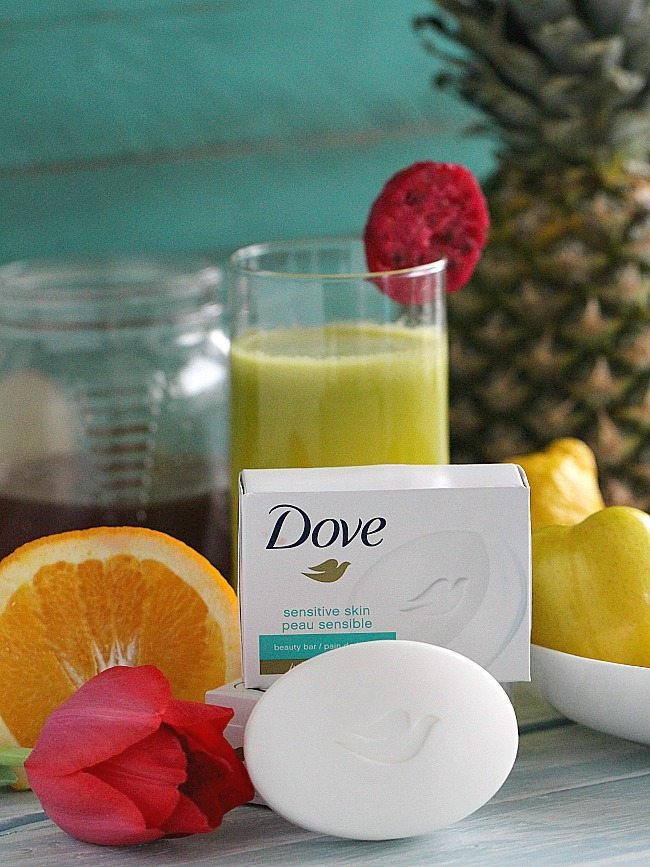 This is how I take care of my face during winter, stay tune to see my detailed body care routine.
Spa Session at Home: Juice and Salad
Essentials for successful and stress free Spa Session at Home with fresh vitamin C packed juice and a light fruit salad.
Author:
Katalina Kastravet
Ingredients
Juice:
1 cup chopped pineapple
1 orange, peeled
2 cucumbers
1 lemon
Salad:
3 golden plums, sliced
1 prickly pear, peeled and sliced
drizzle of honey
drizzle of lemon juice
Instructions
Juice:
Add all the ingredients to the juicer. Discard any foam, pour into a glass for serving.
Salad:
Arrange the fruits on a plate, drizzle with honey and lemon juice.