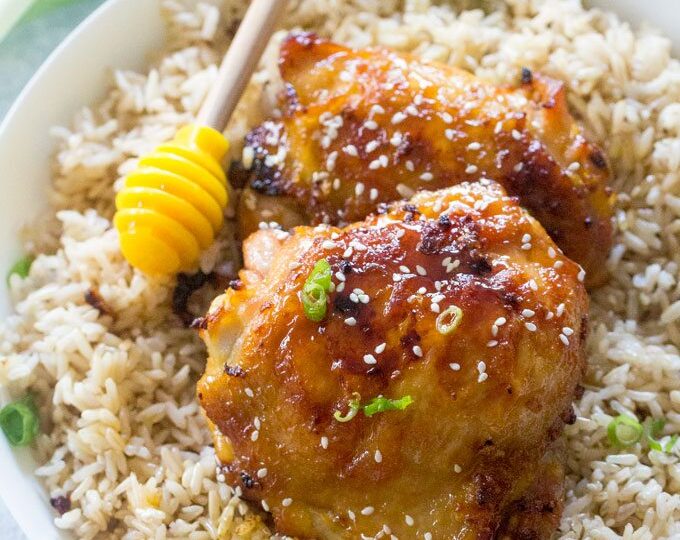 Honey Garlic Mustard Chicken
Honey Garlic Mustard Chicken made with just 6 ingredients and in one pan only, makes weeknight dinners easy, delicious and budget friendly.
We love making easy and delicious chicken meals for the family to enjoy. Among our most popular chicken dishes are Instant Pot Orange Chicken, Slow Cooker Garlic Sesame Chicken and One Pan Italian Chicken.
Honey Garlic Mustard Chicken
Honey Garlic Mustard Chicken is such an easy and quick dinner that you will be making it over and over again. I like easy recipes with just a few ingredients so I don't have to fuss much over a weeknight dinner. This Honey Garlic Mustard Chicken is made with just 6 ingredients, including the chicken! Juicy, flavorful and the perfect combination of sweet and savory the chicken is great served with rice or a big salad.
Honey Garlic Mustard Chicken Recipe Tips:
First, I like making this dish with chicken thighs, but it works great with chicken breasts too.
If you are looking to make this recipe Gluten Free, use Tamari sauce instead of soy sauce.
Also, you can add less garlic if you want, I personally love garlicky meals, so the more the merrier!
For a spicier kick, add 1-2 teaspoons of red pepper flakes and even some hot sauce.
In addition, try not to replace the fresh garlic with powder garlic.
Can I make this meal using Boneless Chicken Breast?
Yes you can. First, sear the chicken to brown it, set the aside, cover with foil. Add the rice to the pan, and do NOT add the chicken. Follow the directions for the sauce. Transfer the rice to the oven and cook the rice covered for 25 minutes. After that add the chicken breast on top and cook for another 20 minutes. Add the sauce on top of the chicken and enjoy.
This is such an easy recipe, that you can also adjust based on your preference. You can skip the sauce part and just cook the chicken with a garlic rub, some oil, salt, pepper, fresh lemon zest and juice. It will taste delicious and it will make up for a very easy and quick dinner.
Tools/Ingredients I use to make this One Pan Honey Garlic Mustard Chicken Recipe:
Sheet Pan – I love, love this pan! Its durable and non-stick!
Mustard Powder – great flavor, I like using it a lot.