Homemade Sweet Crescent Rolls with Cherries
This post may contain affiliate links. Please read my disclosure policy.
These homemade sweet crescent rolls are the perfect coffee companion, a delectable pastry filled with juicy cherries that is flaky, sweet and aromatic.
This is one nostalgic recipe, in Moldova these rolls are very popular and people usually make them for Christmas and Easter. I was always looking forward to winter vacation to go visit my grandparents and stuff my face with homemade pastries. I used to wake up to the amazing aroma of freshly baked homemade sweet crescent rolls that were stuffed with gem or cherries. The sweet scent made the house smell amazing and well worth the wake up call on a cold winter morning.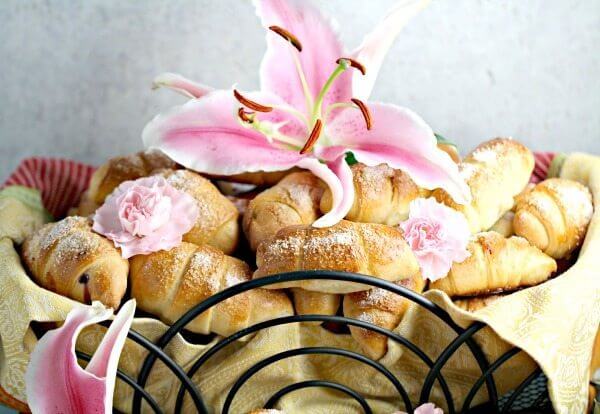 Its not a secret that I love dessert for breakfast, I am a total believer that starting your day with something sweet brings you luck. Just look at this pastry basket, isn't it the perfect coffee companion? I am so lucky to have my mother in law living with us, she is the expert at making these rolls, and usually we ask her to make huge batches for us to devour during the week.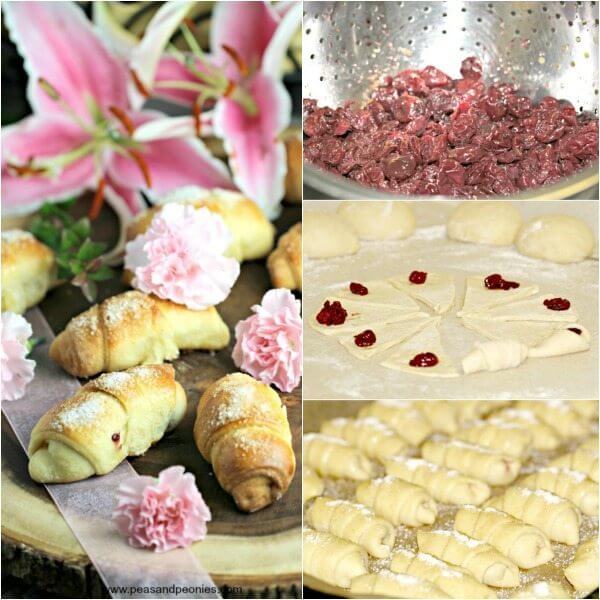 These mini rolls are super addictive, the flaky dough is just slightly sweet mostly from the sugar topping, I choose to fill mine with cherries since I am forever obsessed and totally in love with them. I used canned sour cherries, but you can totally use fresh, I just prefer canned since they are pitted and in my opinion juicier since they retain some of the juice after draining.
The rolls can be stuffed with chopped chocolate, gems, slices of apple with a little sugar are great too for an apple pie flavor.

MY LATEST VIDEOS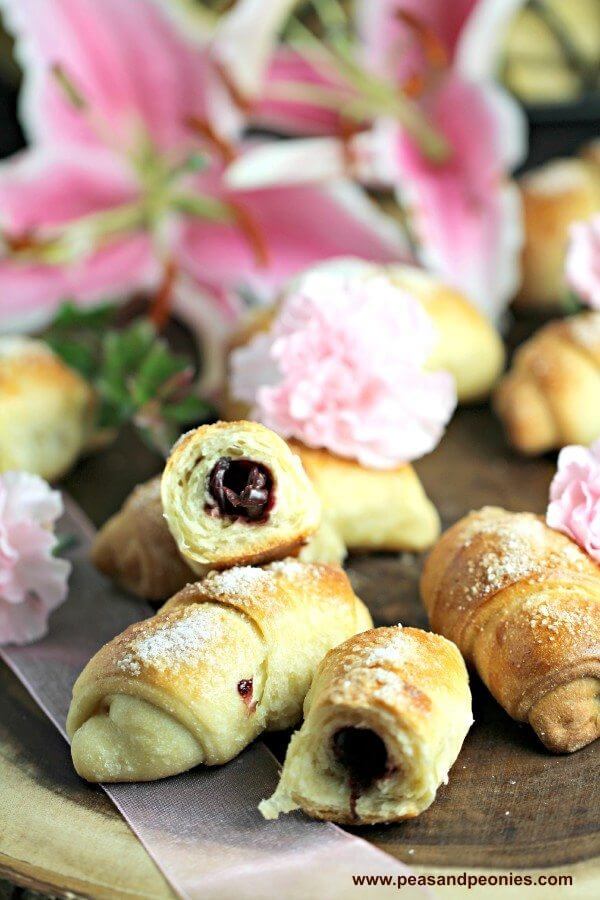 I am always in a great mood when I have these on hand, they are the perfect pick me up dessert, the softness, flakiness and the sweetness combined with the sour cherries create the perfect blend of flavors. I like enjoying a few after work with some tea to unwind after a long day. They are best consumed in 2 days after baking, but that only if they last so long.
Question: What is your favorite childhood dessert?

Homemade Sweet Crescent Rolls with Cherries
These homemade sweet crescent rolls are the perfect coffee companion, a delectable pastry filled with juicy cherries that is flaky, sweet and aromatic. It can be filled with gem or chocolate.
Author:
Katalina Kastravet
Ingredients
¼ cup very warm water
¾ cup warm milk, not boiling
2¼ teaspoons active dry yeast (one packet)
2 teaspoons granulated sugar
1 tablespoon unsalted butter, melted
1 teaspoon salt
3 cups all-purpose flour, plus more for rolling
1 egg, beaten and or melted butter, for brushing
2 cups canned sour cherries, pitted and drained
½ cup of sugar, for topping
Instructions
In the bowl of a stand mixer, combine warm water, yeast and sugar. Mix until combined. Let the mixture sit for about five minutes until its foamy. Once the yeast has proofed and is foamy, add the warm milk, butter, salt and flour. Using a dough hook, knead the dough on medium-high speed for about five minutes until dough is smooth and elastic. It will seem sticky at first, but keep mixing and it will become smooth.
Knead the dough into a smooth ball. Cover the bowl with a kitchen towel and let it rise at room temperature for 30-60 minutes.
Remove dough from the bowl and divide in many small round balls. Take one ball at a time and roll out on a lightly floured surface into a circle that's about ¼th inch thick. Using a pizza cutter or sharp knife cut the circle/dough in half lengthwise, and then cut the dough into triangles. Place the desired filling ¼ inches from the triangle edge, fold the edged and using both hands, roll the crescent up. Place on a baking sheet about 2-3 inches apart, cover with a towel and set in a warm place to rise for 30 minutes to 1 hour.
Repeat with the rest of the dough balls.
Preheat oven to 400 degrees F. Before baking, brush each roll with the beaten egg wash and sprinkle sugar on top of it. Bake rolls for 12-15 minutes or until lightly golden brown.
Remove from oven, serve warm or at room temperature.
Store in an airtight container for up to 5 days.
Peas and Peonies, LLC. owns the copyright on all images and text and does not allow for its original recipes and pictures to be reproduced anywhere other than at this site unless authorization is given. If you enjoyed the recipe and would like to publish it on your own site, please re-write it in your own words, and link back to my site and recipe page. Copying and/or pasting full recipes to social media or personal blogs is strictly prohibited. Sharing this recipe is very much appreciated and encouraged. Read my disclosure and privacy policy. This post may contain affiliate links.