Hazelnut Berry Carrot Cake with Raspberry Cream
This post may contain affiliate links. Please read my disclosure policy.
A hazelnut and blackberries Berry Carrot Cake, topped with raspberry jam and a fresh raspberry lemon cream cheese buttercream frosting for the most amazing flavor combo!
TGIF! This has definitely been a long week, and an anxious one as today my baby is scheduled for tonsils removal surgery. I am sure it will go smooth and he will get to eat lots and lots of ice cream during the weekend. I feel bad for the poor guy, but I also know that this is for his own well being. I sat him down yesterday night and had a talk with him about the surgery, while we shared a slice of this Berry Carrot Cake and he said that he is ok to go to the doctor and that he loved the cake 🙂 !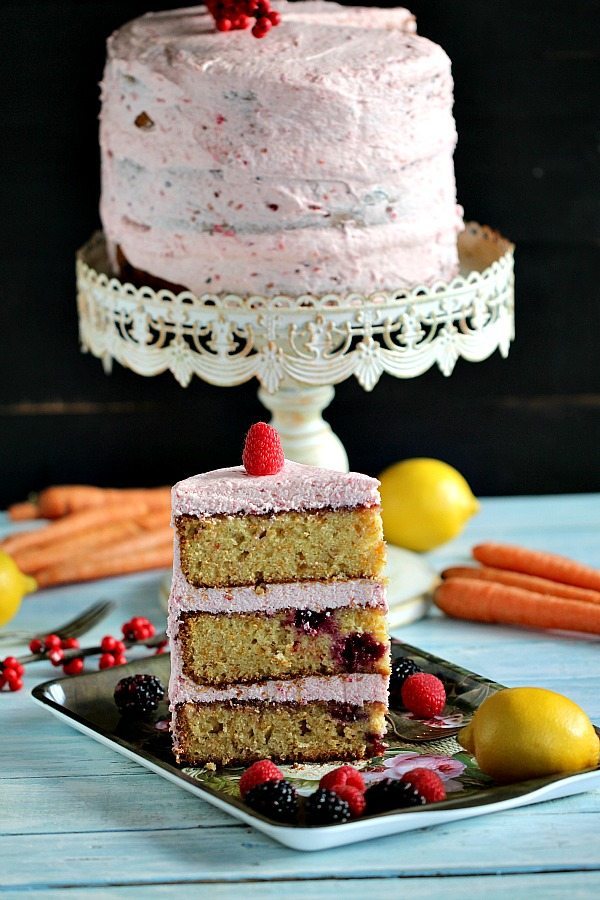 And what's not to love about this Berry Carrot Cake that is tall, stunning and just loaded with amazing flavors?!
This cake is very flavorful, soft, moist and delicious, and it combines all the flavors I love. I am such a huge carrot cake fan, but I wanted something different this time, something lighter and brighter in flavor. This Berry Carrot Cake is not your regular carrot cake, it's a nice spin on it, a modern take I would day. Loaded with aromatic hazelnuts, juicy and tart blackberries and lots of shredded carrot.

MY LATEST VIDEOS
All those delicious add-ins are baked into a yellow cake, that is fluffy and scrumptious. I love the purple hue that the baked blackberries give the cake, that pop of color is so gorgeous. The tiny orange specs from the shredded carrots and pink buttercream create such a visually appealing cake and should I remind you – decadent!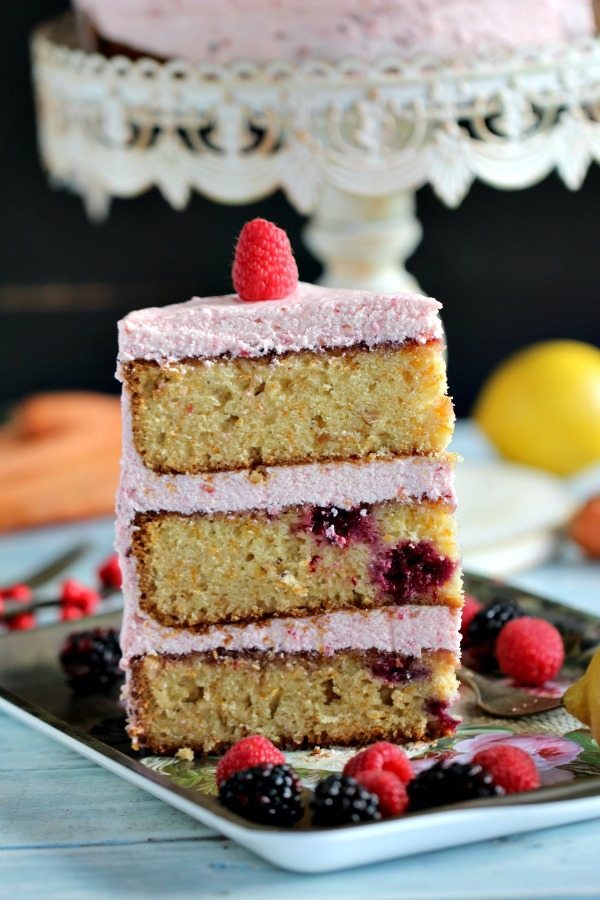 The cake is topped and covered with a sweet and fresh raspberry cream cheese buttercream, that has a natural pink color from the fresh raspberries added into the frosting. A little lemon juice and lemon zest is added for a refreshing and citrusy touch.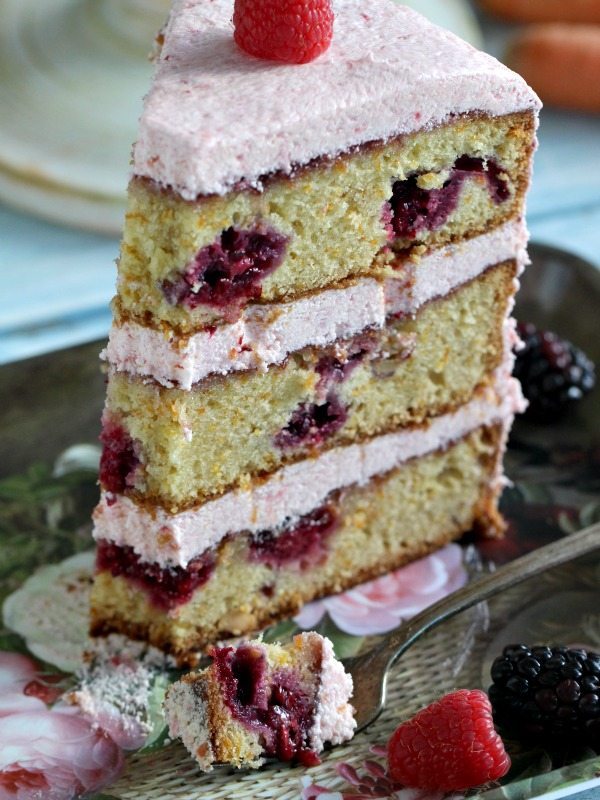 Each layer of this Berry Carrot Cake is first covered in raspberry jam and after topped with the raspberry lemon buttercream.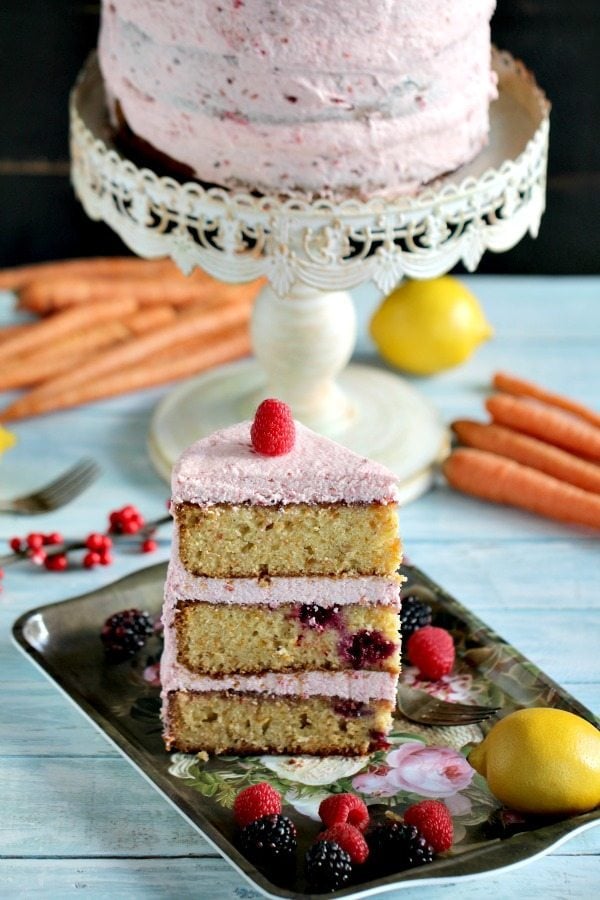 I guess you can see that with this Berry Carrot Cake I am craving summer big time! I am so ready for the snow to melt and for the temperatures to go up.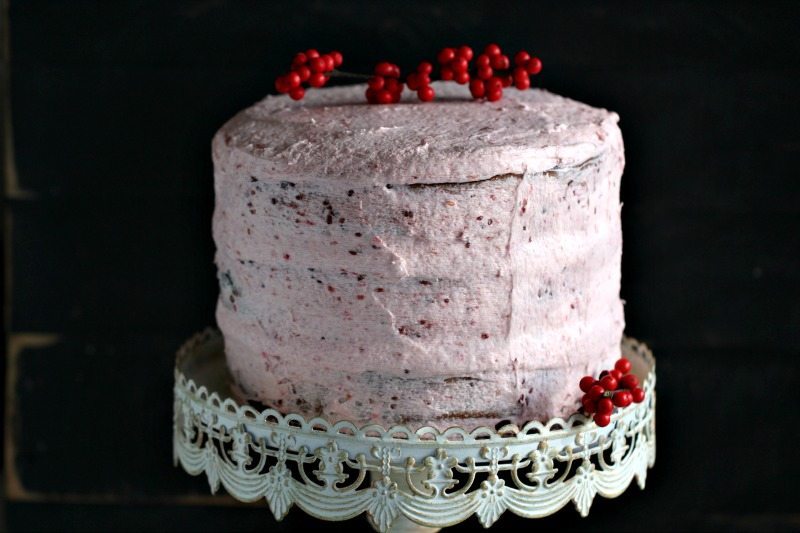 This cake is fairly easy to make, a big bowl of batter that gets distributed into 3 cake pans to bake, and the raspberry lemon cream cheese buttercream that only will take you minutes to whip! I had so much fun making, eating and sharing this gorgeous Berry Carrot Cake with family and friends.
If you like my Cake Stand you can get it here (affiliate link):
bombay jewel Benzara Traditional Style Decorative Cake Stand
Hazelnut Berry Carrot Cake
A hazelnut and blackberries berry carrot cake, topped with raspberry jam and a fresh raspberry lemon cream cheese buttercream frosting.
Author:
Katalina Kastravet
Ingredients
Cake Layers:
5 eggs
2 cups vegetable oil, I used canola
3 cups sugar
1 teaspoon vanilla extract
1 teaspoon salt
1 teaspoon baking powder
1 teaspoon baking soda
4½ cups flour
½ cup kefir
1 cup roasted hazelnuts, chopped
2 cups shredded carrots, (4-5 large carrots)
12 ounces blackberries
Raspberry Lemon Cream Cheese Buttercream:
16 ounces cream cheese, room temperature
16 tablespoons (2 sticks) unsalted butter, cut into pieces, room temperature
3-4 cups confectioners' sugar
1 teaspoon lemon juice
1 tablespoon lemon zest
3-4 ounces fresh raspberries, pureed
Optional Additions:
9 tablespoons raspberry jam
Fresh raspberries for garnish
Fresh raspberries for garnish
Instructions
Cake Layers:
Preheat oven to 350 degrees F.
Prepare three 8-inch round cake pans by spraying them with baking oil and adding parchment paper to the bottom, and another coating of baking spray.
After you have cleaned and grated the carrots, squeeze until most of the liquid comes out. Set aside two cups of shredded carrots.
In a large bowl using a hand mixer, or in the bowl of a stand mixer, fitted with the wire attachment, beat together eggs, oil, vanilla, and sugar. Fold in the shredded carrots.
Slowly add in the flour, salt, baking powder, and baking soda followed by the kefir.
Using a rubber spatula, manually gently fold in the hazelnuts and the blackberries. Divide batter evenly between prepared cake pans.
Bake 40-45 minutes in the preheated oven, or until a knife/toothpick inserted in the center of a cake comes out clean. Rotate the cakes mid baking and switch racks (cakes from upper rack to lower rack and vice versa).
Cool for 20 minutes in pans, then move cake to a wire rack to cool completely before frosting.
Raspberry Lemon Cream Cheese Buttercream:
Place cream cheese in a large mixing bowl, or the bowl of a stand mixer fitted with the wire attachment. Using a rubber spatula, soften cream cheese. Whisk slowly and gradually add butter, continue beating until smooth and well blended. Add 3 cups of confectioners' sugar, lemon juice and lemon zest and continue beating until smooth. If the mixture is too soft add another cup of sugar, once fully combined add the pureed raspberry and whisk on medium speed until well blended.
I do not strain the raspberry puree, as I don't mind the seeds, you almost don't even feel them in the frosting, and I like the visual aspect they give the cake.
While whisking the frosting make sure to stop a few times and using a spatula to scrape the sides of the bowl.
Assembling:
Place a cooled berry carrot cake layer on a cake stand or plate and top with 3 tablespoon of raspberry jam, spread the gem well over the surface of the cake, add a hefty amount of frosting, level it, and top with the second layer of berry carrot cake, repeat the process. In the end, cover the cake with the remaining frosting.
Optional: garnish with fresh raspberries, blackberries and chopped roasted hazelnuts.
The cake can be stored for 3-4 days in the fridge, but its better served in the first two days.
Peas and Peonies, LLC. owns the copyright on all images and text and does not allow for its original recipes and pictures to be reproduced anywhere other than at this site unless authorization is given. If you enjoyed the recipe and would like to publish it on your own site, please re-write it in your own words, and link back to my site and recipe page. Copying and/or pasting full recipes to social media or personal blogs is strictly prohibited. Sharing this recipe is very much appreciated and encouraged. Read my disclosure and privacy policy. This post may contain affiliate links.