Berry Carrot Cake topped with raspberry jam and a fresh raspberry lemon cream cheese buttercream frosting for the most amazing flavor combo!
We love making rich and flavorful cakes, such as Chocolate Flourless Cake, Oreo Chocolate Cake and Baileys Chocolate Cake.
Berry Carrot Cake
This Berry Carrot Cake that is tall, stunning and just loaded with amazing flavors. In addition, it is very soft, moist and delicious, and it combines all the flavors I love. I am such a huge carrot cake fan, but I wanted something different this time, something lighter and brighter in flavor. This Berry Carrot Cake is not your regular carrot cake, it's a nice spin on it, a modern take I would day. Loaded with aromatic hazelnuts, juicy and tart blackberries and lots of shredded carrot.
All those delicious add-ins are baked into a yellow cake, that is fluffy and scrumptious. I love the purple hue that the baked blackberries give the cake, that pop of color is so gorgeous. The tiny orange specs from the shredded carrots and pink buttercream create such a visually appealing cake and should I remind you – decadent! The cake is topped and covered with a sweet and fresh raspberry cream cheese buttercream, that has a natural pink color from the fresh raspberries added into the frosting. A little lemon juice and lemon zest is added for a refreshing and citrusy touch.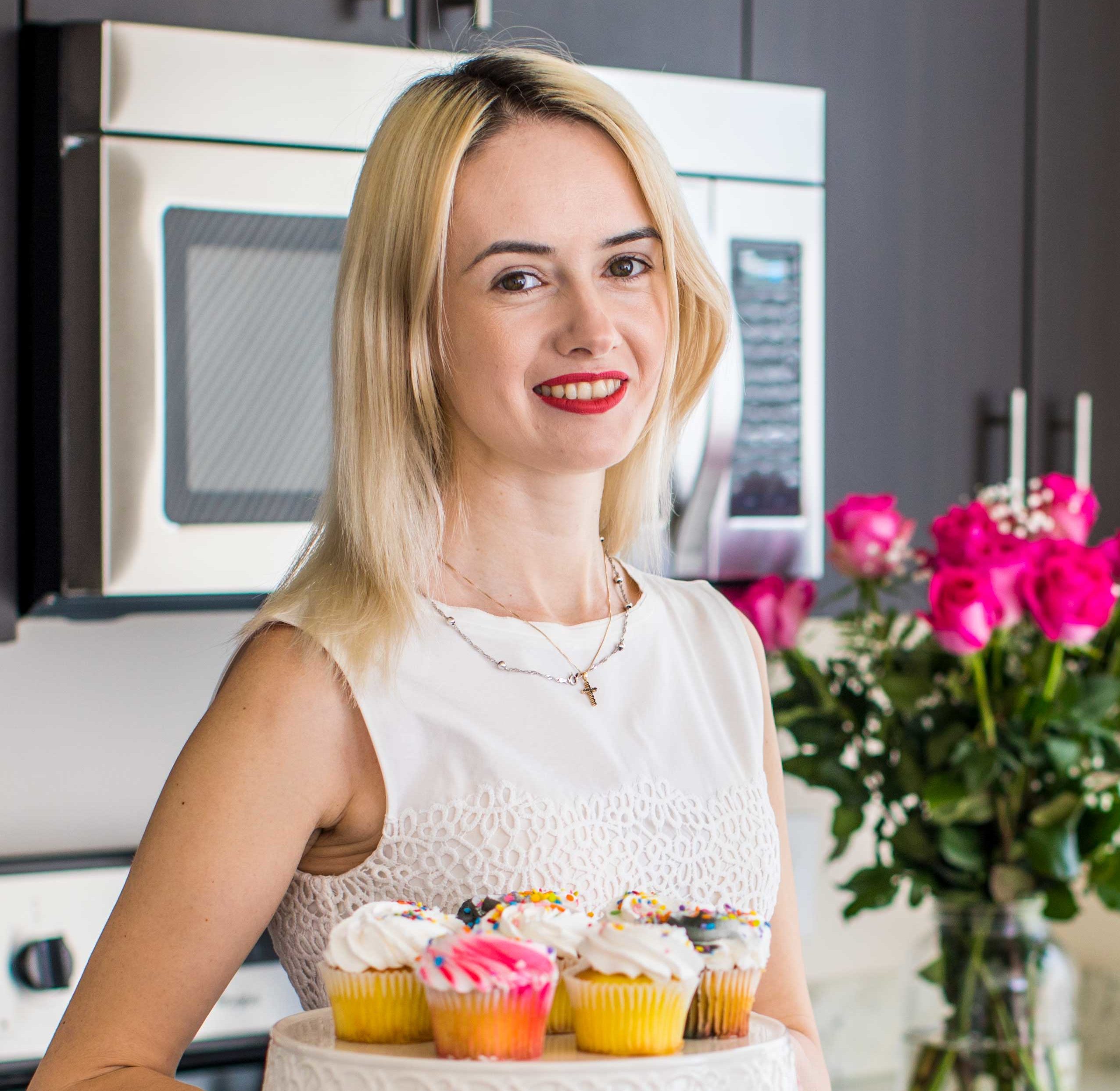 Follow us on Pinterest for more delicious recipes!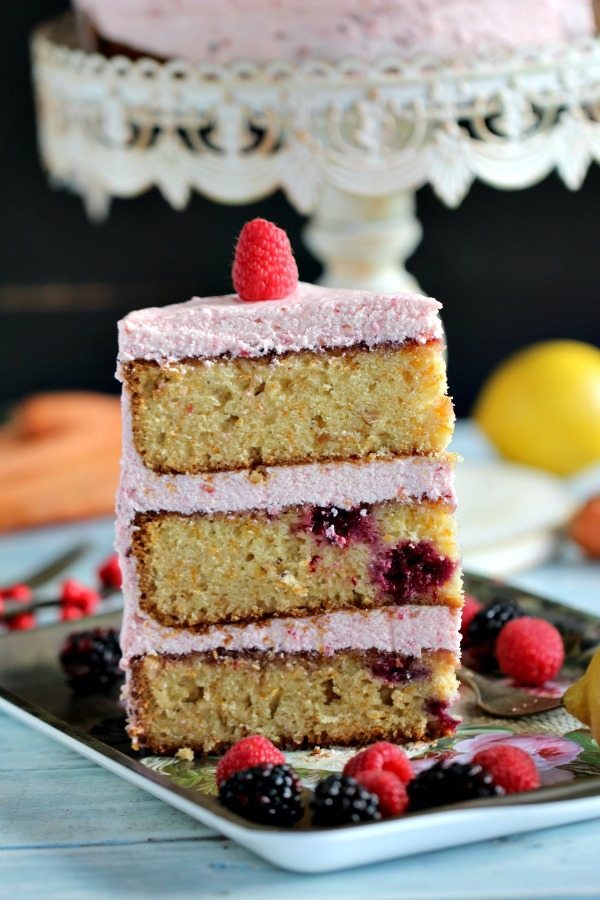 Why You'll Love this Berry Carrot Cake
Firstly, it is rich and creamy and are a show stopper dessert.
Easy to find ingredients and minimum prep work and dishes to clean.
Also, it's perfect for brunch parties and for bigger crowds.
In addition, it is easy to transport if you have to take them to a brunch party.
Perfect for special occasions like Valentine's Day.
Can be made 1 or 2 days in advance so you don't have to worry about a last minute dessert.
How to make lemon zest
Follow the easy steps below:
Rinse the lemon.
Set your tool over a cutting board. A microplane produces a very fine zest, perfect for baking and cooking. If you don't have a microplane, use the smallest holes on an ordinary grater.
Grate the yellow skin of the lemon only. Grate just enough to get through the yellow skin, this way you can avoid the bitter white pith underneath.
Rotate the lemon and repeat. Once the white pith is exposed, rotate the lemon and zest the next strip of peel. Repeat until most of the peel is removed, or until you have enough zest for your recipe.
HOW TO FREEZE CAKE LAYERS
You can make the cake layers in advance and freeze them, thaw them when you are ready to decorate the cake. To freeze the unfrosted cake layers, follow these steps:
Bake the cake layer and cool each layer on a wire rack. Make sure the cake layers are fully cooled before freezing.
Wrap each cake layer in plastic wrap, preferably freezer wrap. After that wrap tightly in aluminum foil and place in a freezer zip lock bag (if it fits).
Write the date and cake type on the zip lock bag.
Lay the cake layers flat in the freezer.
Cakes can be frozen for up to 3 months.
Save Recipe
Berry Carrot Cake
Berry Carrot Cake topped with raspberry jam and a fresh raspberry lemon cream cheese buttercream frosting for the most amazing flavor combo!
Author: Catalina Castravet
Serves: 15 servings
Prep time:

45

minutes
Cook time:

45

minutes
Total time:

1

hr

30

mins
Ingredients
Cake Layers:
Raspberry Lemon Cream Cheese Buttercream:
Optional Additions:
Instructions
Cake Layers:
Raspberry Lemon Cream Cheese Buttercream:
Assembling:
Nutrition information
Calories: 652 Carbohydrates: 107 Protein: 8 Fat: 21 Saturated Fat: 8 Cholesterol: 71 Sodium: 543 Potassium: 222 Fiber: 2 Sugar: 72 Vitamin A: 850 Vitamin C: 7.9 Calcium: 95 Iron: 2.3
Save Recipe
More recipes you might love
Categories: