Garlic Jalapeno Stuffed Pork Loin Roast in White Wine
Juicy, soft and tender stuffed pork loin with spicy jalapeños and lots of garlic, cooked in a white wine broth and served with roasted garlic baby potatoes.
Hi everyone and Happy Savory Wednesday, after so many sweet recipes on the blog because of the holidays, I couldn't wait to post a homemade dinner. This Garlic Jalapeño Stuffed Pork Loin was our dinner on Saturday, the pork loin is huge, so we had plenty of leftovers, always a good thing, since I didn't have to cook again.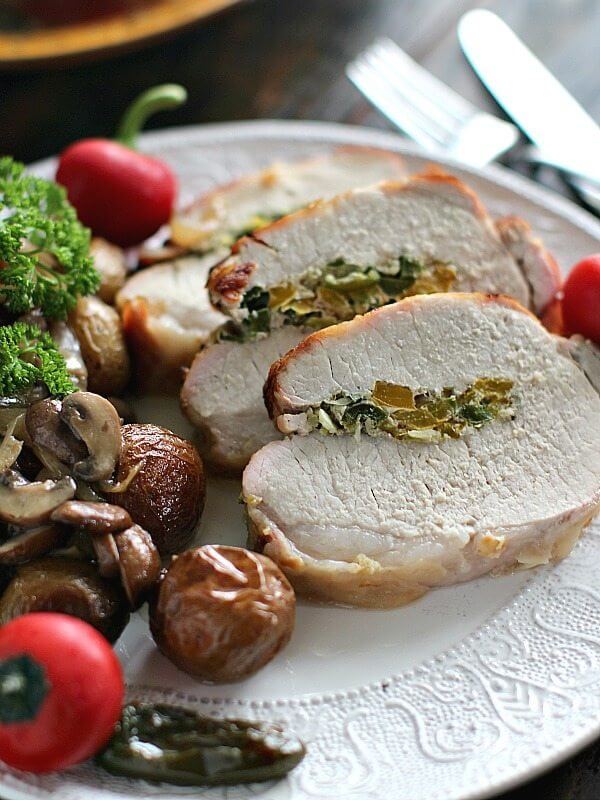 We usually get a pork loin every two weeks, I like to have some on hand for quick dinners. Most of the time I just cook it in the slow cooker, thats why I decided to change things and spiced them up a bit with this stuffed pork loin version.

In our house we love garlic, my husband makes the most amazing Garlic Shrimp that you definitely must try. I decided to use our beloved ingredient in a stuffed pork loin version. Served with garlic roasted potatoes and caramelized mushrooms and onions this meal tasted amazing.
The pork lion is stuffed with spicy jalapeños for some heat. We love jalapeños and always have some on hand, but usually they are hit or miss, sometimes they are not spicy at all, sometimes they put your mouth on fire. But, they definitely add a nice flavor, I just recommend that you taste the jalapeño when chopping it, just to adjust the heat to your preference.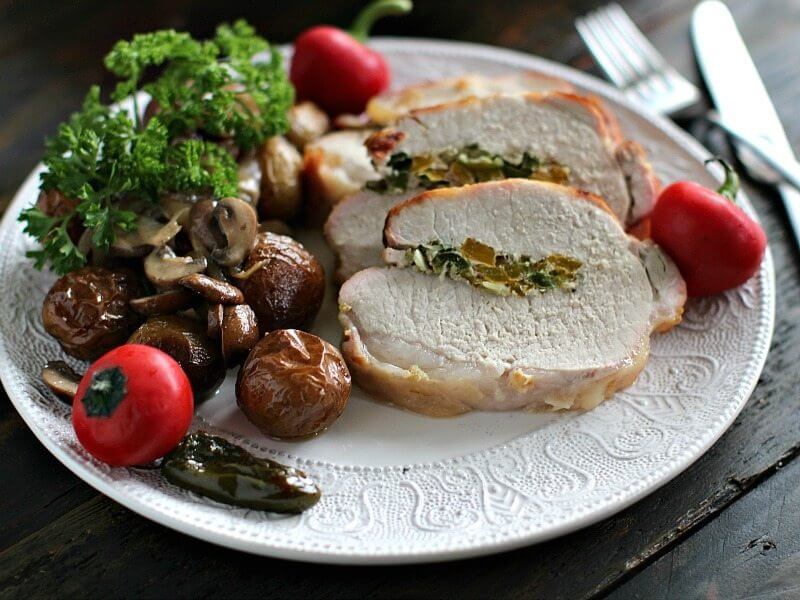 I also added one chopped bell pepper and one spicy red pepper. You see those cute, mini red peppers, OMG those guys are spicy!
I loved how juicy and flavorful the stuffed pork loin turned out, I cooked it in white wine, to which I added garlic, jalapeño peppers and carrots, it turned out very flavorful.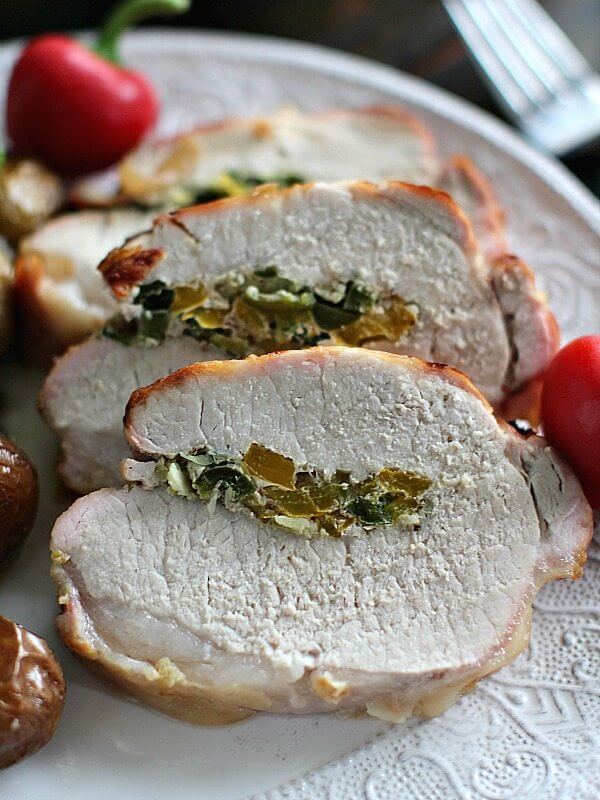 The leftovers where delicious as well, you can reheat them or just slice the pork loin and make sandwiches. Definitely keep the sauce after cooking, I stored my pork loin in the leftover wine sauce, to make sure it stays juicy, soft and tender.
Garlic Jalapeno Stuffed Pork Loin
Juicy, soft and tender stuffed pork loin with spicy jalapeños and lots of garlic, cooked in a white wine broth and served with roasted garlic baby potatoes.
Author:
Katalina Kastravet
Ingredients
1 pork loin (2-3 pounds), butterflied
8 tablespoons olive oil
1 large onion, peeled and halved
4 garlic heads, peeled and minced
6 garlic cloves, whole
1 large carrot, cleaned and halved
7 jalapeno peppers
1 bell pepper, chopped
1 red spicy pepper, chopped
1½ cups white wine
½ cup water
2 lb baby potatoes
Optional:
½ lb baby bella mushrooms, cleaned and sliced
1 large onion, chopped
3 tablespoons olive oil
fresh parsley
Salt and pepper
Instructions
Preheat oven to 375F.
With a sharp knife, cut the pork loin horizontally until you can open it like a book.
Season it with 2 tablespoons of olive oil, salt and pepper. Rub ⅔ of the minced garlic into it. Remove the seeds from 5 jalapeños, chop them. Arrange the chopped jalapeños, bell pepper and spicy red pepper down the pork, horizontally, in a thick line, closer to the middle.
Roll one side of the pork over the stuffing and tightly tie the pork roast up with butcher's twine, season it with more salt and pepper, trim the fat and transfer to a roasting pan.
Add the white wine, water, 6 garlic cloves, 1 halved onion, 1 large halved carrot, 2 whole jalapeños, a little salt and pepper to the pan.
Brush the pork with 1 tablespoon of olive oil and roast in a preheated oven for about 90 minutes or until an instant-read thermometer registers 160 degrees F. Remove from the oven and let rest for 15 minutes before slicing.
In another roasting pan, mix together potatoes with 5 tablespoons olive oil the remaining ⅓ of minced garlic, salt and pepper and add to the oven when the pork has 60 minutes more of cooking. After 30 minutes, using a spatula mix the potatoes and return to the oven.
Optional:
In a medium skilled over medium heat add the olive oil. When the oil is hot add the sliced onion and cook for 3-5 minutes until it starts to turn golden brown. Add the sliced mushrooms, stir and cook for 7-8 minutes. Season with salt and pepper as needed.
Serve:
Slice the pork loin, serve with roasted potatoes and caramelized mushrooms. Garnish with fresh chopped parsley.