Funnel Cake Recipe [video]
Funnel Cake is our favorite country fair food! This delicious cake is fluffy on the inside, crispy on the outside, and super easy to prepare. Watch the short video tutorial below and learn to quickly and easily make this amazing dessert on your own!
It is summer and with it comes the fair season. Make this delicious dessert along with our other popular fair foods like the Corn On The Cob, Fried Chicken, and Key Lime Pie.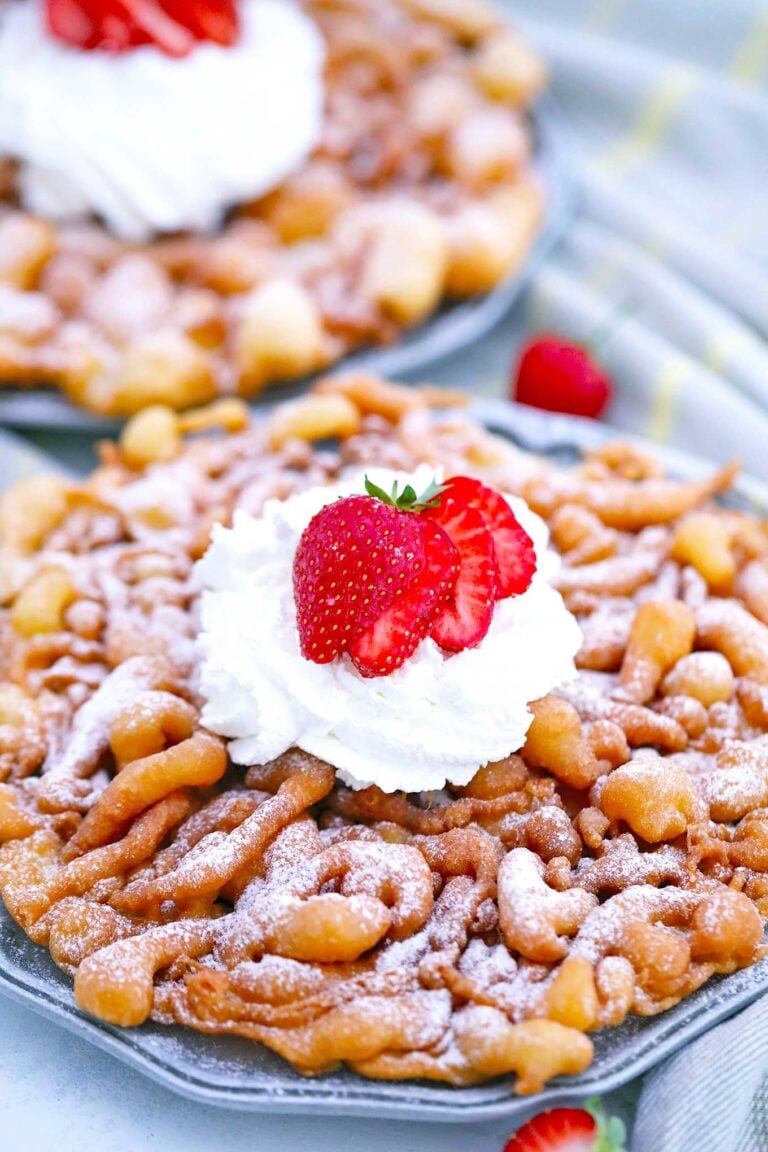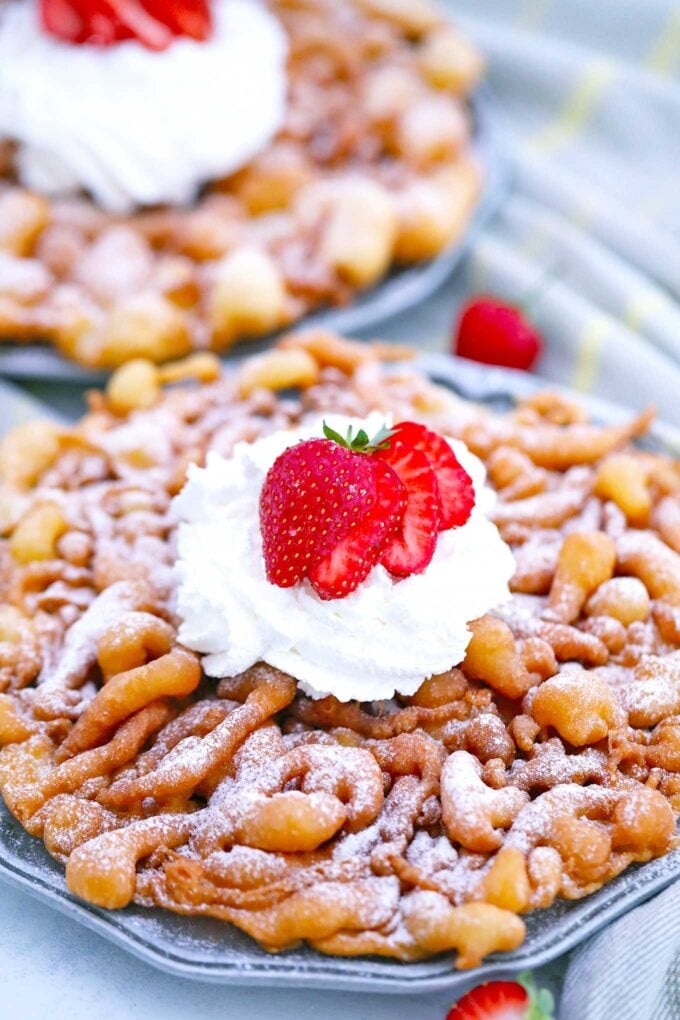 Easy Funnel Cake Recipe
Funnel Cake has been a popular fair dessert since the early 1950s. Though its roots trace back to Anglo-Norman medieval times, this dish was popularized in the Kutztown Folk Festival which started in 1950. This festival was meant to celebrate Pennsylvania Dutch culture and it is in this festival where thousands of funnel cakes were sold!
What used to be a winter holiday food became a favorite country fair food since then. This cake is so delightful to eat while roaming around. And in this easy recipe, we will show you how it is prepared, from the batter to dousing the powdered sugar on top!
What is a funnel cake?
Named after the handy kitchen tool, this dessert is made by pouring a batter in a funnel with the hole blocked at first. And then, when ready, the batter is made to flow into a pan of hot oil to fry, swirling around the funnel to make a curly layer.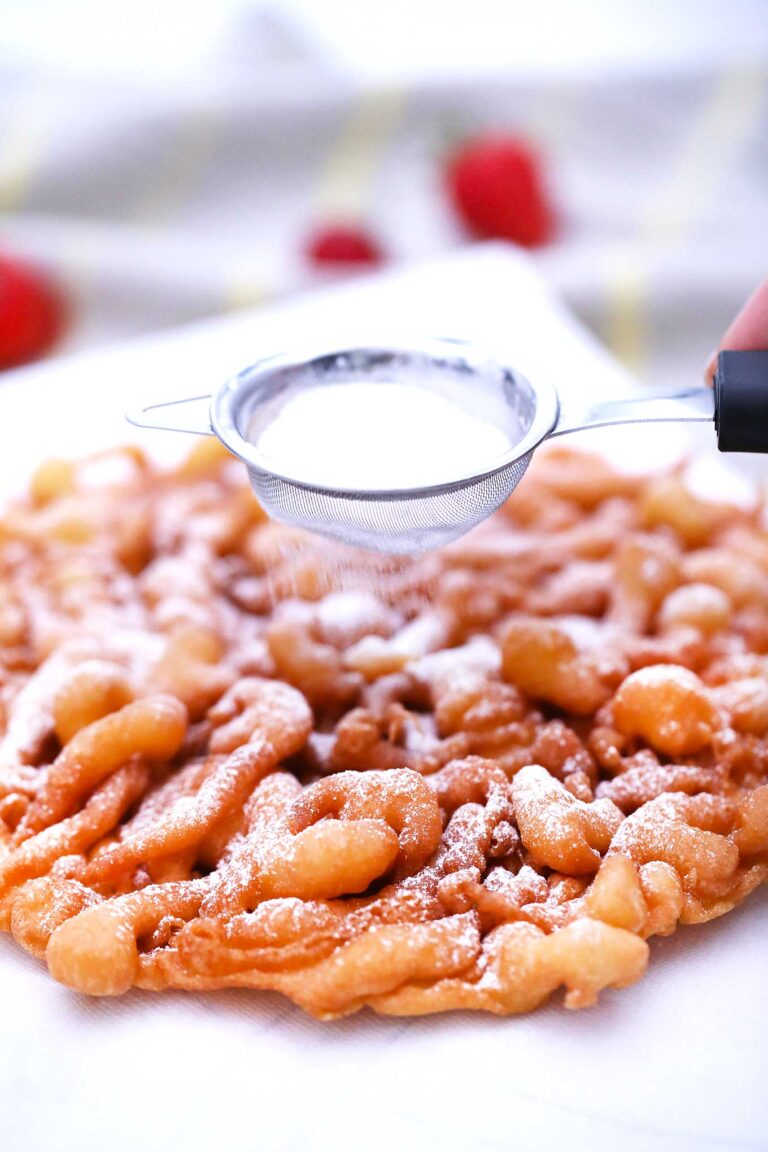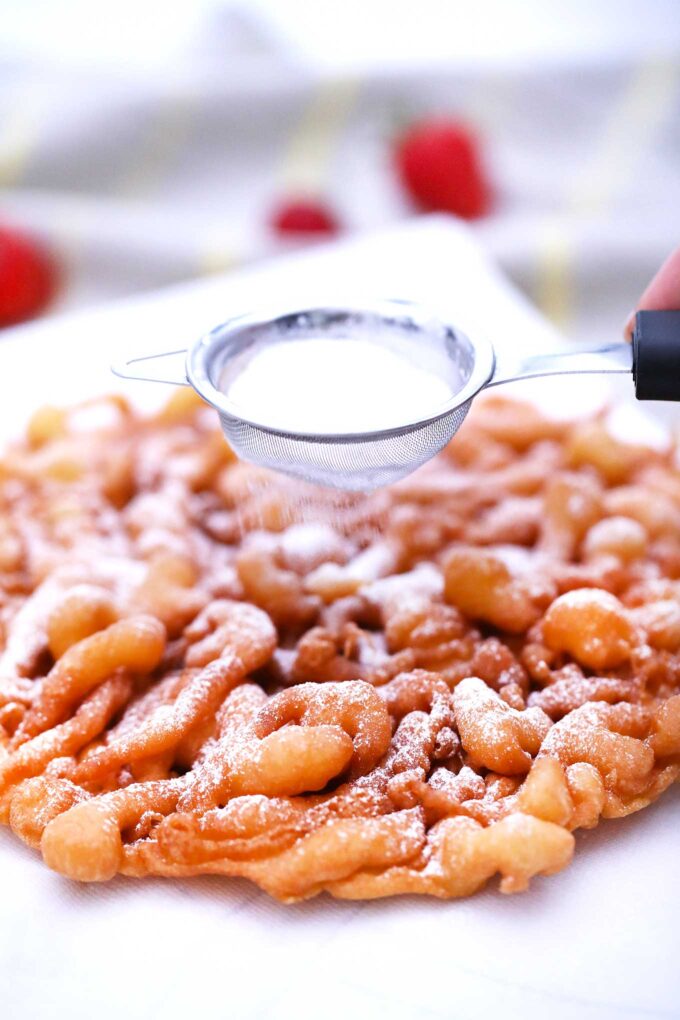 What is funnel cake made of?
This recipe calls for the following ingredients for the batter:
Eggs
Milk
Vanilla extract
Sugar
Salt
Baking powder
Flour
You would also need the vegetable oil for frying and your choice of toppings. We love it with powdered sugar and strawberries!
How to make a funnel cake from scratch?
Make the flour mixture: In a bowl, whisk together the flour, baking powder, and salt.
Make the egg mixture: In a separate bowl, whisk together egg and sugar, then, add in the milk and vanilla extract.
Combine: Pour the flour mixture into the egg mixture and mix them well together. Once done, put the mixture in a piping bag.
Fry: Preheat the oil for frying. Cut the tip of the piping bag to make a small hole then, pipe out the batter into the hot oil to fry. Make circular and criss-cross motions to make a layer. Use tongs to turn it over once brown. Drain the excess oil by putting it over a paper towel.
Decorate: Top with powdered sugar (and strawberries if you like).
How to make funnel cake with pancake mix?
Simply replace the flour mixture in this recipe with your favorite pancake mix. This makes this recipe extra easy without having to prepare your own flour mixture.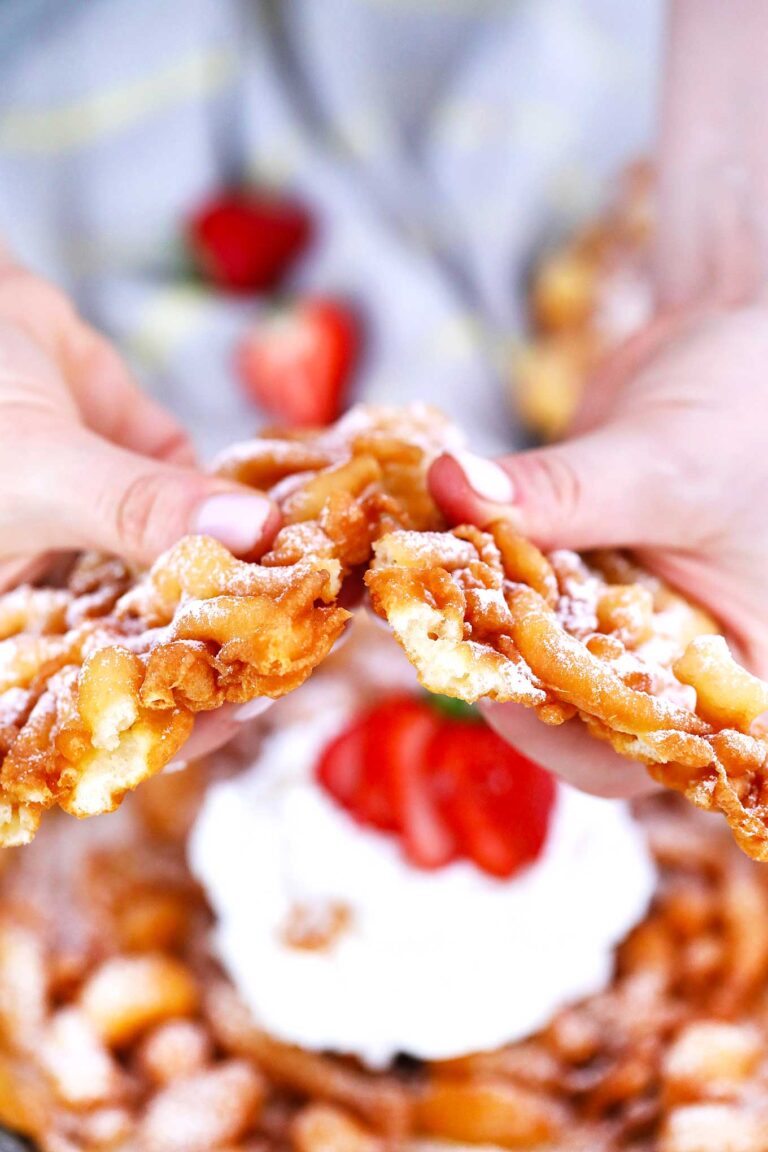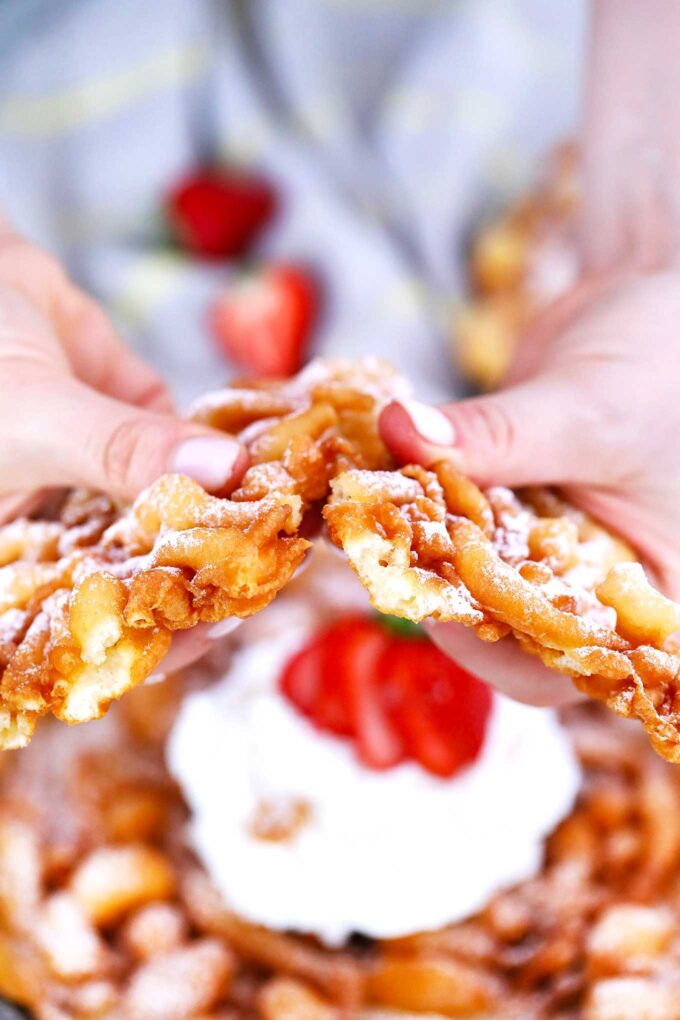 Can you make it in advance?
You can prepare the batter in advance and refrigerate it for a maximum of two days. Just fry it at the time it is needed, anyway, it only takes a couple of minutes or so to fry one.
How many calories in a funnel cake?
One piece of state-fair of this dessert contains 760 calories as it is deep-fried. But, you can lower this value by baking it instead of frying it! It will only have around 130 calories.
How to store the cake?
It can last for a few days at room temperature, stored in a paper bag. But it is best served warm, so, avoid leftovers!
Can you freeze it?
Yes! It is not a good idea to store batter for more than 2 days. So, if you want to make it in advance, or if you have prepared too much batter, you have the option to freeze the finished product minus the toppings.
After letting each piece cool down, put them stacked in a freezer bag, and freeze. Usually, frozen goods stored well can last up to several months.
You can reheat the pieces by baking in the oven for about 5 minutes at 360 degrees.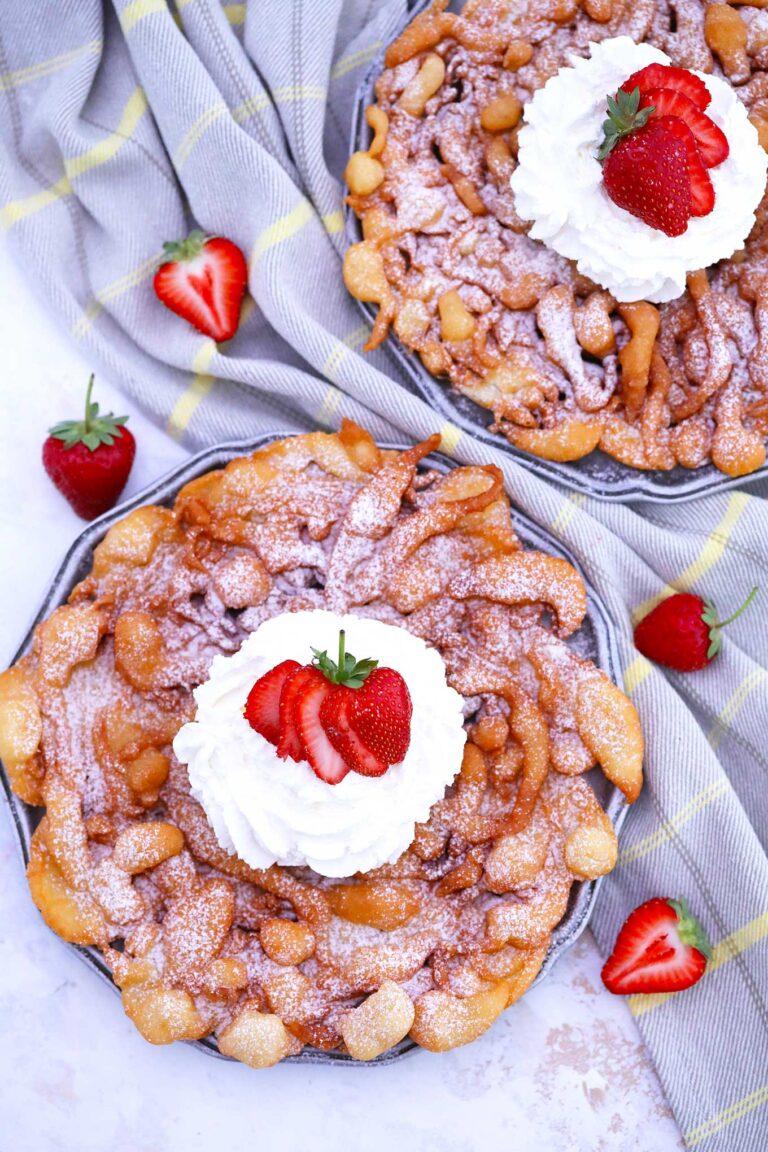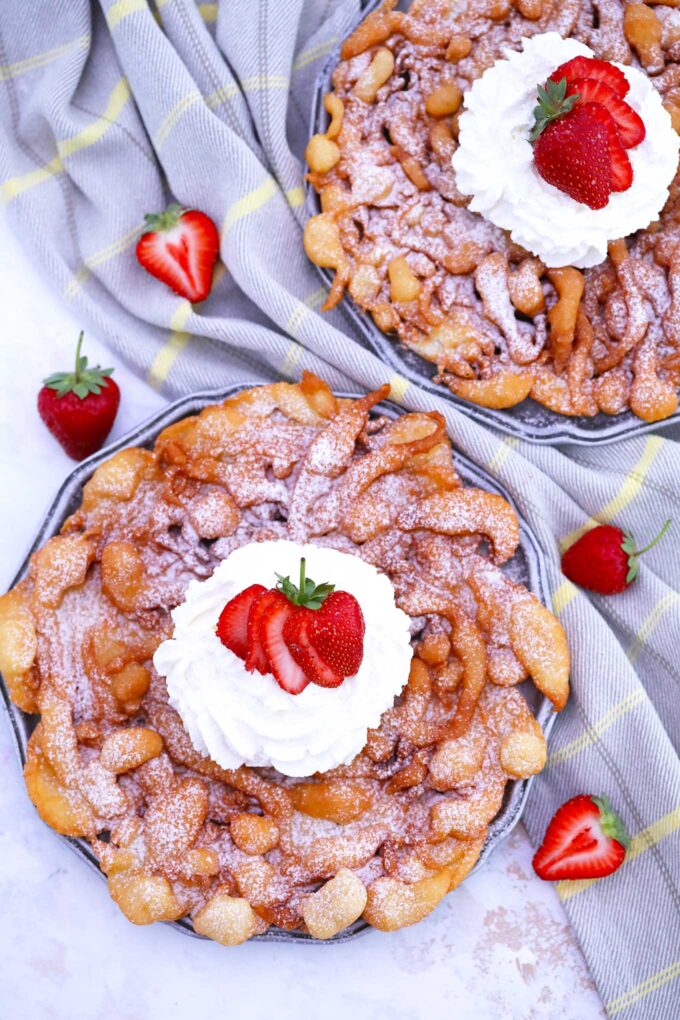 More delicious desserts:
Recipe Tips
Instead of using the piping bag, you can use a funnel, or a clean ketchup container, a small pitcher, or even a spouted measuring cup for this.
For the frying oil, use something that has a high flash point like canola or grapeseed. Peanut oil can make the most crispy ones, so, if you are not allergic, you can use this instead.
Each batch of frying can lessen the oil left in the pan, so, be sure to put some more and let it heat up first.
How to check if the oil is hot enough? Drop a small amount of the batter and check if it will sizzle fast enough.
Also, feel free to top it with your favorite ingredients or fruits. Such fruits as berries, bananas, or even apple jams work great as a topping. Hot chocolate, caramel, or homemade whipped cream is also a nice mix!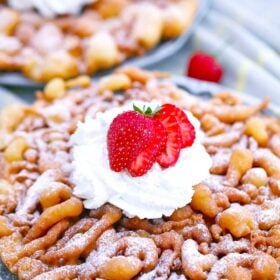 Funnel Cake
Funnel Cake is our favorite country fair food! This delicious cake is fluffy on the inside, crispy on the outside, and super easy to prepare.
Save
Share
Print
Pin
Rate
Ingredients
2

eggs

1 1/2

cup

milk

1

teaspoon

vanilla extract

1/4

cup

sugar

1/2

teaspoon

salt

2

teaspoons

baking powder

2 1/2

cups

flour

Oil for frying
Instructions
In a small bowl mix flour, salt, baking powder and set aside.

In another large bowl, whisk eggs and sugar, add milk and vanilla, and whisk to combine.

Add flour mixture into the egg mixture and whisk until smooth.

Place a frying pan over medium-high heat and add oil about 1 inch high.

When the oil is hot, pour batter into a piping bag and cut the tip to resemble a funnel, when ready to use. Block the tip with your finger.

Position funnel over the hot oil, blocking the tip with your finger and slowly move your finger so the batter comes out in a steady stream. Make circular and crisscross motions to form a funnel cake.

Using tongs, flip the funnel cake so each side is cooked until golden-brown. Remove and place on paper towels to drain.

Sprinkle powdered sugar on top and serve with whipped cream and strawberries.
Nutrition
Calories:
849
kcal
|
Carbohydrates:
155
g
|
Protein:
27
g
|
Fat:
11
g
|
Saturated Fat:
5
g
|
Cholesterol:
181
mg
|
Sodium:
729
mg
|
Potassium:
873
mg
|
Fiber:
4
g
|
Sugar:
35
g
|
Vitamin A:
535
IU
|
Calcium:
428
mg
|
Iron:
8.4
mg
More recipes you might love