This is a sponsored post written by me on behalf of The Women Bloggers and Kendall King Group on behalf of their client Jouviance. All opinions, thoughts, photos and reviews are MY OWN. #BonjourJouviance
Flaunting my flamingo shirt and my radiant skin, as beautiful skin is your perfect summer accessory! A statement polka dot maxi skirt makes this effortless outfit playful and comfortable.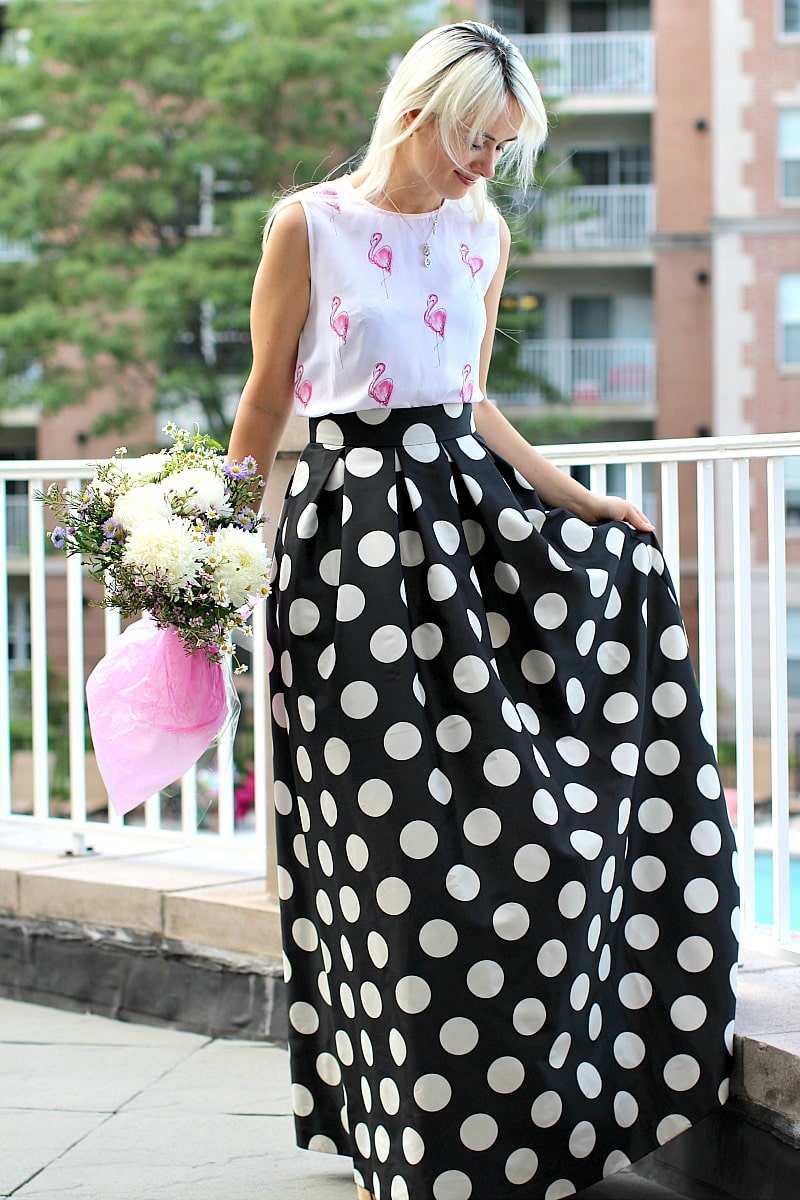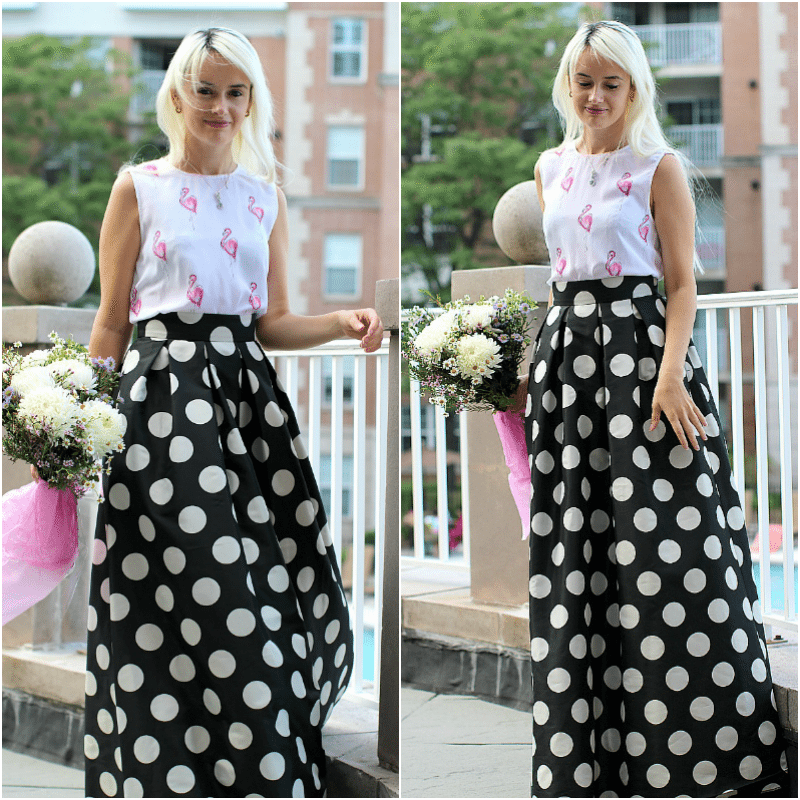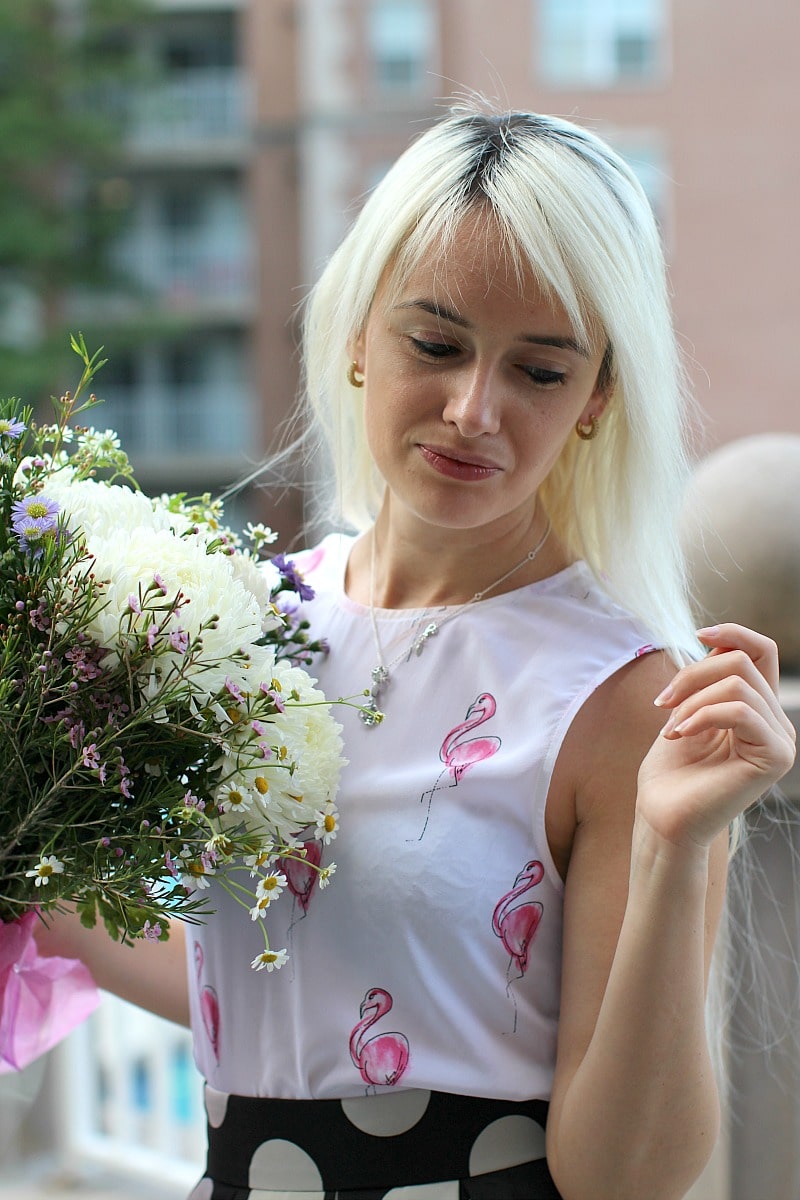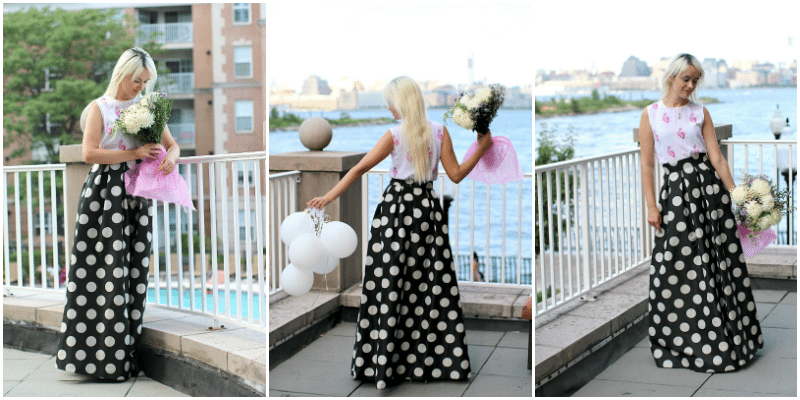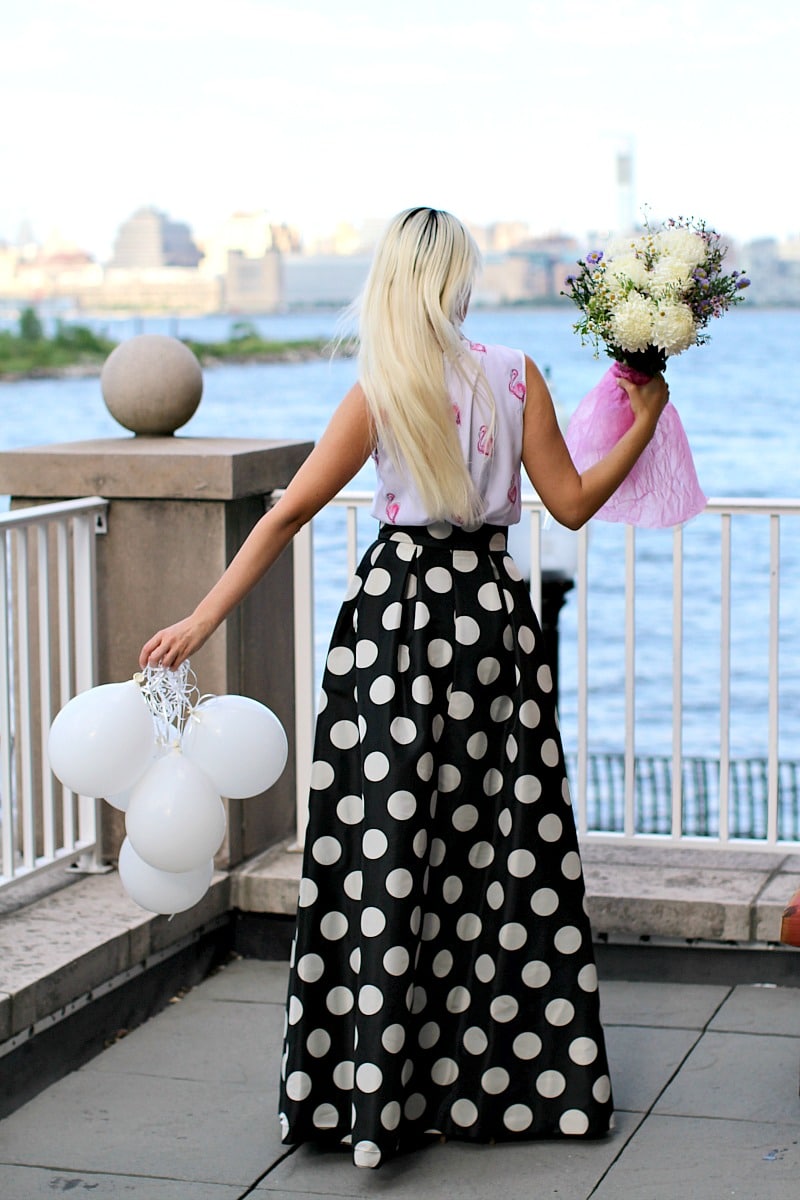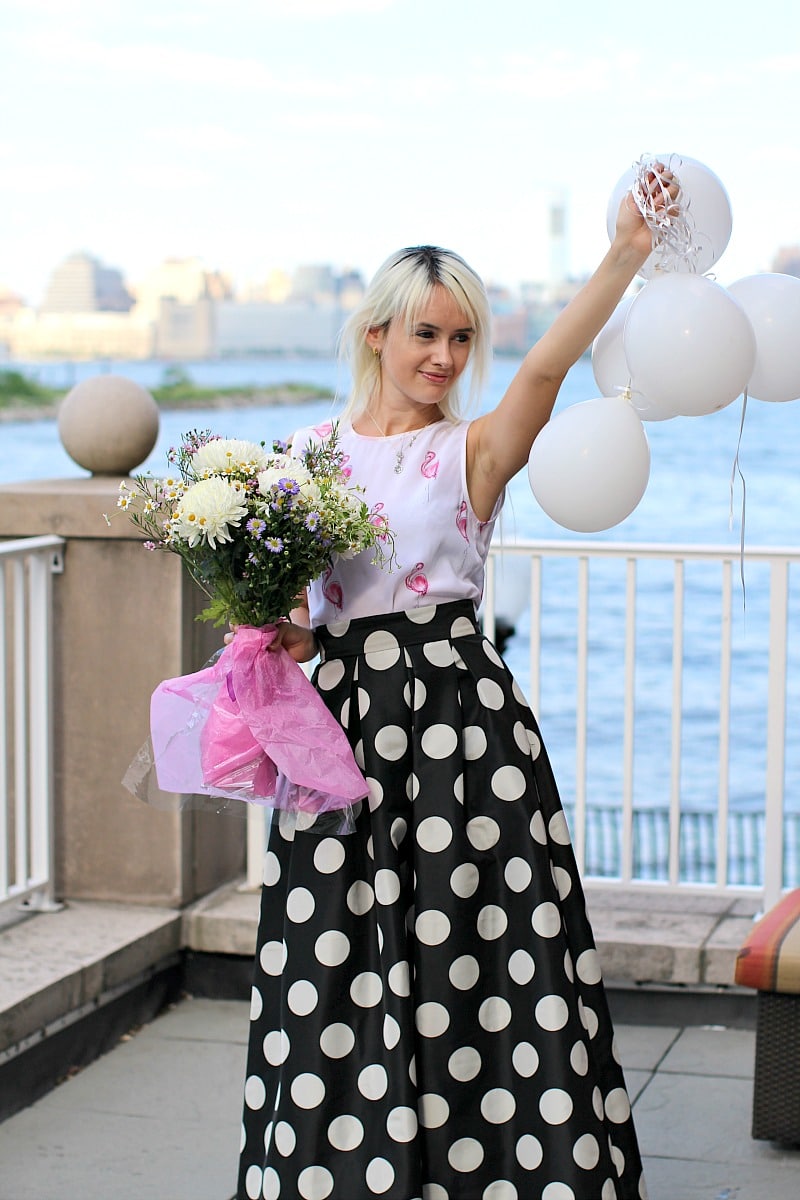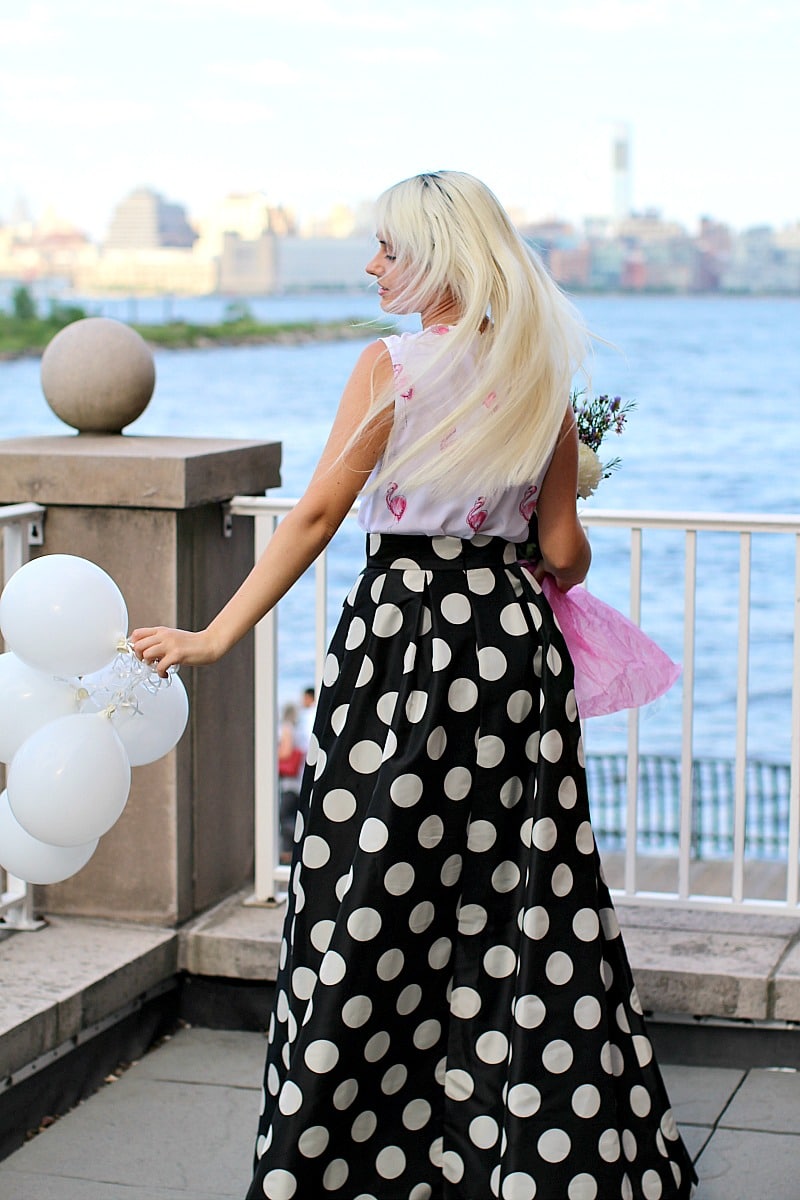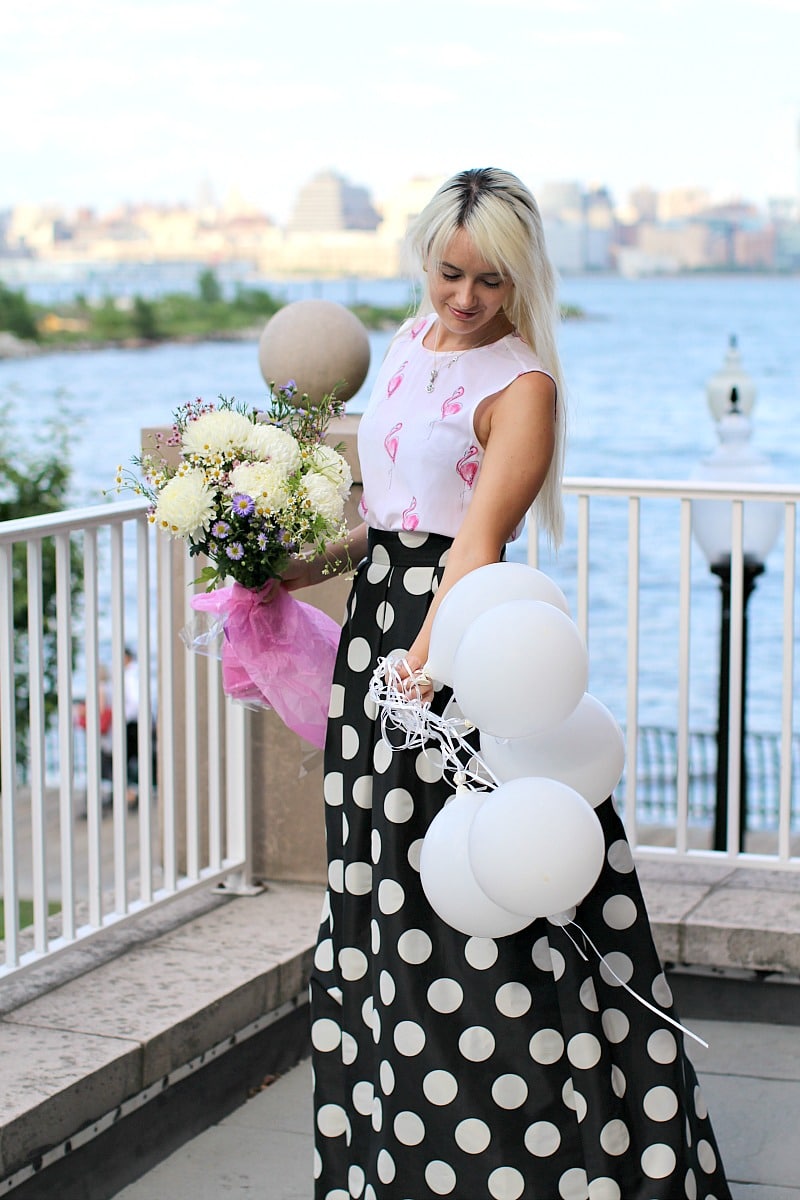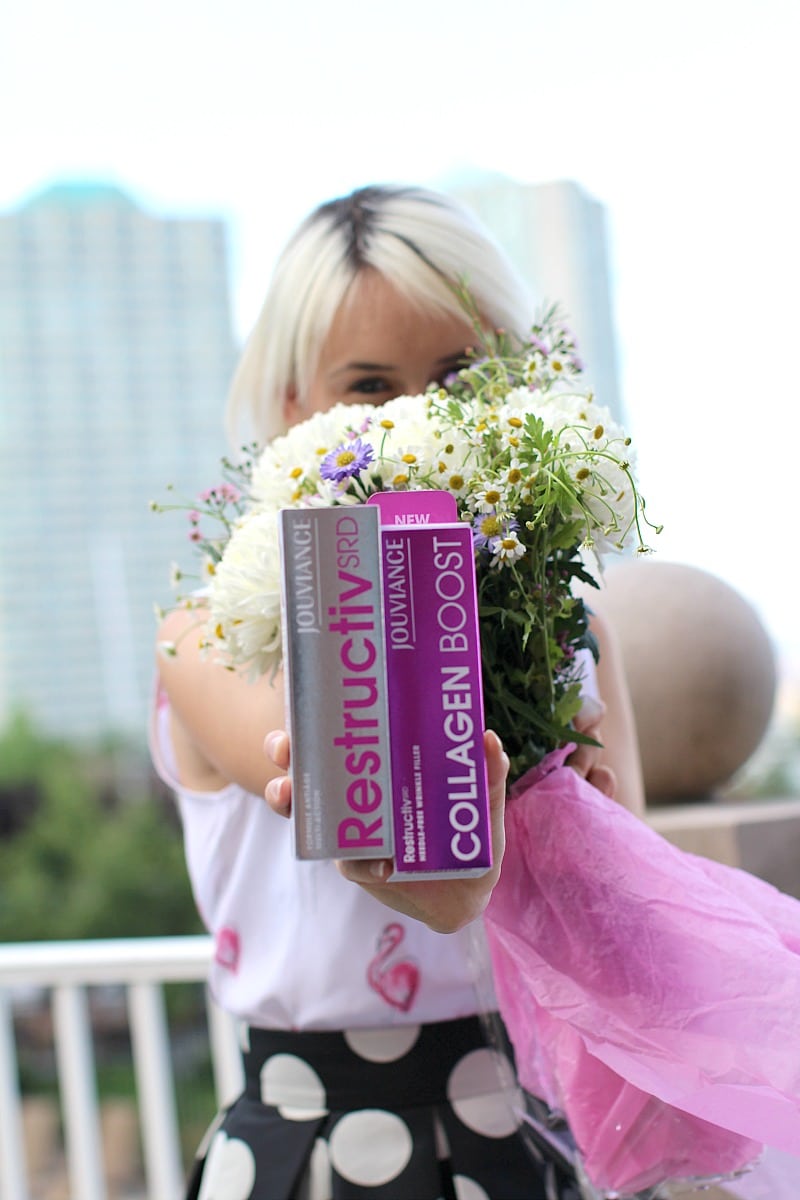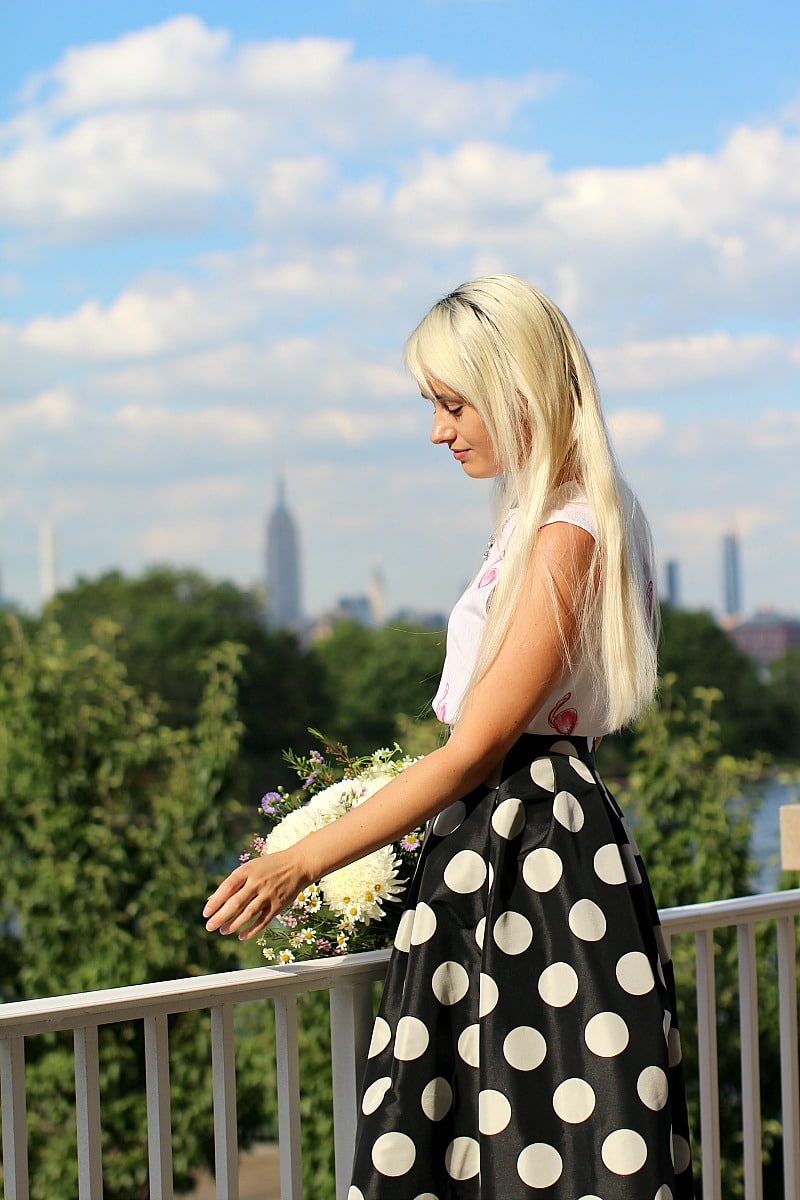 | Skirt: Eliza J @ Nordstrom | Shirt: Equipment @ Nordstrom |
Happy Friday Guys! I am so thrilled the long weekend is so close! Are you enjoying your summer? I am definitely embracing it to the fullest. When getting ready for summer, I was looking for two things, a beautiful flamingo shirt since I am obsessed with these gracious birds and also a face cream that will make me look refreshed and add radiance to my skin.
I am happy to report that I have found both! I love this flamingo shirt especially combined with a statement maxi skirt, I have recently wore this outfit to a baby shower and I loved how effortlessly chic it was. The flamingo print always improves my mood, it adds such a nice pop of color and it instantly brightness my day. Mixing a bird print with a geometrical one may seem like a risk, but in this case they work perfectly together. The key is to let one of them shine. In this case, the flamingo shirt adds a nice pop of color, but the white material is more neutral, the print is also not very abundant so it lets the bigger and larger piece – the maxi dress – take front stage.
The flamingo shirt brings up my playful and (hopefully) funny personality, I also find it that it ads a dash of romantic spirit, in combination with the wild and statement black and white maxi polka dot skirt. Since there are so many things going on here, I kept my hair loose and no make up, just my usual cream and a BB cream with sunblock on top. A thin line of black eyeliner and natural lips.
To get my radiant skin for summer I am very pleased that I gave Jouviance cream a try.  I was sent two new Jouviance products, Restrictive SRD Coactive Anti-Aging Formula Cream and Restructiv Collagen Boost Needle-Free Wrinkle Filler Serum that you can only find at CVS. Since I am one year shy from my thirties, and I kind of already plan to stay 29 forever, I figured that an Anti-Aging and Collagen Boost cream would be perfect for me.
Jouviance is the #1 Canadian developed skin care line and one of the fastest growing demo-cosmetics brands in Canada and all of their products are dermatologist developed. Their skin care feature the highest concentrations of active ingredients backed by clinical studies and patented technology, and they are also committed to protecting and treating sensitive skin while minimizing allergic reactions and irritations. This is so important to me, as my skin is so sensitive and gets irritated and red really quick so I select my face creams with care and I see a dermatologist often.
Their website suggests to use the Collagen Boost first and the Restructiv second morning and evening and following it by a sunblock if you will be in the sun, and to be honest I am a sun block junkie, I always have some on hand. Love that the creams are also free of parabens, sulphates, colorants, artificial fragrances and animal based ingredients.
I loved the results of these creams, my skin definitely feels firmer, more radiant, actually it looks much more rested now! Now, I have a surprise for you, if you want to try these products for yourself enter below to win a $100 Visa Gift Card so you can buy your own Jouviance creams from CVS!