Fall Skincare Regimen and my Favorite Products
Who can believe that its almost November? Time flies, and the summer definitely went by too quickly. My last favorite produts post highlighted all my spring favorites, and now we are jumping right into my fall skincare regimen with my new current obsessions.
I have a few favorites to share with you today, but first let me tell you how much I love a simple beauty routine. I have a busy life, working full-time and running after my toddler, so I need good products that work. My products range from different price lines and brands, I like to mix and match until I find what works for me. With the launch of pear season, St. Ives introduces their NEW Refresh & Revive Pear Nectar & Soy Lotion and I love St. Ives products so much, that I jumped with excitement when I was asked to try their new St. Ives Refresh & Revive Pear Nectar & Soy Body Lotion . I must say that I fell in love with the fall aromas and luxurious feel of the lotion. I mean, I love their products, their apricot scrub is a staple in my beauty cabinet!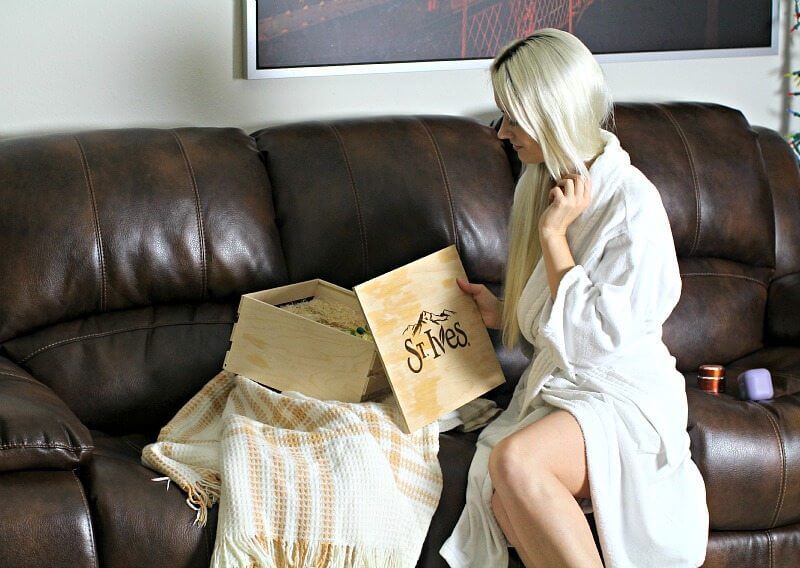 First, the products arrived in a super cute package that I loved so much, and it will make such a good and cute storage box. Look at that wood box, adorable! And if that wasn't enough, I found inside 3 chocolate pears to go with the fall theme. Me and my toddler were very happy and had a few bites right away. I wish all skincare products would come with chocolate on the side! 🙂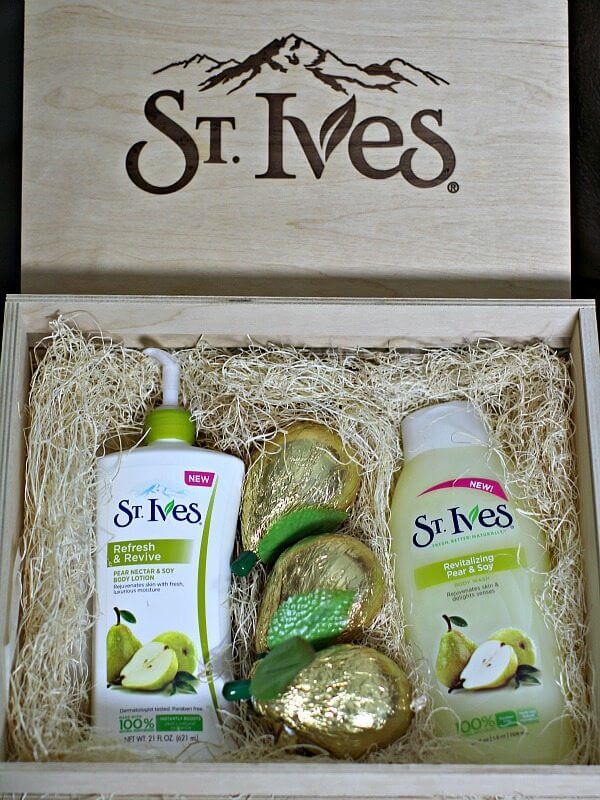 CHOCOLATE! ALERT!!!!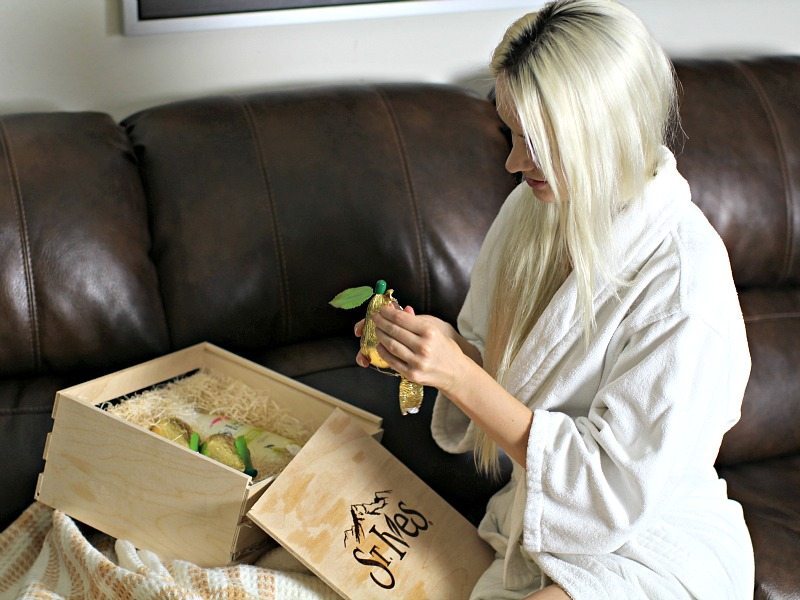 The new St. Ives Refresh & Revive Pear Nectar & Soy Body Lotion is made with natural ingredients like pear extract, vegetable glycerin, shea butter and soy bean oil in a paraben-free formula that's suitable for sensitive skin. I have sensitive skin, so I am very careful about the products that I use, as my skin gets easily irritated. On top of the great smell of this body lotion my skin feels amazing after I use it. I love shea butter so much, I used to use it on a regular basis when pregnant, and I was so happy to see it as an ingredient in this lotion, as it makes my skin feel very soft.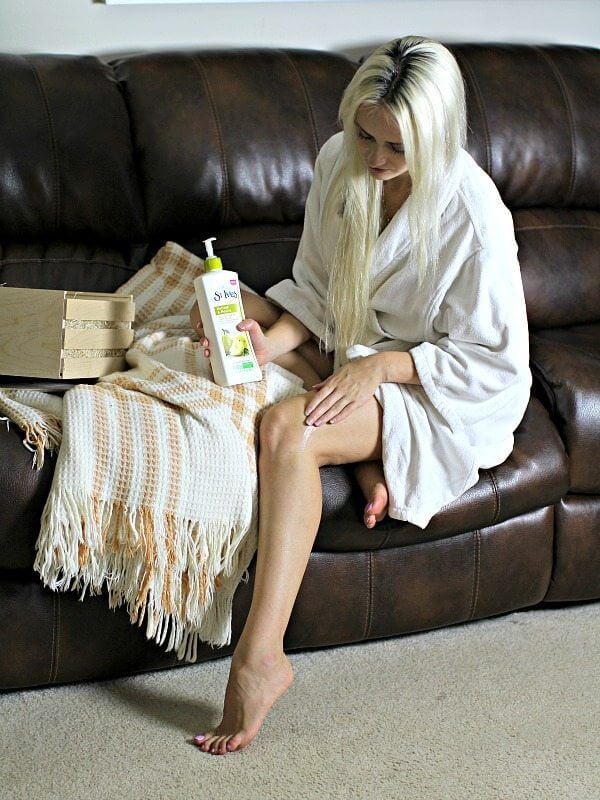 St. Ives Refresh & Revive Pear Nectar & Soy Body Lotion rejuvenates skin with fresh, luxurious moisture. You can feel the difference right away. After a bath with the aromatic St. Ives Refresh & Revive Pear Nectar & Soy Body Wash putting on that amazing body lotion felt glorious, a spa experience at home. The body wash itself is fabulous, with extract of soy and pear, its also paraben free, hypoallergenic and 100% natural. It makes some very nice foam as well, which is a must for me 🙂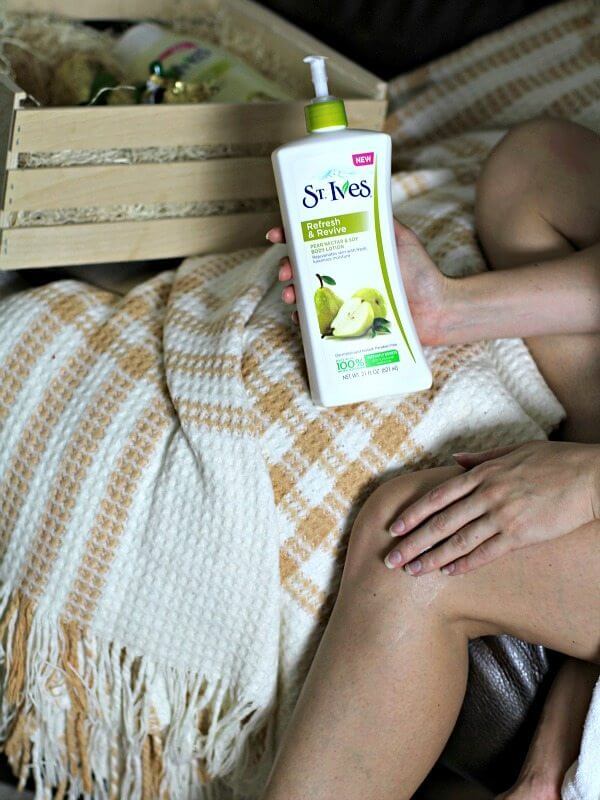 I loved how it made my skin feel soft, moisturized, glowing and with a subtle fresh pear scent. The lotion is not greasy and gets absorbed easily into the skin. It will make your skin feel healthy and protected during the cold fall and winter season. i can't wait to use it after our weekly trips to russian saunas, I bet it will keep my skin very hydrated and make it silky soft.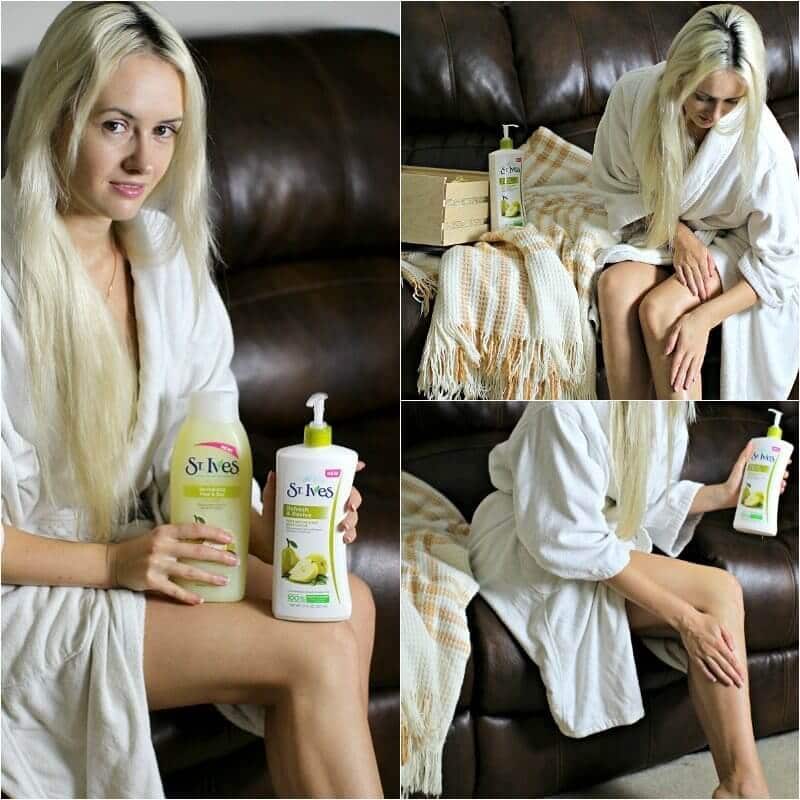 I love how affordable this body lotion is as well, St. Ives Refresh & Revive Pear Nectar & Soy Body Lotion is available beginning June 2015 and it retails for $4.99. You can connect with St. Ives on their Facebook Page and I recommend checking their website as well: www.stives.com.
Another product that I love and will keep using for fall is this Hollywood California Glamglow mask. In essence this is a brightening treatment for radiant and youthful looking skin. Since I have very fair skin, no matter how much I pile on sun screen during summer I usually get some sun spots on my face. This mask acts like a gentle exfoliator as well, I was advised by an amazing guy at Sephora to get it. So far, I am very pleased with the results. Once a week, after I shower, I gently massage this onto my skin and leave it for 10 minutes. It truly creates the brightest, lightest, and most luminous skin possible. It levels the color of my skin tone and since it's so rich in vitamin C my skin feels so much more healthier, luminous and I can see that it boasts my skin radiance.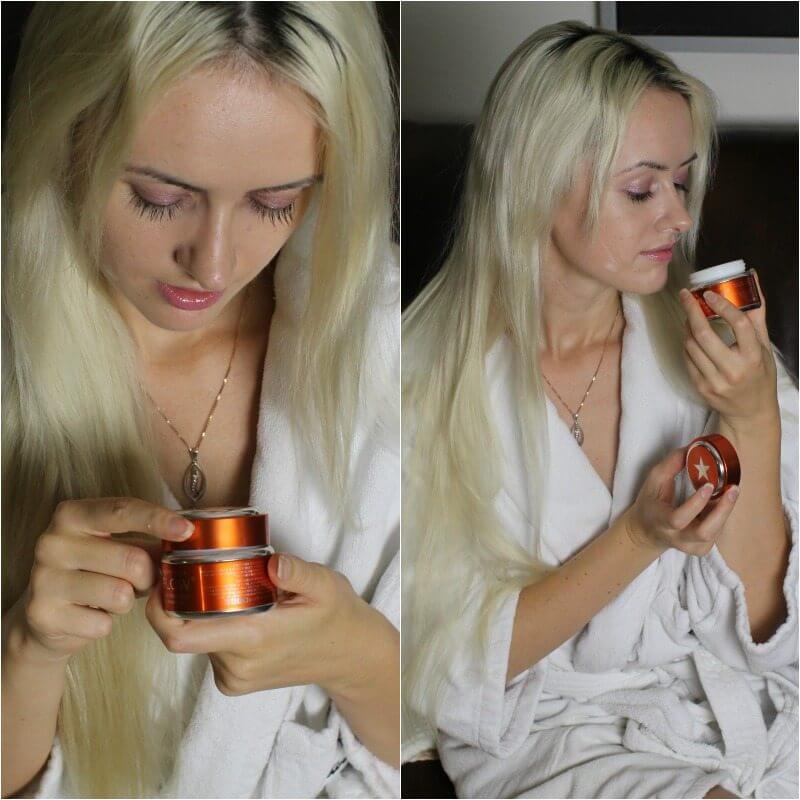 I was told that this is an intensive treatment, so I use it only once a week, and I am very pleased with the results. Also, bonus points for being paragon free, without sulfates, phthalates and that it smells amazing.
Just recently I have discovered another product that I like DIOR Capture Totale One Essential serum. This is not your regular serum, this is a detoxifying serum. And as a women living in New York City and being exposed to so much city pollution I decided to give it a try as I was promised by the DIOR representative that it will revitalize my skin by getting rid of the toxins and since the toxins are out, my skin will have the ability to better absorb other products like moisturizer and night creams, which will make them 4 times more efficient.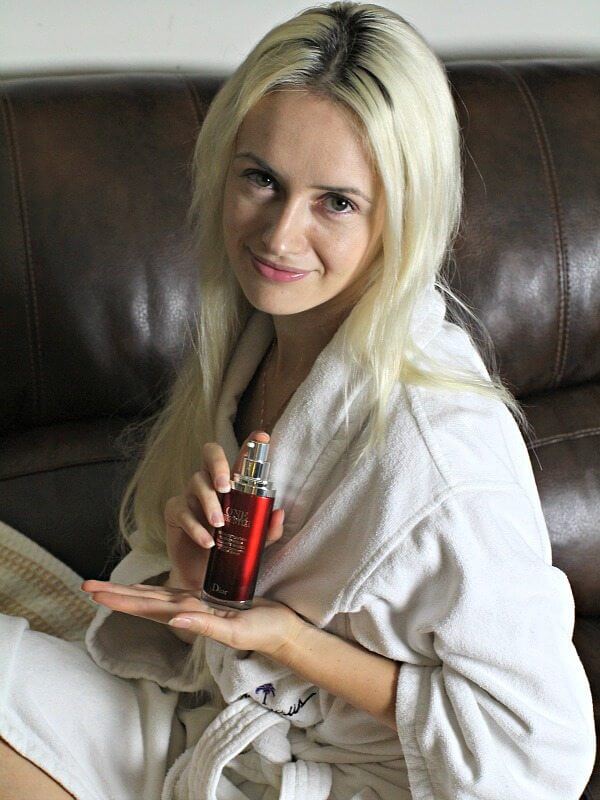 I included this product into my fall skincare regimen since I am very pleased with the results, I can totally feel how it improved my skin since I started using it. My skin is firmer, and I don't look as tired. I can feel that my skin texture has improved since I started using it and I truly believe that by targeting and eliminating the toxins from my skin, it helps my skin absorb other products better.
Last, but not least, I want to introduce you to my all time favorite night cream NUDE Advanced Renewal Overnight Repair Mask.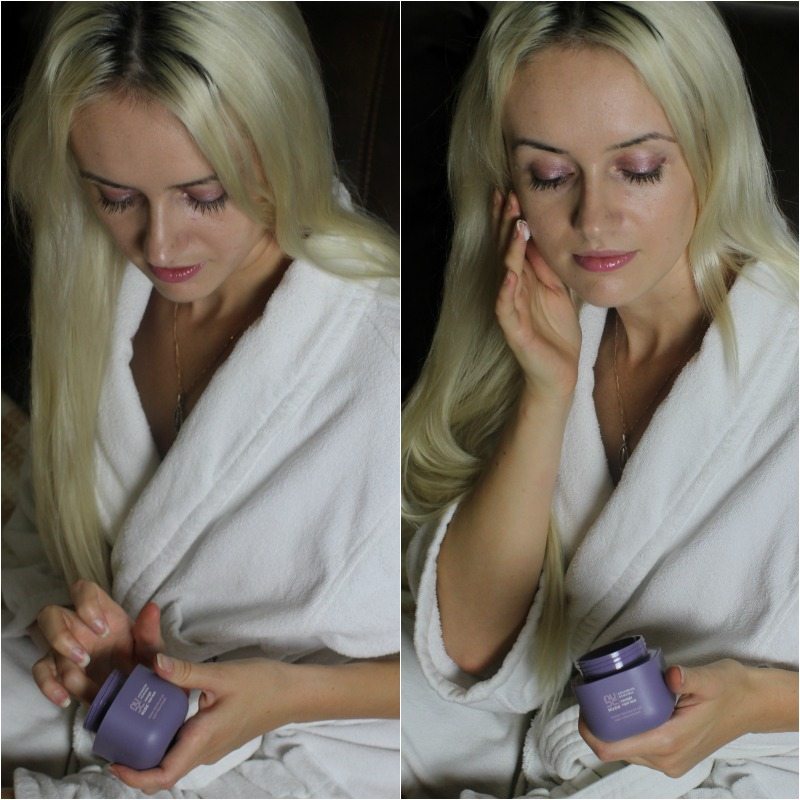 OK, so technically this is not a night cream by definition. BUT, remember that amazing guy I told you about, the one at Sephora? He swore by this overnight mask, he said that it can be used as a night cream as well, since its an overnight mask, it has the texture of a cream. You put it on, it gets fully absorbed by the skin and it works on your skin all night long, so you literally wake up with healthier, revitalized and moisturized skin.
Every morning I take a look at my face, and I can see the difference. And in combination with DIOR Capture Totale One Essential serum I think it works even better. When I wake up in the morning my skin looks rested and radiant. Also, I have very sensitive skin and many products would cause redness, this by far made my skin calm down. I put it on face and neck, and I love how silky smooth and soft it makes my skin. Definitely a must have for cold weather and harsh fall winds.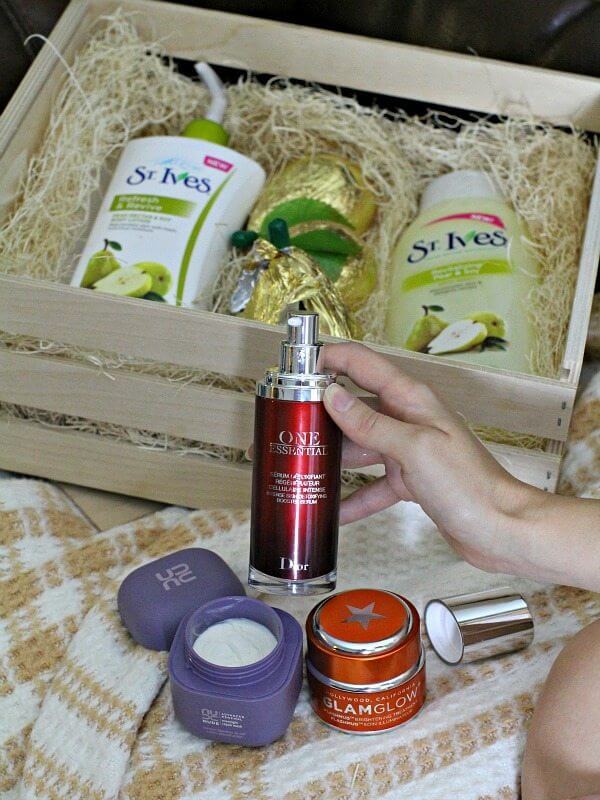 So these are the products that I will use part of my fall skincare regimen, stay tuned for upcoming beauty posts where I will share my make-up favorites and let me know what products do you plan on using this fall.
This is a sponsored conversation written by me on behalf of St. Ives. The opinions and text are all mine.