Slow Cooker Beef Stew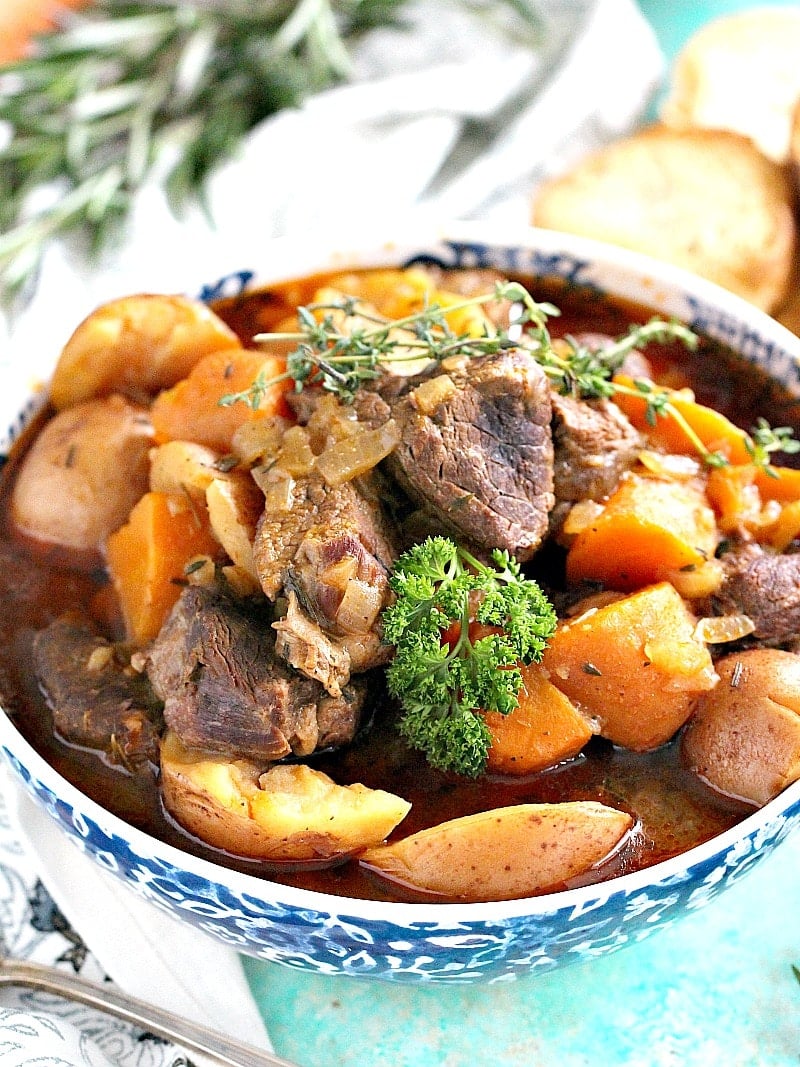 Author:
Katalina Kastravet
2 pounds stew meat, cut into 1-inch cubes
3 tablespoons canola oil
1½ pound baby red potatoes, cut into halves
3 large carrots, cut into ½-inch-thick rondelle
1 onion, diced
10 cloves garlic, minced
4 cups beef broth
4 tablespoons tomato paste
2 tablespoons Worcestershire sauce
1 teaspoon dried thyme
1 teaspoon dried rosemary
1 tablespoon garlic powder
1 tablespoon onion powder
½ teaspoon dried chili powder
3 bay leaves
¼ cup all purpose flour
Kosher salt and freshly ground black pepper, to taste
Add olive oil to a large skillet and heat over medium heat.
Season beef with salt and pepper. Add beef to the skillet and cook until browned, for about 2-3 minutes.
Place browned beef, potatoes, carrots, diced onion and half of the minced garlic into a 6-qt or 7-qt slow cooker.
In a large dish, combine beef broth, tomato paste and Worcestershire sauce, whisk to combine and add the mixture to the slow cooker. If the mixture doesn't over all the ingredients add water, until the ingredients are just covered.
Stir in dried thyme, dried rosemary, chili powder, onion powder, garlic powder and bay leaves until well combined, season with salt and pepper, to taste.
Cover and cook on low heat for 7-8 hours or high heat for 3-4 hours. If using an InstantPot Pressure Cooker select the Stew function and increase the time to 50 minutes.
Once the stew is done, stir in gently the remaining fresh garlic, it will add a nice punch of flavor.
In a small bowl, whisk together flour with ½ cup of stew broth until fully combined and with no lumps. Stir in flour mixture into the slow cooker. Cover and cook on high heat for an additional 30 minutes, or until thickened.
Garnish with parsley and serve!