Easy Home Entertaining Cheese Platter
This post may contain affiliate links. Please read my disclosure policy.
This post brought to you by Santa Margherita Wines. The content and opinions expressed below are that of Peas and Peonies.
Easy home entertaining cheese platter ideas featuring seasonal produce and easy to make Cranberry Sauce Cheese Bruschetta.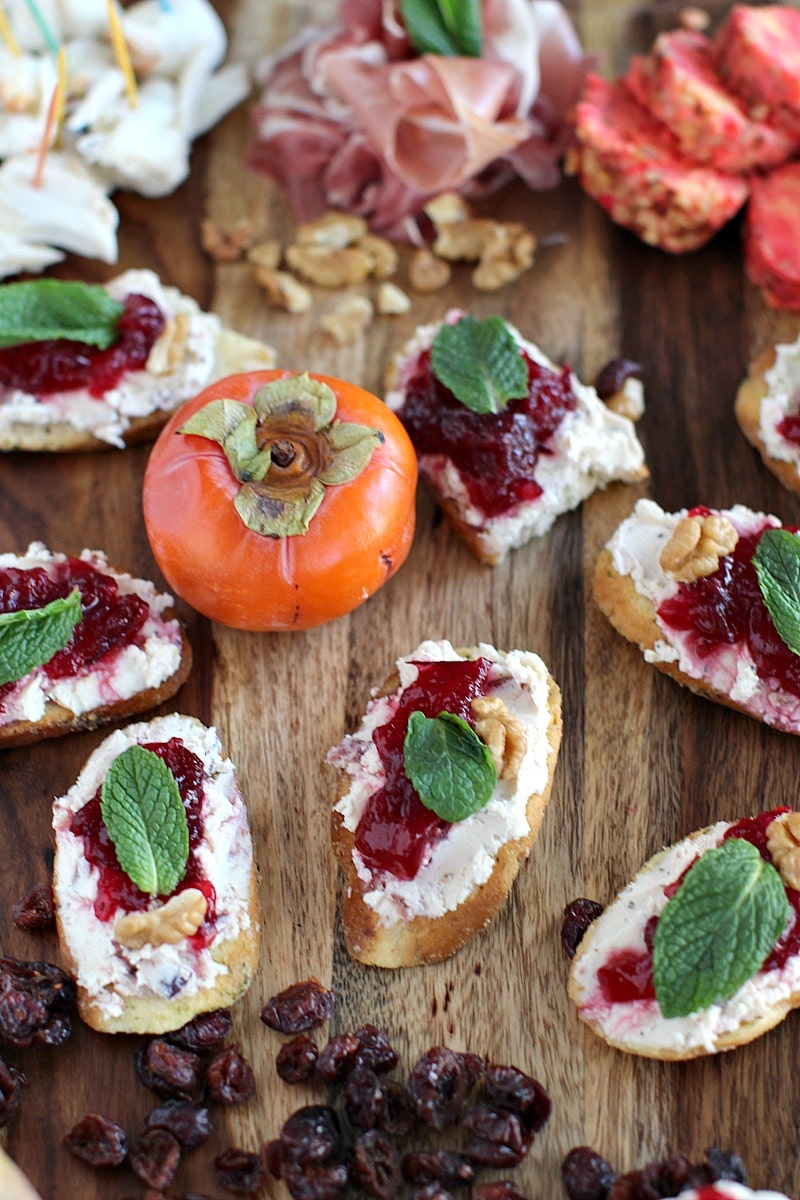 Who is ready to dive into my Easy Home Entertaining Cheese Platter that is absolutely delicious? Raise your hands! I have raised both of my hands, one with my wine and the other with the cheese!

I love the holiday season, so many reasons to get together! I have recently hosted a Girls Night over cheese and wine to discuss how we will spend the holidays. You know, important stuff. We discussed what we will wear for New Year's Eve and voted on what movie to watch on Christmas night.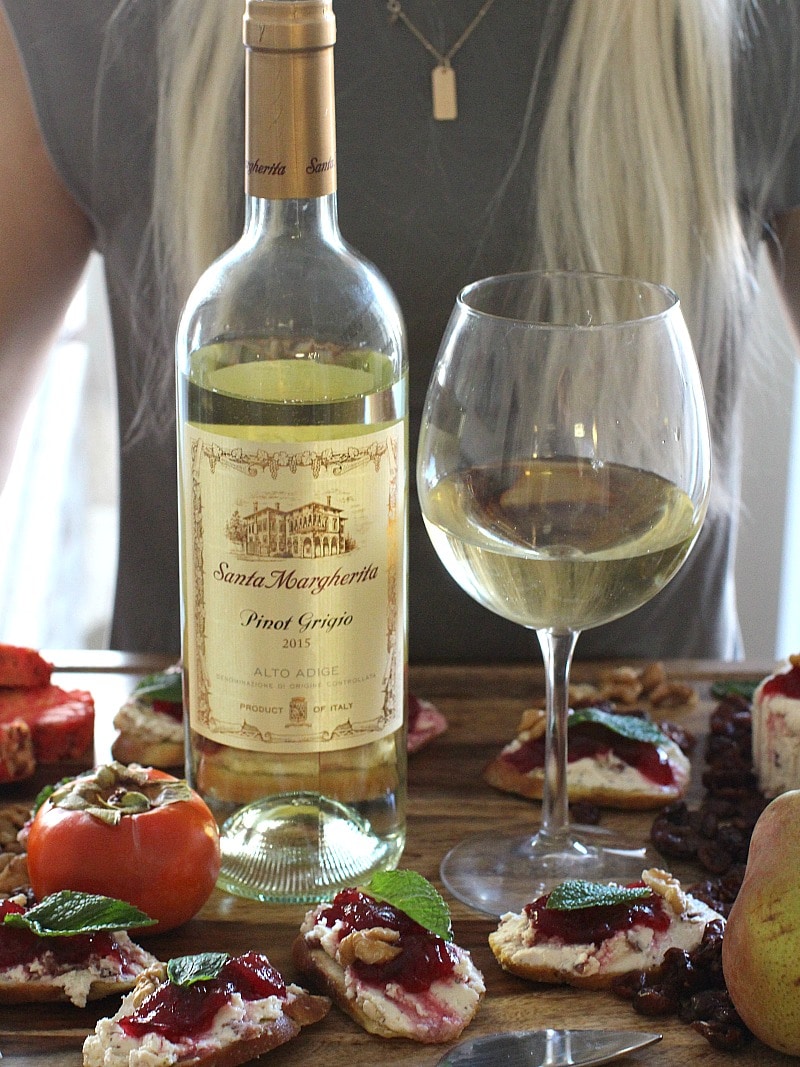 For our small get together I have decided to serve some finger food and put together a seasonal cheese platter. Cheese platters are very easy to make, and they definitely can become a full meal, based on the items you feature. I will tell you today how I am constructing my cheese platter and will share my Easy Home Entertaining ideas! First things first, when I decide to host a Girls Night, I first choose a theme based on the event timing, then I make up my mind on what food to serve.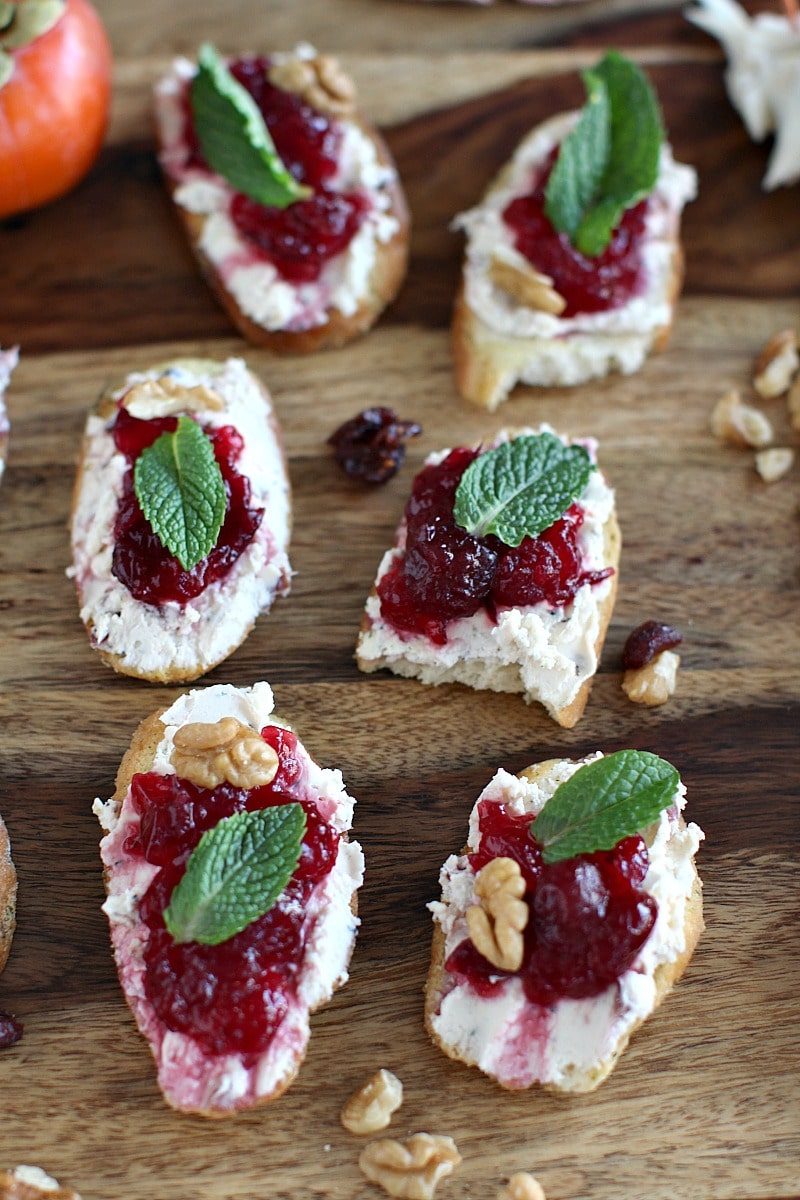 Here are a few factors that I take into consideration before I am making the menu:

MY LATEST VIDEOS
Time of the event – this is the most important one to me. If I am hosting our get together in the middle of the week, I usually go for a "No Bake" type of menu and choose items that can be purchased in advance so I don't have to run to the store on that day
Event type – is it just a Girls Night with my girlfriends watching movies and stalking Instagram accounts? Is it a playdate? Are people coming over to watch a game? Is it just unwinding with another couple after a long day? In my current case, I have hosted a Girls Night Out!
Food allergies and special diets – this is if you have friends that are vegetarian, vegan, gluten free or are allergic to some foods. You want to be inclusive of your guests, and also avoid items that can cause severe food allergies.
Wine – a very important factor that I consider before building the menu! For our Girls Night I have decided to serve a current favorite: Santa Margherita Pinto Grigio – this wine beautifully complements seafood dishes and light and fruity cheeses. I made sure I had both on my cheese platter!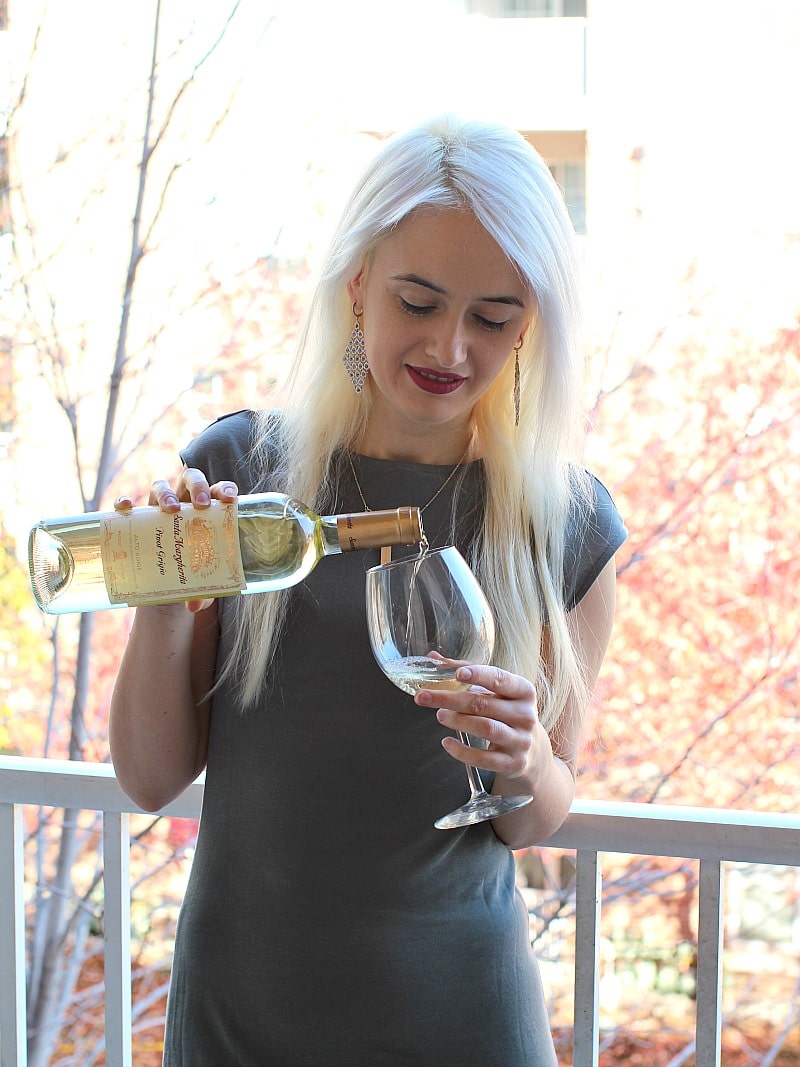 Santa Margherita Wines is proud to produce premium, high quality wines, that are perfect for any occasion. It's a wine that lives up to what your life is about – enjoying it to the fullest. The story of Santa Margherita Wines began with a personal and passionate commitment to preserving the environment. I respect their environmental, economic and social values that have been the core touchstones of the company. Their wines and wineries uphold the highest standards: sustainable, eco-friendly, vegan-friendly and energy efficient.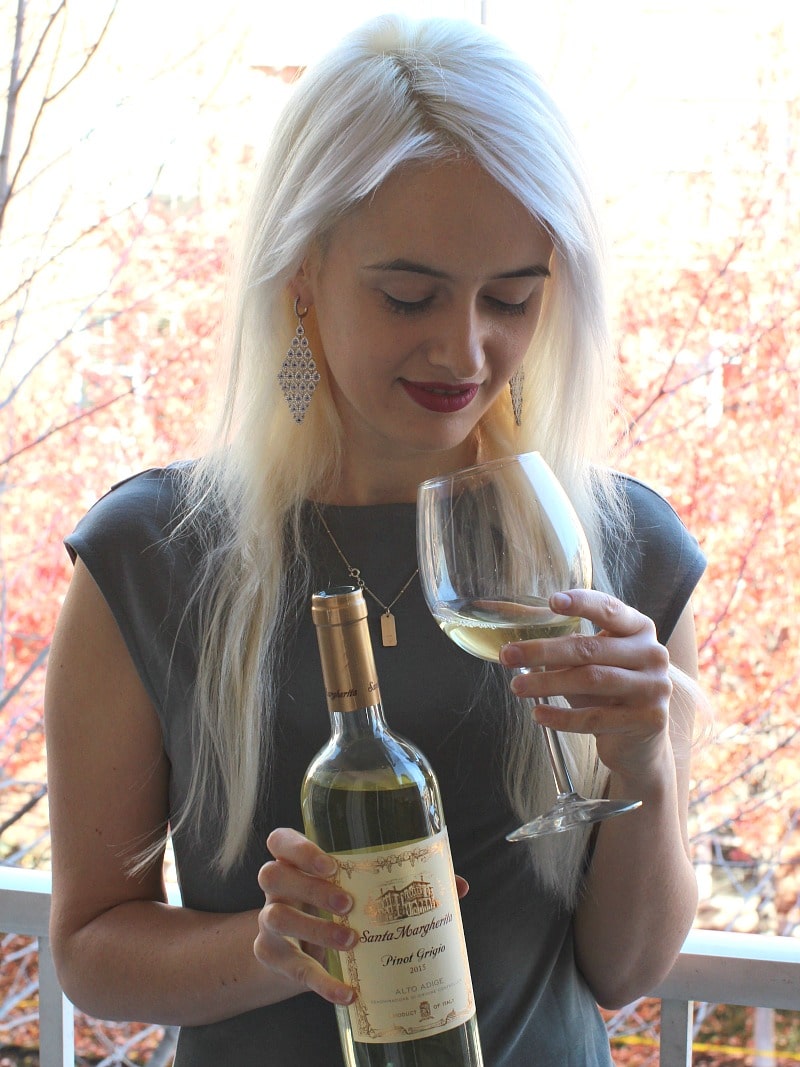 Santa Margherita Wines is proud to be a classic Italian wine brand. We love their Pinot Grigio as it is perfect to enjoy at home over dinner or to give it as a gift. The wine was definitely the highlight of our evening and it paired beautifully with the items on my cheese platter. As part of my Easy Home Entertaining ideas, I will tell you how I choose to build my cheese platter:
Choose cheese and small bites that pair with the wine you are serving. I like to feature cheeses that reflect the season. In this case I chose a soft cranberry spreadable cheese and also a wine and nuts infused cheese.
While cheese and crackers are fun, add other snacks to the platter for a rich palette of taste and textures. I like to add nuts, dried and fresh fruit.
Add seasonal fruit: for a fall theme, I added fresh pears and persimmons to my cheese platter.
I kept the dried fruit seasonal and added dried cranberries and also walnuts.
If you want to transform the cheese platter into a dinner, add more protein choices: Prosciutto is always a good idea and it pairs nicely with cheese. A seafood option, one that's easy to eat and mess free is the perfect addition. I went for real canned crab meat. First it doesn't involve any preparation from my side. Second it's sweetness pairs nicely with the wine I chose. A shrimp cocktail would work as well.
Prepare something "homemade" – I like to add a personal touch to my cheese platters. While all the store bought items are delicious and fun, something that you put together always catches the eye. It can be something as simple as baked brie, or something like I did here: Cranberry Sauce Cheese Bruschetta. These bites are incredibly easy to make. The creamy, seasonal cranberry cheese is spread on garlic parmesan bruschetta crostini, topped with sweet cranberry sauce and fresh mint leaves. Only a few minutes of prep to create a delicious appetizer!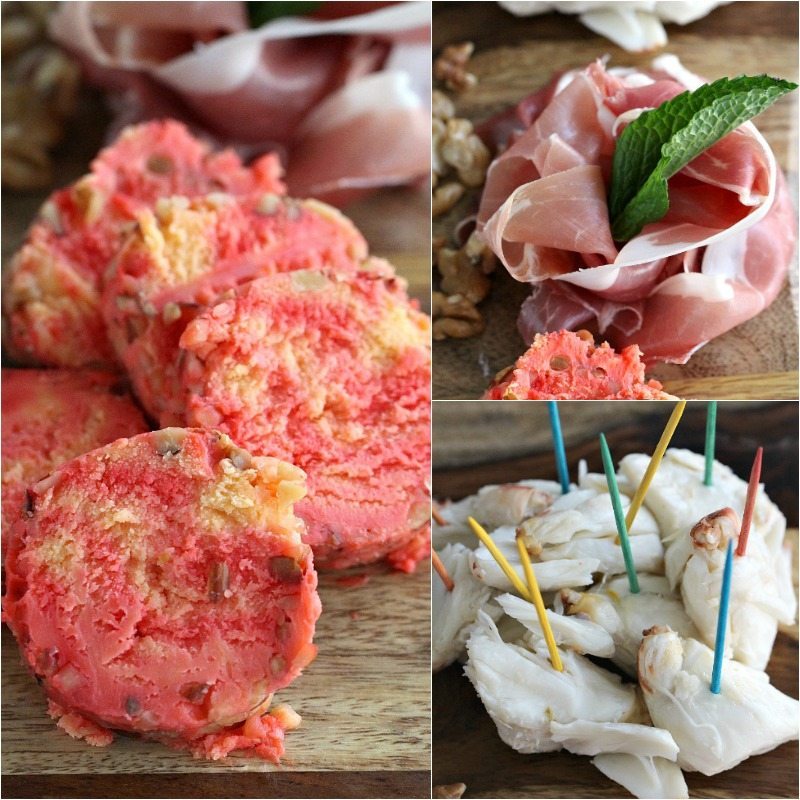 I hope you use my Easy Home Entertaining Cheese Platter to host your own get together! Let me know what other tricks and tips you have for hosting a stress free, fun and relaxing party!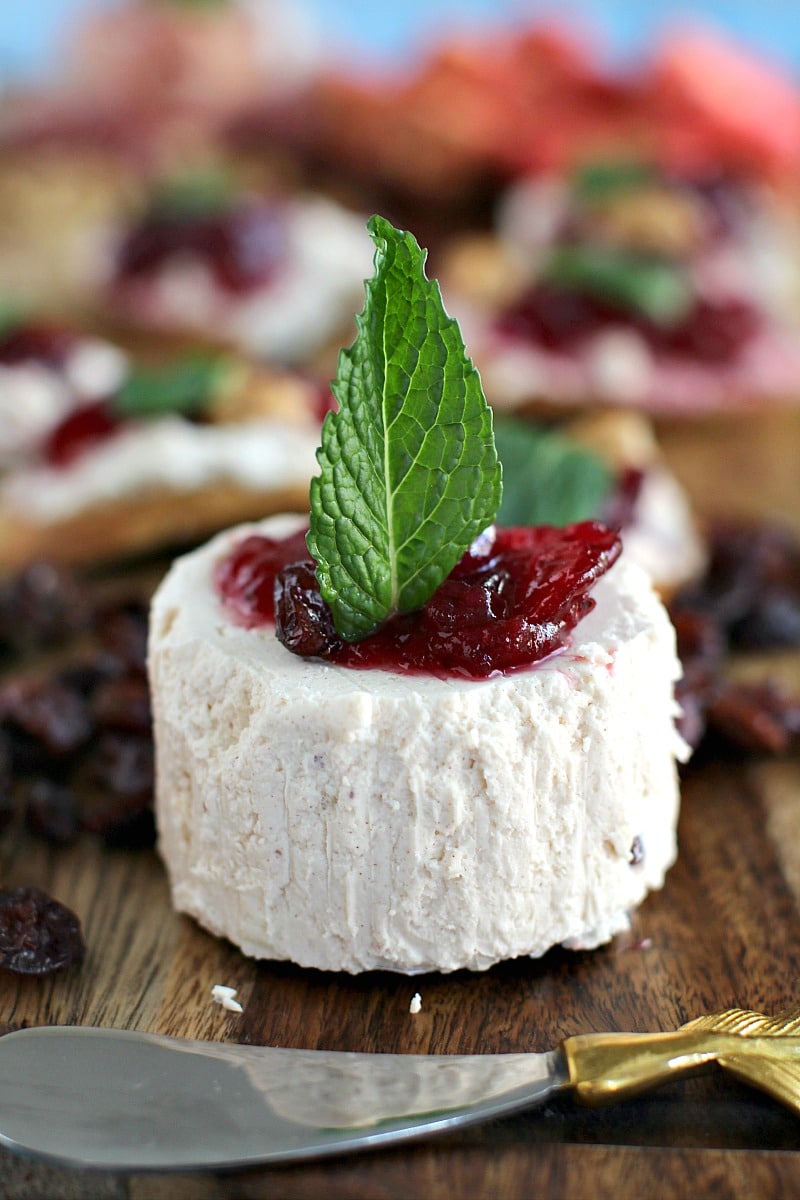 Easy Home Entertaining Cheese Platter
Easy home entertaining cheese platter ideas featuring seasonal produce and easy to make Cranberry Sauce Cheese Bruschetta.
Author:
Katalina Kastravet
Ingredients
5.2 ounces cranberry gournay cheese
12 garlic parmesan bruschetta crostini
1 can cranberry sauce
12 fresh mint leaves
Instructions
Spread the cheese on the garlic parmesan bruschetta crostini.
Top each crostini with 1 tablespoon of cranberry sauce.
Garnish with fresh mint leaves.
Serve immediately.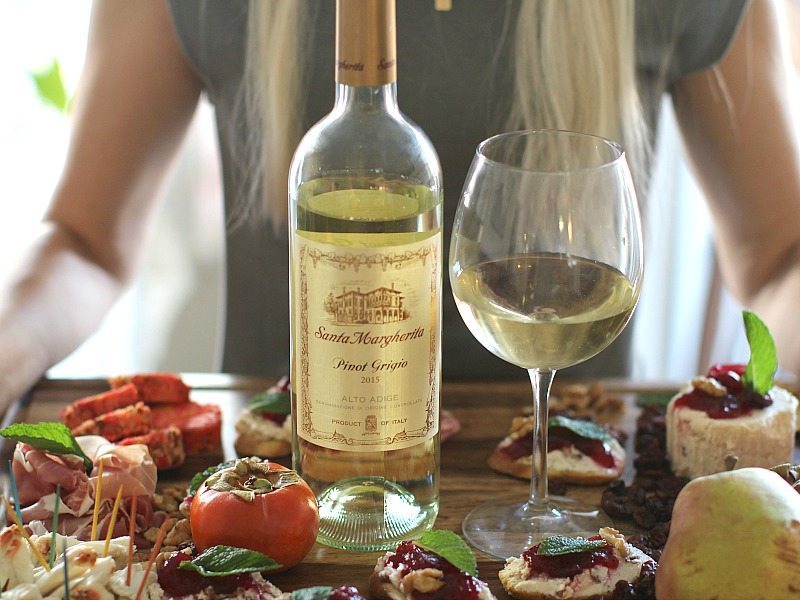 Follow Santa Margherita Wines on Instagram for more inspiration!
Peas and Peonies, LLC. owns the copyright on all images and text and does not allow for its original recipes and pictures to be reproduced anywhere other than at this site unless authorization is given. If you enjoyed the recipe and would like to publish it on your own site, please re-write it in your own words, and link back to my site and recipe page. Copying and/or pasting full recipes to social media or personal blogs is strictly prohibited. Sharing this recipe is very much appreciated and encouraged. Read my disclosure and privacy policy. This post may contain affiliate links.