Dense Chocolate Cake is the perfect center piece for a football themed party.
I love making fun and delicious cakes like my other popular once Cinnamon Coffee Cake and Pumpkin Cheesecake.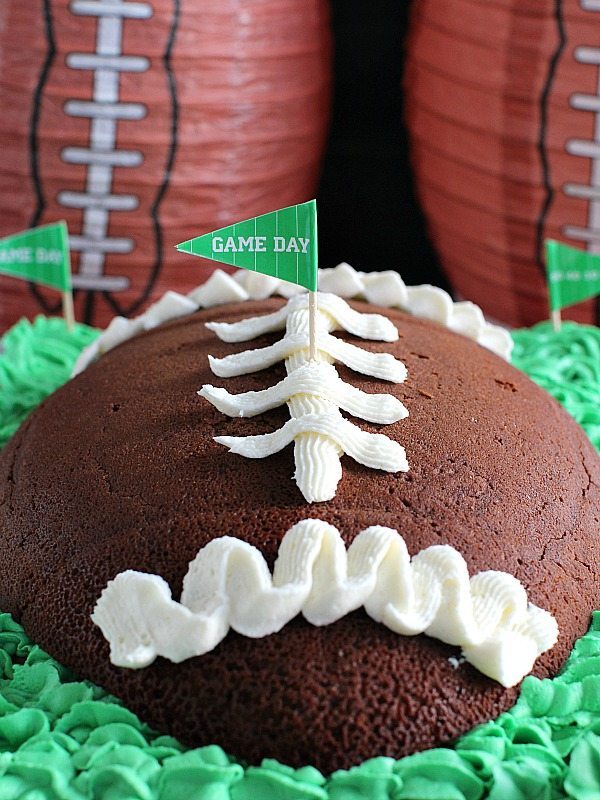 Dense Chocolate Cake
Today, I will be sharing with you the details of a delicious Dense Chocolate Cake. It was crafted specifically for a Big Game Party. I will also tell you how I get ready to host my parties.
So lets dive into all this fun and delicious football thing, as it can be pretty amazing! Now, when I plan a party I go thru a few key questions that are first on my list:
What is my budget?
How many people are coming?
Do those people have any allergies?
Any specific diets: vegetarian or vegan?
Based on these key answers I start crafting my menu. Also, trying to make sure that I have food that everyone will enjoy. In addition, need to make sure I have enough left to spend on decorations to make my party festive.
Big Game Decorations Idea
In terms of themed Big Game decorations, I try to invest in a few center pieces and smaller pieces:
Football Lanterns – you can either put them on the table, thru the house, or hanging from the ceiling
Football Whirls – they are very easy to attach to the ceiling and they add a pop of color, looking nice and shiny
Big Game toothpicks – they are colorful and can be used on cakes and appetizers
Big Game table runner – this one is a must in my opinion. A football field table runner will add a nice touch to your party and can be also used for fun games, or another idea is to set up different foods based on the yard marks 🙂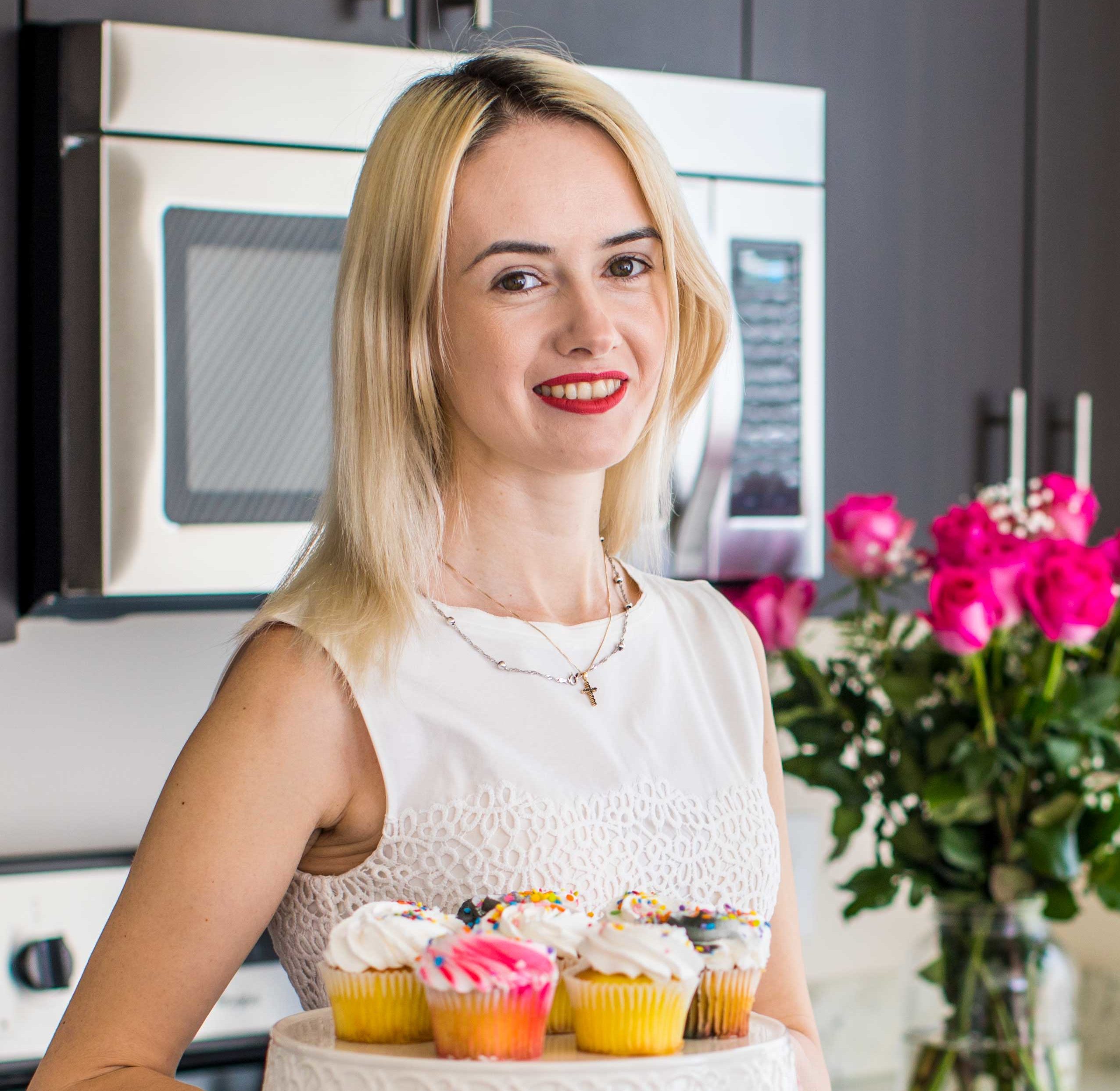 Follow us on Pinterest for more delicious recipes!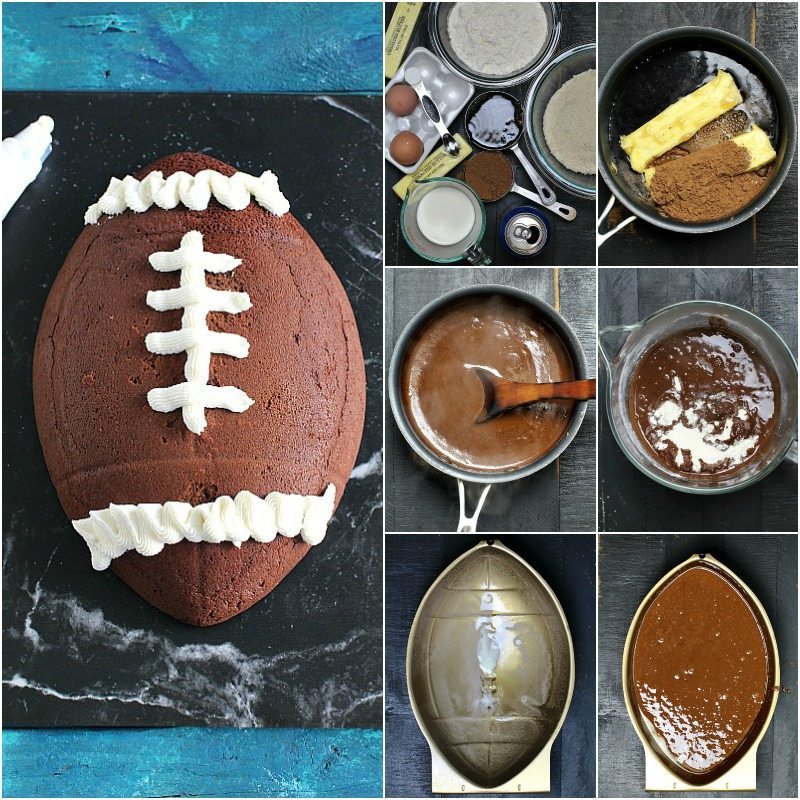 The Dense Chocolate Cake is basically a chocolate brownie football field that was stuffed with mini snickers. Then, covered in green mint buttercream, and on top of it lays a chocolate football ball made with pepsi.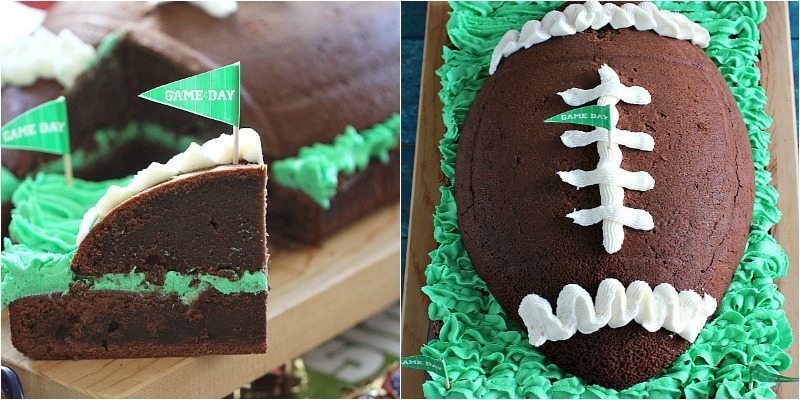 This cake is chocolaty and refreshing and your guests will love it!
Save Recipe
Author: Catalina Castravet
Serves: 16 servings
Prep time:

30

minutes
Cook time:

1

hour
Total time:

1

hr

30

mins
Ingredients
For the Field Layer
4 large eggs
2 cups sugar
8 ounces melted butter (+ 2 tablespoons for greasing the pan)
1 cups cocoa (sifted)
1 teaspoon vanilla extract
1 1/2 cups flour
1 cup full fat yogurt
1/2 teaspoon kosher salt
28 mini snickers
Pepsi Football Cake
2 large eggs
2 cups sugar
2 cups flour
8 ounces butter (+ 2 tablespoons for greasing the pan)
1/2 cup cocoa (sifted)
1 teaspoon vanilla extract
1 cup epsi (or coke)
1/2 cup heavy whipping cream
1/2 teaspoon kosher salt
1/2 teaspoon baking powder
Mint Buttercream:
8 ounces butter (softened)
7 cups confectioners sugar
1 teaspoon mint extract
6 tablespoons milk
Green gel food coloring
Instructions
For the Field Layer:
Preheat oven to 325 degrees F.
Place a baking sheet (parchment paper) in an 8-inch pan so it covers the bottom and 2 sides (to facilitate the cake removal). Butter the pan and set aside.
In a mixer fitted with the wire attachment, beat the eggs at medium speed until fluffy and light yellow, add the sugar and beat until combined. Add remaining ingredients (except mini snickers), and mix to combine.
Pour batter into prepared pan, press the snickers mini well into the cake and bake for 45 minutes. Remove from oven and set aside to cool down.
Pepsi Football Cake
Combine flour, sugar, salt and baking powder in a mixing bowl, set aside. In a medium sauce pan, heat the butter, cocoa, and 1 cup of Pepsi to boiling and pour over the flour mixture. Mix until combined.
Add heavy cream, eggs, and vanilla extract, mix well.
Pour batter into prepared football shaped pan and bake for 50 minutes, or until a toothpick inserted in the center of the cake comes out clean.
Remove cake from over and let it cool completely before frosting.
Mint Buttercream:
In the bowl of an electric mixer, beat butter until creamy. Beat in the confectioners sugar, mint extract and milk to achieve the desired consistency.
Save a few tablespoons of white buttercream to decorate the football ball.
To the rest add green gel food coloring and mix until combined.
Assemble:
Frost the field cake with green mint buttercream. Place the football ball cake on top and decorate with white buttercream.
Serve.
Calories: 597 Carbohydrates: 87 Protein: 5 Fat: 21 Saturated Fat: 8 Cholesterol: 56 Sodium: 317 Potassium: 129 Fiber: 4 Sugar: 45 Vitamin A: 1540 Vitamin C: 0.2 Calcium: 99 Iron: 2.9
Save Recipe
More recipes you might love