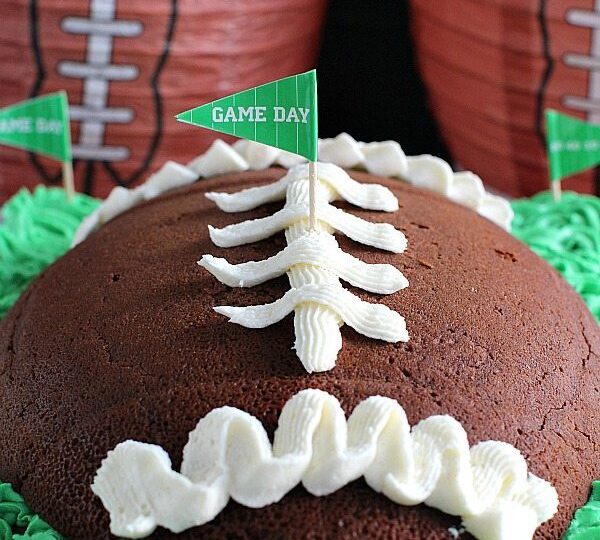 Dense Chocolate Cake is the perfect center piece for a football themed party.
I love making fun and delicious cakes like my other popular once Cinnamon Coffee Cake and Pumpkin Cheesecake.
Dense Chocolate Cake
Today, I will be sharing with you the details of a delicious Dense Chocolate Cake. It was crafted specifically for a Big Game Party. I will also tell you how I get ready to host my parties.
So lets dive into all this fun and delicious football thing, as it can be pretty amazing! Now, when I plan a party I go thru a few key questions that are first on my list:
What is my budget?
How many people are coming?
Do those people have any allergies?
Any specific diets: vegetarian or vegan?
Based on these key answers I start crafting my menu. Also, trying to make sure that I have food that everyone will enjoy. In addition, need to make sure I have enough left to spend on decorations to make my party festive.
Big Game Decorations Idea
In terms of themed Big Game decorations, I try to invest in a few center pieces and smaller pieces:
Football Lanterns – you can either put them on the table, thru the house, or hanging from the ceiling
Football Whirls – they are very easy to attach to the ceiling and they add a pop of color, looking nice and shiny
Big Game toothpicks – they are colorful and can be used on cakes and appetizers
Big Game table runner – this one is a must in my opinion. A football field table runner will add a nice touch to your party and can be also used for fun games, or another idea is to set up different foods based on the yard marks 🙂
The Dense Chocolate Cake is basically a chocolate brownie football field that was stuffed with mini snickers. Then, covered in green mint buttercream, and on top of it lays a chocolate football ball made with pepsi.
This cake is chocolaty and refreshing and your guests will love it!