Dense Chocolate Cake and Game Day Party
This post may contain affiliate links. Please read my disclosure policy.
Dense Chocolate Cake made with Pepsi™ and stuffed with SNICKERS® Mini is the perfect center piece for a football themed party.
Happy Monday my friends, how did the weekend go? I know, it always flies by so fast, I hope at least everyone had a good time. I have a very busy week ahead of me, so I am starting it with a very fun and delicious post, for a good start. Did my American readers spend their Sunday watching football? Yes, so did we, but we also spent it eating good food. I can never let an opportunity to eat cake slip away from me, so today I will be sharing with you the details of a delicious Dense Chocolate Cake crafted specifically for a Big Game Party. I will also tell you how I get ready to host my parties.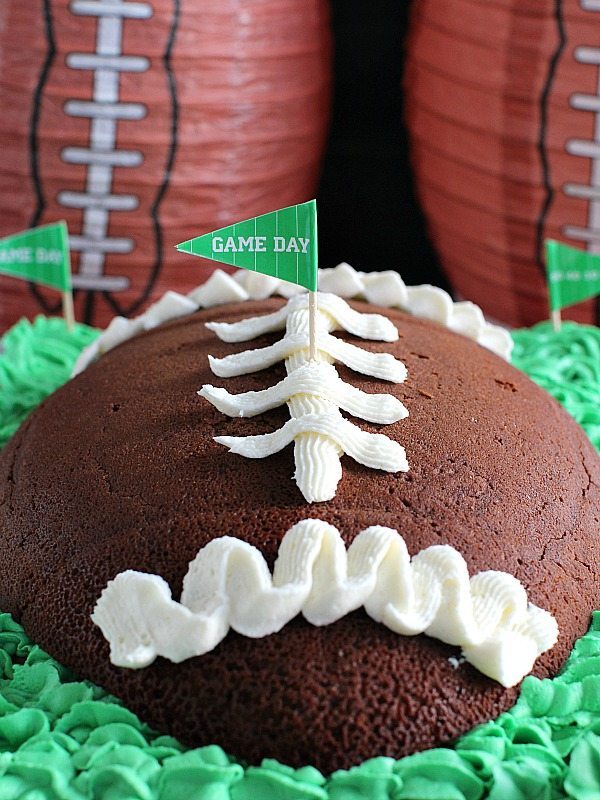 So lets dive into all this fun and delicious football thing 🙂 it can be pretty amazing! Now, when I plan a party I go thru a few key questions that are first on my list:
What is my budget?
How many people are coming?
Do those people have any allergies?
Any specific diets: vegetarian or vegan?
Based on these key answers I start crafting my menu, trying to make sure that I have food that everyone will enjoy and that I have enough left to spend on decorations to make my party festive.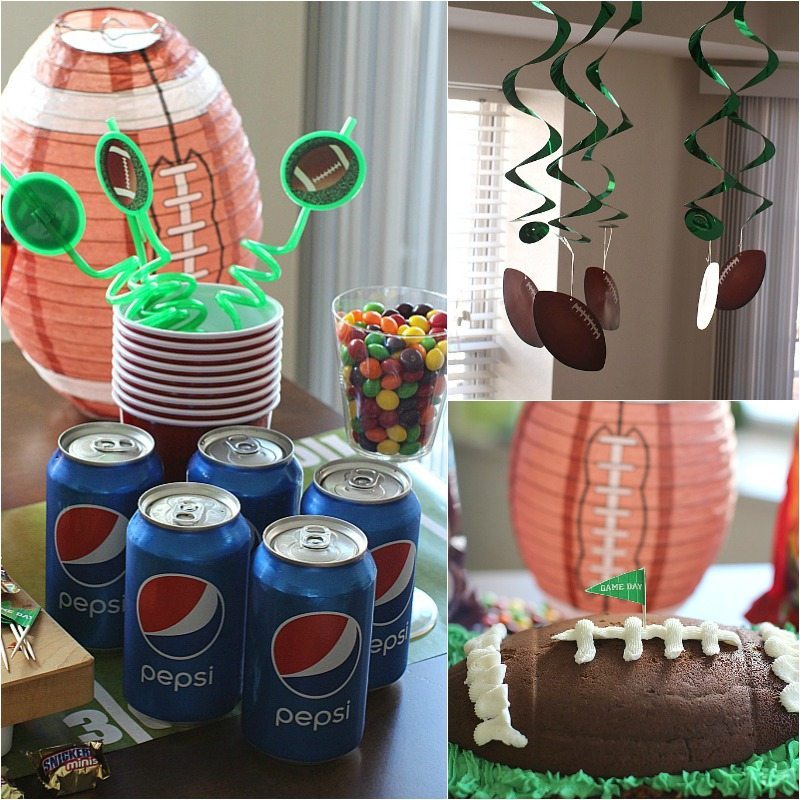 In terms of themed Big Game decorations, I try to invest in a few center pieces and smaller pieces:

MY LATEST VIDEOS
Football Lanterns – you can either put them on the table, thru the house, or hanging from the ceiling
Football Whirls – they are very easy to attach to the ceiling and they add a pop of color, looking nice and shiny
Big Game toothpicks – they are colorful and can be used on cakes and appetizers
Big Game straws – these are extra fun to sip on that Pepsi™
Big Game table runner – this one is a must in my opinion, a football field table runner will add a nice touch to your party and can be also used for fun games, or another idea is to set up different foods based on the yard marks 🙂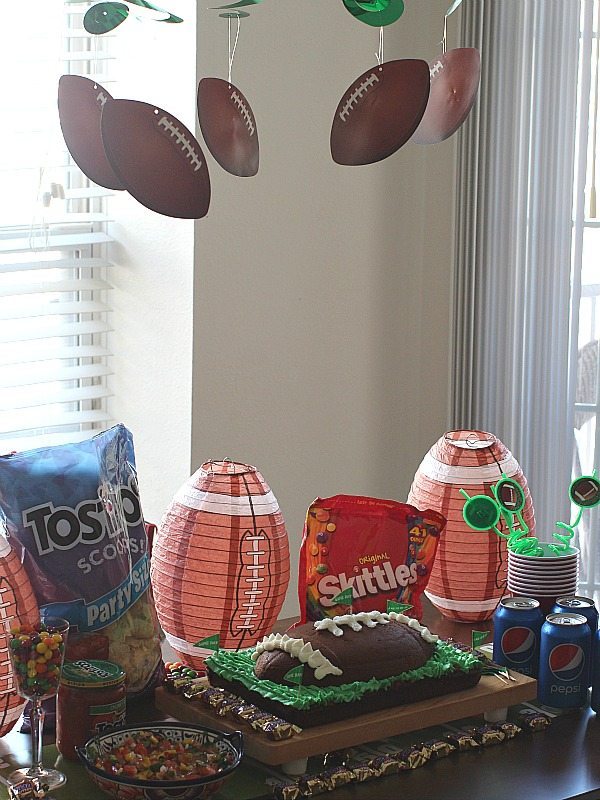 The Dense Chocolate Cake is basically a chocolate brownie football field that was stuffed with SNICKERS® Mini, covered in green mint buttercream, and on top of it lays a chocolate football ball made with Pepsi™. This Dense Chocolate Cake is actually very easy to make, and I have some step by step photos that will help you follow the recipe.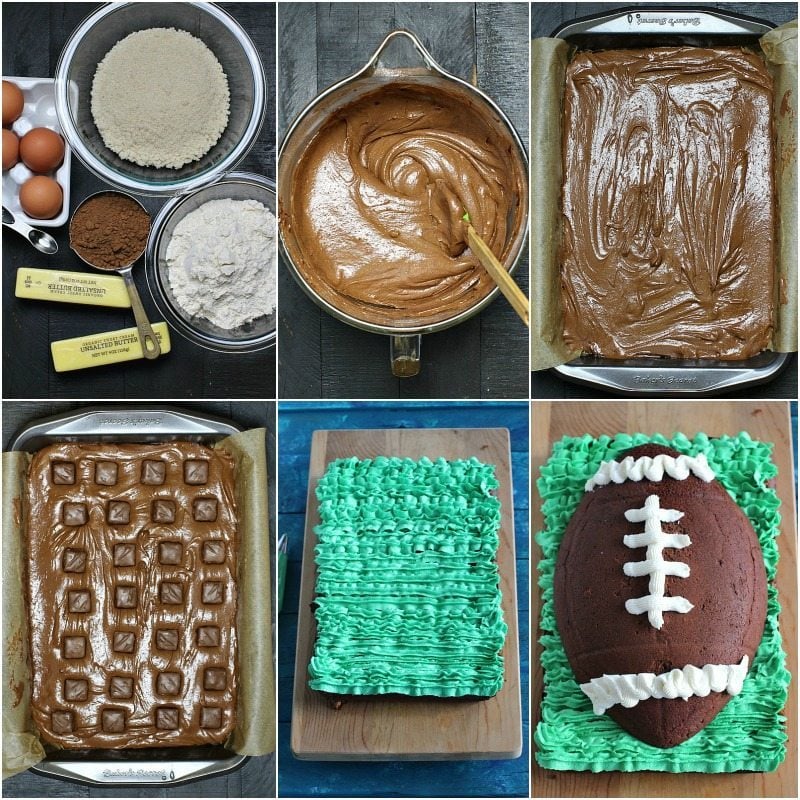 The above photo showed you how to make the football field for the Dense Chocolate Cake. Now here is how you make the top part: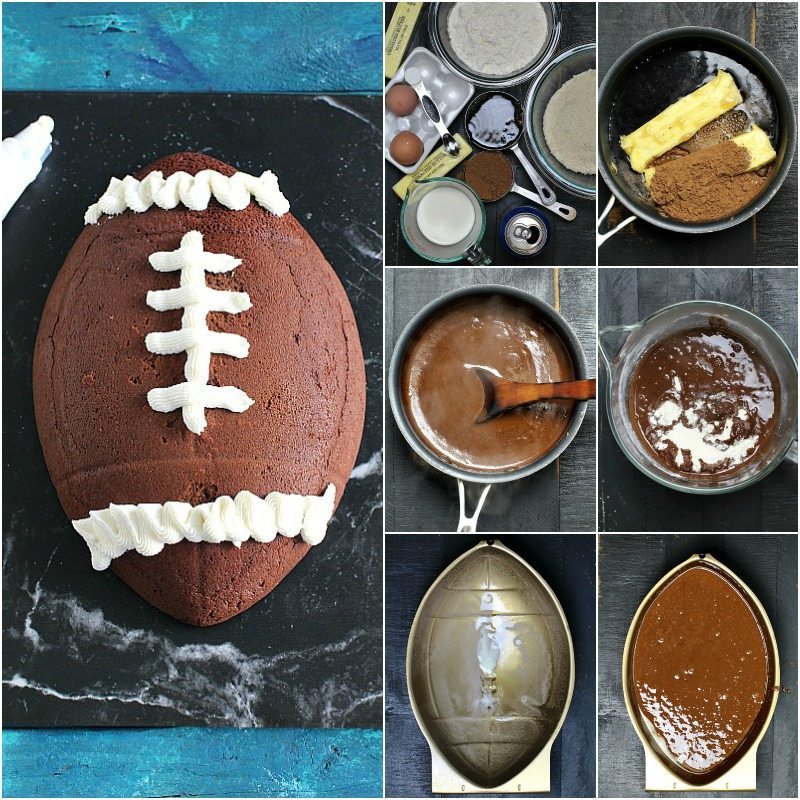 You put the football ball on the field cake and you get a very Big Game Dense Chocolate Cake that was actually super easy to make.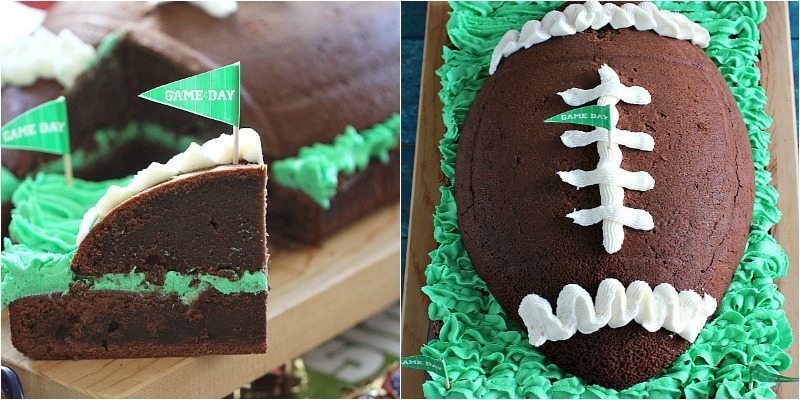 These Dense Chocolate Cake is chocolaty and refreshing and your guests will love it!
I also like to have some appetizers on hand, I usually go for chips and salsa like TOSTITOS® and their Medium Chunky Salsa is a hit with everyone. I especially like the TOSTITOS® Scoops, you can get a lot of salsa into those little guys. If I have enough time, I try to whip a homemade salsa as well, just to have a few options, one that I really like is this Mango Jalapeño Salsa.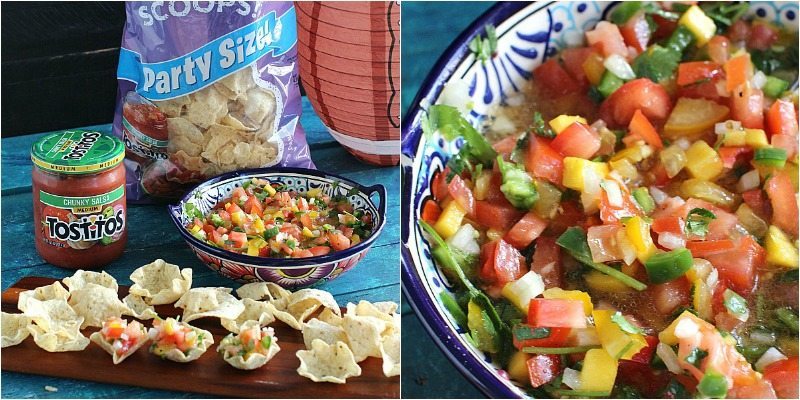 Its flavorful, its spicy, its got the heat and its perfectly balanced by the sweet mango!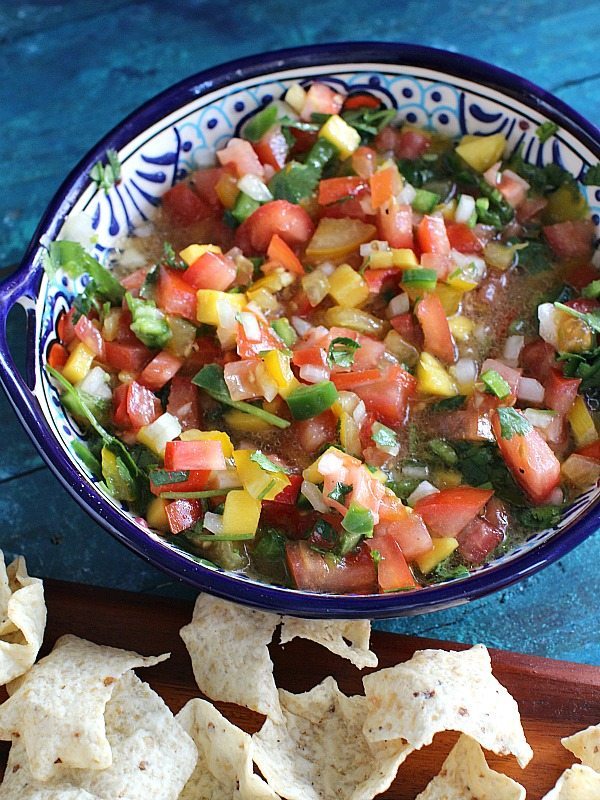 We also usually order some pizza right before the guests should come, or we just quickly bake some wings, they are always a hit, and it doesn't require much prep time, which I think its always a bonus for the hostess.

To add more color and fun to the table I fill glasses with Skittles®, people just love to grab some and munch thru the game. We keep cold Pepsi™ and ice on hand as well. Never forget to refrigerate the drinks before the party, having a cooler on hand is actually a great idea.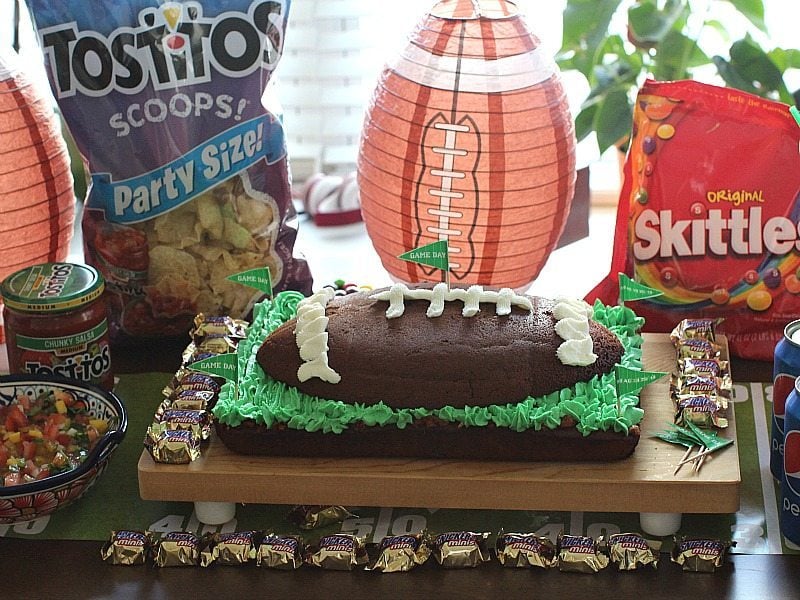 I hope you have a fun Big Game Party!

Football Shaped Chocolate Cake
A dense chocolate cake made with Pepsi™ and stuffed with SNICKERS® Mini is the perfect center piece for a football themed party.
Author:
Katalina Kastravet
Ingredients
For the Field Layer:
4 large eggs
2 cups sugar
8 ounces / 2 sticks melted butter + 2 tablespoons for greasing the pan
1 cups cocoa, sifted
1 teaspoon vanilla extract
1½ cups flour
1 cup full fat yogurt
½ teaspoon kosher salt
28 SNICKERS® Mini
Pepsi™ Football Cake
2 large eggs
2 cups sugar
2 cups flour
8 ounces / 2 sticks butter + 2 tablespoons for greasing the pan
½ cup cocoa, sifted
1 teaspoon vanilla extract
1 cup Pepsi™
½ cup heavy whipping cream
½ teaspoon kosher salt
½ teaspoon baking powder
Mint Buttercream:
8 ounces / 2 sticks butter, softened
7 cups confectioners sugar
1 teaspoon mint extract
6 tablespoons milk
Green gel food coloring
Instructions
For the Field Layer:
Preheat oven to 325 degrees F.
Place a baking sheet (parchment paper) in an 8-inch pan so it covers the bottom and 2 sides (to facilitate the cake removal). Butter the pan and set aside.
In a mixer fitted with the wire attachment, beat the eggs at medium speed until fluffy and light yellow, add the sugar and beat until combined. Add remaining ingredients (except mini SNICKERS®), and mix to combine.
Pour batter into prepared pan, press the SNICKERS® Mini well into the cake and bake for 45 minutes. Remove from oven and set aside to cool down.
Pepsi™ Football Cake
Combine flour, sugar, salt and baking powder in a mixing bowl, set aside. In a medium sauce pan, heat the butter, cocoa, and 1 cup of Pepsi™ to boiling and pour over the flour mixture. Mix until combined.
Add heavy cream, eggs, and vanilla extract, mix well.
Pour batter into prepared football shaped pan and bake for 50 minutes, or until a toothpick inserted in the center of the cake comes out clean.
Remove cake from over and let it cool completely before frosting.
Mint Buttercream:
In the bowl of an electric mixer, beat butter until creamy. Beat in the confectioners sugar, mint extract and milk to achieve the desired consistency.
Save a few tablespoons of white buttercream to decorate the football ball.
To the rest add green gel food coloring and mix until combined.
Assemble:
Frost the field cake with green mint buttercream. Place the football ball cake on top and decorate with white buttercream.
Serve.
Mango Jalapeno Salsa
A delicious and easy to make salsa, balances sweet mango, tangy and juicy tomatoes with a touch of heat from the jalapeño.
Author:
Katalina Kastravet
Ingredients
2 red tomatoes, chopped,
2 yellow tomatoes, chopped
½ sweet onion, chopped,
1 jalapeno, chopped
1 mango, sliced and chopped
juice of half lemon
1 tablespoon olive oil
Salt pepper
Cilantro, chopped
Instructions
In a medium bowl, combine tomatoes, mango, onion, cilantro, lemon juice, olive oil, salt and pepper to taste. Mix well. Add ½ of the jalapeno pepper, and taste. If you prefer your salsa hotter, add the remaining ½ jalapeño.
Cover the salsa, and chill until ready to serve.
Peas and Peonies, LLC. owns the copyright on all images and text and does not allow for its original recipes and pictures to be reproduced anywhere other than at this site unless authorization is given. If you enjoyed the recipe and would like to publish it on your own site, please re-write it in your own words, and link back to my site and recipe page. Copying and/or pasting full recipes to social media or personal blogs is strictly prohibited. Sharing this recipe is very much appreciated and encouraged. Read my disclosure and privacy policy. This post may contain affiliate links.