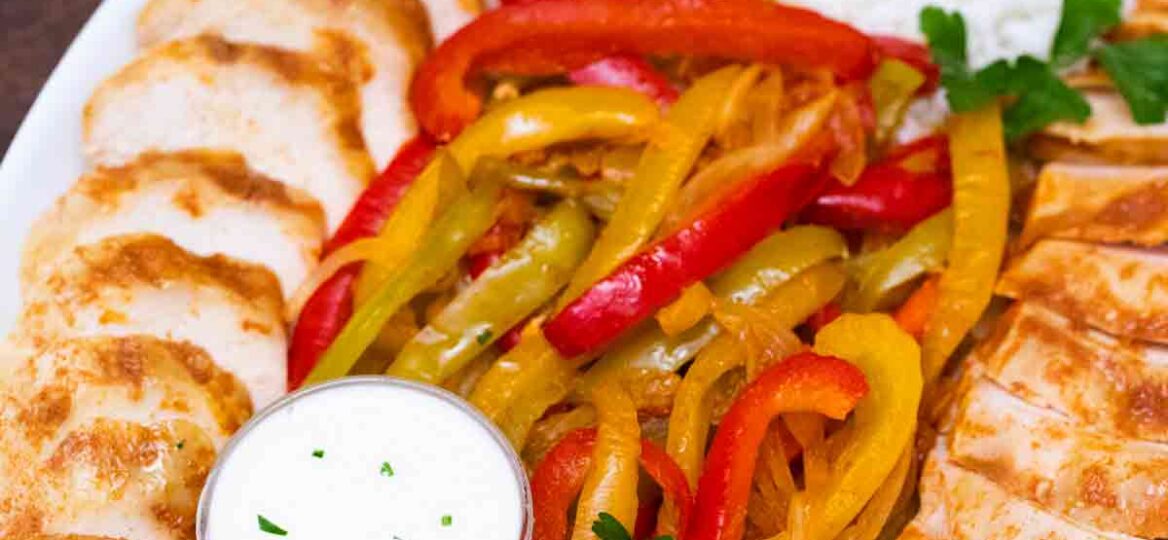 Crockpot Chicken Fajitas [Video]
Crockpot Chicken Fajitas boast bold fajita flavors, but are lighter and so much easier to make than the traditional grilled version! Simply dump everything into the slow cooker and let it simmer to tender perfection.
Go all out and treat yourself and your family to a homemade Tex-Mex feast! Serve some zesty and cheesy Mexican Street Corn as a side or starter. Also feel free to enjoy the fajitas with Chimichangas, and finish the meal on a sweet note with buttery and sweet Mexican Wedding Cookies!
Best Slow Cooker Chicken Fajitas
Crockpot Chicken Fajitas are the perfect "lazy" meal. Throw all the ingredients into your crockpot, and it does all the work for you. But don't get me wrong— this dish is bursting with authentic fajita flavors, except there's no need to fire up the grill or turn on the stove!
Another thing I love about this recipe is that it's such an interactive meal. Everyone gets to fill their tortillas with meat and the garnishes they like the most. It's also easy to scale up the recipe to feed a big group.
If you like Mexican flavors and no-fuss meals (who doesn't?), try this for dinner tonight!
What are fajitas?
It traditionally refers to thin strips of skirt steak, marinated and then grilled. It's usually served along with grilled veggies (such as strips of onions and peppers), soft tortillas, and garnishes like sour cream, salsa, and cheese.
This recipe is a lighter take on the classic version because it is using chicken breast meat instead of steak.
But don't worry— it still has all the big, bold flavors we all love about fajitas!
How do you make Fajita seasoning?
It's a simple matter of measuring out the herbs and spices, then mixing them up. You need a 1 tsp each of garlic and onion powder, crushed pepper flakes, paprika, and salt.
To that, add 2.5 tsp each of chili powder and ground cumin. That's it!
Also, I suggest you make a big batch, then store it in an air-tight jar. This way, you're always ready to whip up a Tex-Mex meal from scratch!
How do you make Crockpot Chicken Fajitas?
Layer the ingredients. Start by arranging the chicken and stock in one layer at the bottom of the pot. Sprinkle with half of the fajita seasoning. Then, arrange veggies on top, then sprinkle with the rest of the seasoning. Spread the salsa evenly over that, then top with zest and lemon juice.
Cook. Next, set the crockpot for 3 to 4 hours (LOW setting) or 2 hours (HIGH setting). The meat is done when it reaches an internal temp of 165F.
Serve. Plate up the chicken with warm tortillas, sour cream, fresh salsa, cilantro lime rice, and creamy guacamole.
Recipe Variations:
Use other meats: Go traditional with skirt steak, use well-marbled pork strips, or swap out the breast with juicy strips of thigh.

Mix-in other vegetables: Feeel free to add strips of zucchini, eggplants, squash, or mushrooms.

Make it spicy: If you want a little kick with your meal, throw in a couple of poblanos into the pot.
Make it vegetarian: Try an all-veggie version, or use baked tempeh or tofu in place of the meat!

Sovetop version: Try this skillet version of Chicken Fajitas!
What onions are best for fajitas?
White onions, because their pungent and sharp flavor complement the bold seasonings very well. But in a pinch, feel free to use yellow or red.
Can you make chicken fajitas in the Instant Pot?
Sure! Follow the layering process in the crockpot recipe, and set the Instant Pot High Pressure timer for 10 mins. Then, do a quick release.
Serve with your favorite sides and garnishes!
Can I put raw chicken in the crockpot?
Yes, I do it all the time especially when I'm in a rush. Do note that the crockpot's low heat means your chicken won't get brown, so if the recipe calls for that, it's best not to skip it.
Also, if you're worried about safety, take the internal temp of the meat just to be sure. The dish is safe to eat once the internal temp reaches 165F.
Can I put frozen chicken in the slow cooker?
Yes. Since chicken is a lean meat, it takes less time to reach a safe temperature than other meats with more fat and connective tissue.
Again, always check for the correct internal temp before serving.
Is it better to cook chicken on high or low in the crockpot?
Since it's so easy to overcook breast meat, I prefer doing it on low. I also find that the flavors penetrate the meat better that way.
But it's fine to do it on high. Be sure to set a shorter cooking time, about 2 hrs. versus 3 to 4 on low.
How to store leftovers?
First, let the leftovers completely cool down. Then, transfer to a sealed container. Consume within 2 days if you're storing it in the fridge.
Also, you may store it for 2 to 3 weeks frozen. To reheat, thaw and microwave until hot.
More delicious Tex-Mex Recipes:
Recipe Tips:
Use homemade stock for more flavor!
Alternatively, you can use veggie broth.
Slice the veggies in similar-sized strips so they cook evenly.
Use a meat thermometer to check the chicken's internal temp.
Deliciousness to your inbox
Enjoy weekly hand picked recipes and recommendations