Cognac Brownies with Homemade Caramel Sauce
This post may contain affiliate links. Please read my disclosure policy.
Perfect Father's Day treat, these cognac brownies are aromatic with vanilla and smoke notes, stuffed with caramels and topped with a homemade caramel sauce.
I have a confession, actually a sad one, I have alcohol intolerance, a few sips can make me fall asleep right away or make me really sick. But, there is a very important "but" in this whole situation, I can eat my alcohol like in this cognac brownies loaded with chocolate, so technically only the flavor and the aroma was retained, pair that with chocolate and even people who can drink will forget about the liquid booze and start asking for dessert.

These melt in you mouth and your taste buds will be incredibly happy to experience all the flavors.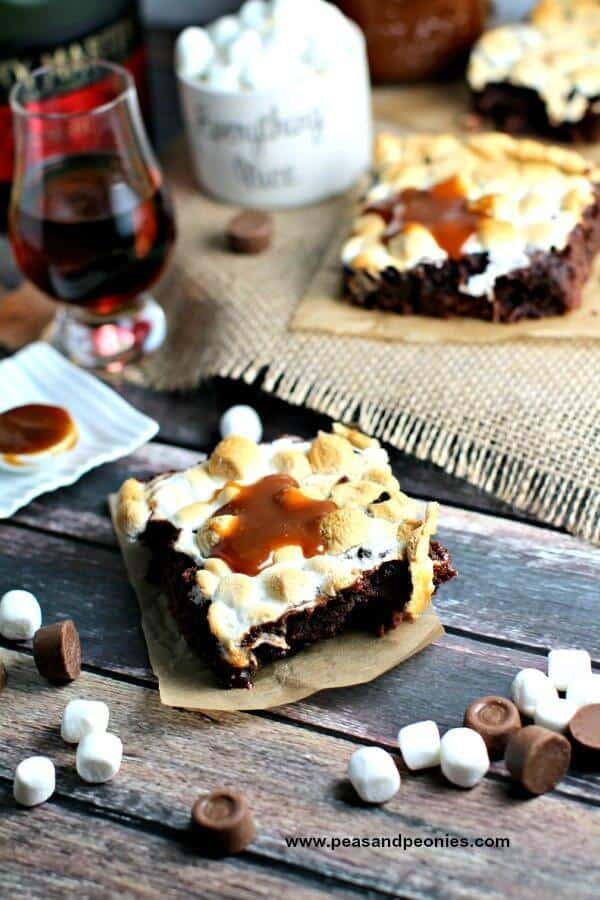 I made these boozy cognac brownies for the men in my life, my father and father in law came to New York to visit us so I wanted to greet them with something special. In true Katalina fashion I decided to show my love with dessert. These brownies turned out perfect, very soft and gooey, with a prominent cognac flavor, I used Remy Martin and the subtle vanilla and fruit notes are to die for! The cognac brownies are loaded with Rollo chocolate caramels and topped with melted marshmallows and a homemade caramel sauce. Let me just pause here and say that homemade caramel sauce is so much better than store bought and after trying to make it at home I will never buy it again, it was so easy, 10 minutes, some stirring involved and you have your caramel sauce.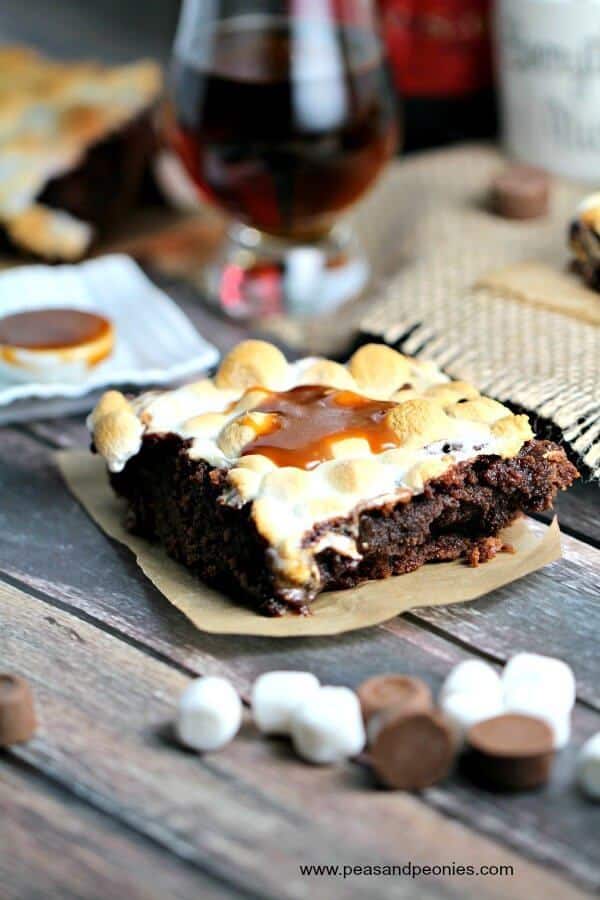 These cognac brownies would be the perfect Father's Day treat, serve them in bed for breakfast, cause everyone deserves to wake up to chocolate, caramel and hints of cognac. I can assure you that this will put the man in your life in a very good mood for the rest of the day.

MY LATEST VIDEOS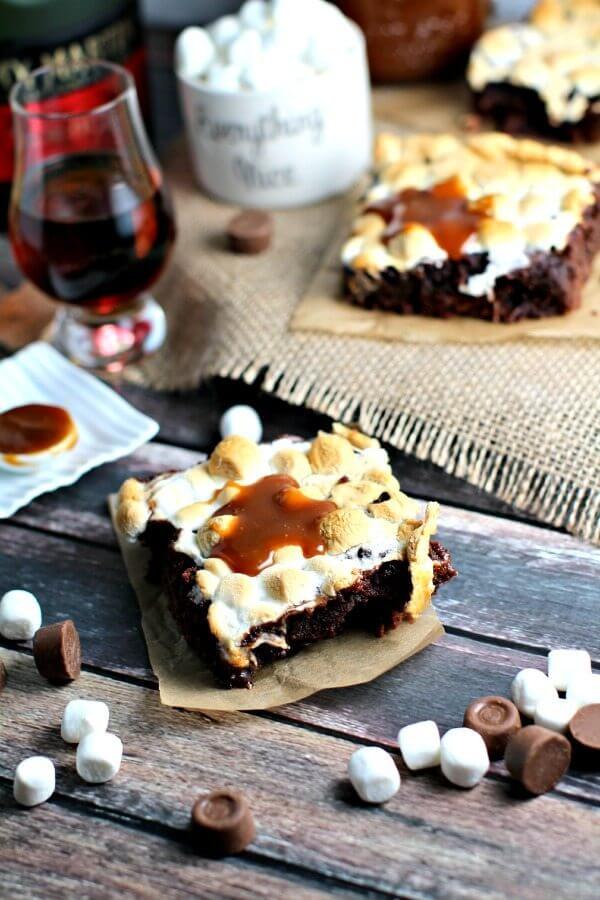 Now this is my type of booze, with extra, extra chocolate and no hangover!
Question: What's your favorite dessert using alcohol? Anything I should try? 

Cognac Brownies with Homemade Caramel Sauce
These cognac brownies are aromatic and eccentric with vanilla and smoke notes, stuffed with caramels, topped with marshmallows and a homemade caramel sauce.
Author:
Katalina Kastravet
Ingredients
Brownie batter:
6 tbsps. unsalted butter, melted
1 tbsp. unsalted butter, room temperature1 cup all-purpose flour
1 cup granulated sugar
2 large eggs
⅓ cup unsweetened cocoa powder
½ cup cognac
¼ teaspoon salt
¼ teaspoon baking soda
1 cup Rollo chocolate caramels
2 cups mini marshmallows
Homemade Caramel Sauce:
1 cup granulated sugar
6 tbsps. unsalted butter, at room temperature and cut up into pieces
½ cup heavy cream
1 tsp. salt
Instructions
Preheat oven to 350 degrees F. Grease an 8x8 baking pan with 1 tbsp. of butter.
In the bowl of an electric mixer, whisk together melted butter and sugar until smooth, add the cognac and continue whisking on medium. Whisk in each egg one at a time on low speed and whisk until well combined.
Using a large rubber spatula, gently stir in flour, cocoa, baking soda and salt. Fold in Rollo chocolate caramels. Spread batter into the baking dish and bake for 25-30 minutes until set. 15 minutes into baking, remove dish from the oven and top with mini marshmallows, continue to bake until batter is settled.
Remove and let cool completely.
In the meantime work on the caramel sauce.
In a medium sauce pan over medium heat melt sugar until a brownish liquid forms, make sure to stir constantly during this process.
When sugar has completely melted, add the butter and stir until well combined.
Carefully while still stirring add the heavy cream, once all the cream has been added let the mixture boil without stirring for one minute.
Remove from heat, stir in salt, transfer to a mason jar (or any other container) and let it cool.
Peas and Peonies, LLC. owns the copyright on all images and text and does not allow for its original recipes and pictures to be reproduced anywhere other than at this site unless authorization is given. If you enjoyed the recipe and would like to publish it on your own site, please re-write it in your own words, and link back to my site and recipe page. Copying and/or pasting full recipes to social media or personal blogs is strictly prohibited. Sharing this recipe is very much appreciated and encouraged. Read my disclosure and privacy policy. This post may contain affiliate links.