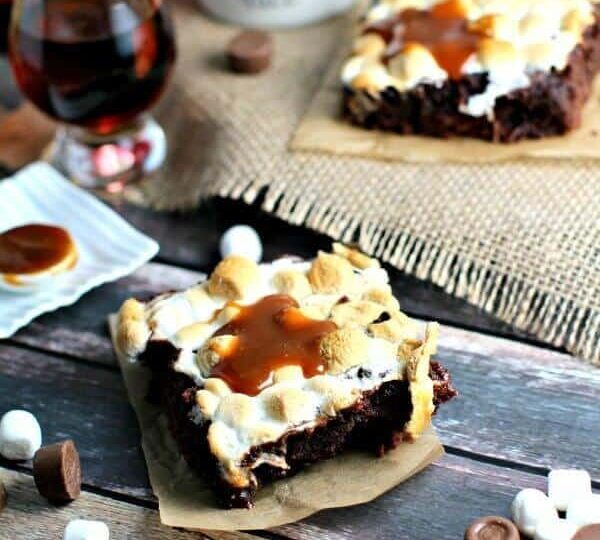 Cognac brownies are aromatic with vanilla and smoke notes, stuffed with caramels and topped with a homemade caramel sauce.
We love making rich, creamy and puffy chocolate desserts like our famous Best Chocolate Banana Bread, German Chocolate Cupcake and Chocolate Baileys Poke Cake.
Cognac Brownies
These Cognac Brownies melt in you mouth, and your taste buds will be incredibly happy to experience all the flavors. I made these boozy cognac brownies for my husband and my father. These brownies turned out perfect, very soft and gooey, with a prominent cognac flavor. I used Remy Martin and the subtle vanilla and fruit notes are to die for!
The Cognac Brownies are loaded with Rollo chocolate caramels. Then, topped with melted marshmallows and a homemade caramel sauce. Also, the homemade caramel sauce is so much better than store bought. Simply, you just have to try it. These Cognac Brownies would be the perfect Father's Day treat, serve them in bed for breakfast. Because everyone deserves to wake up to chocolate, caramel and hints of cognac. Furthermore, I can assure you that this will put the man in your life in a very good mood for the rest of the day.
Why You'll Love These Cognac Brownies
First, they are rich and chocolaty and are a show stopper dessert.
Also, easy to find ingredients and minimum prep work and dishes to clean.
Perfect for brunch parties and for bigger crowds.
In addition, perfect for special occasion like Father's Day.
Can be made 1 or 2 days in advance so you don't have to worry about a last minute dessert.
How Long Will Brownies Stay Fresh
The brownies can be stored wrapped in plastic wrap at room temperature for about 4-5 days.
Can You Store and Freeze these Cognac Brownies?
Absolutely! These brownies freeze well. First, cool the brownies completely and fully wrap it in plastic wrap, tightly. After that, wrap in aluminum foil. Freeze for up to 2-3 month. Defrost before serving.
Below you can find additional Brownies recipes: