Avocado Lime Bars are sweet, chewy, dense and refreshing. Loaded with citrusy lime zest, coconut flakes, avocado and walnuts.
There is no secret that I love making avocado desserts. They are fun, and something different than the traditional deserts. Also, I love the color and the texture that avocado brings in them. Like my Avocado Ricotta Olive Oil Cake and Avocado Lime Smoothie, this dessert will be a great one for avocado lovers.
Avocado Lime Bars
I am completely obsessed with avocados. For example, I add them to salads, smoothies, ice cream, bundt cakes, sandwiches and now bars. I just can't get enough! These Coconut Avocado Lime Bars are absolutely gorgeous with their slightly green hue, refreshing lime aroma, and that white lime icing drizzle. Also, the bars are dense, chewy, sweet and hearty. In addition, they are loaded with coconut flakes for a more tropical twist, and lots of walnuts, for a delicious crunch.
I can totally see myself justifying these Coconut Avocado Lime Bars as the perfect breakfast food. I mean, I eat brownies for breakfast so these avocado lime bars loaded with avocado, nuts and coconut are super healthy. While I appreciate soft, fluffy and airy desserts, I also need sometimes a bar, that I can sink my teeth into, and devour the chewy glory of it. These bars are so chewy thanks to the coconut and walnuts. Similarly, they are soft thanks to the avocado, with a dense texture, and loaded with lots of lime zest, they are sweet and refreshing.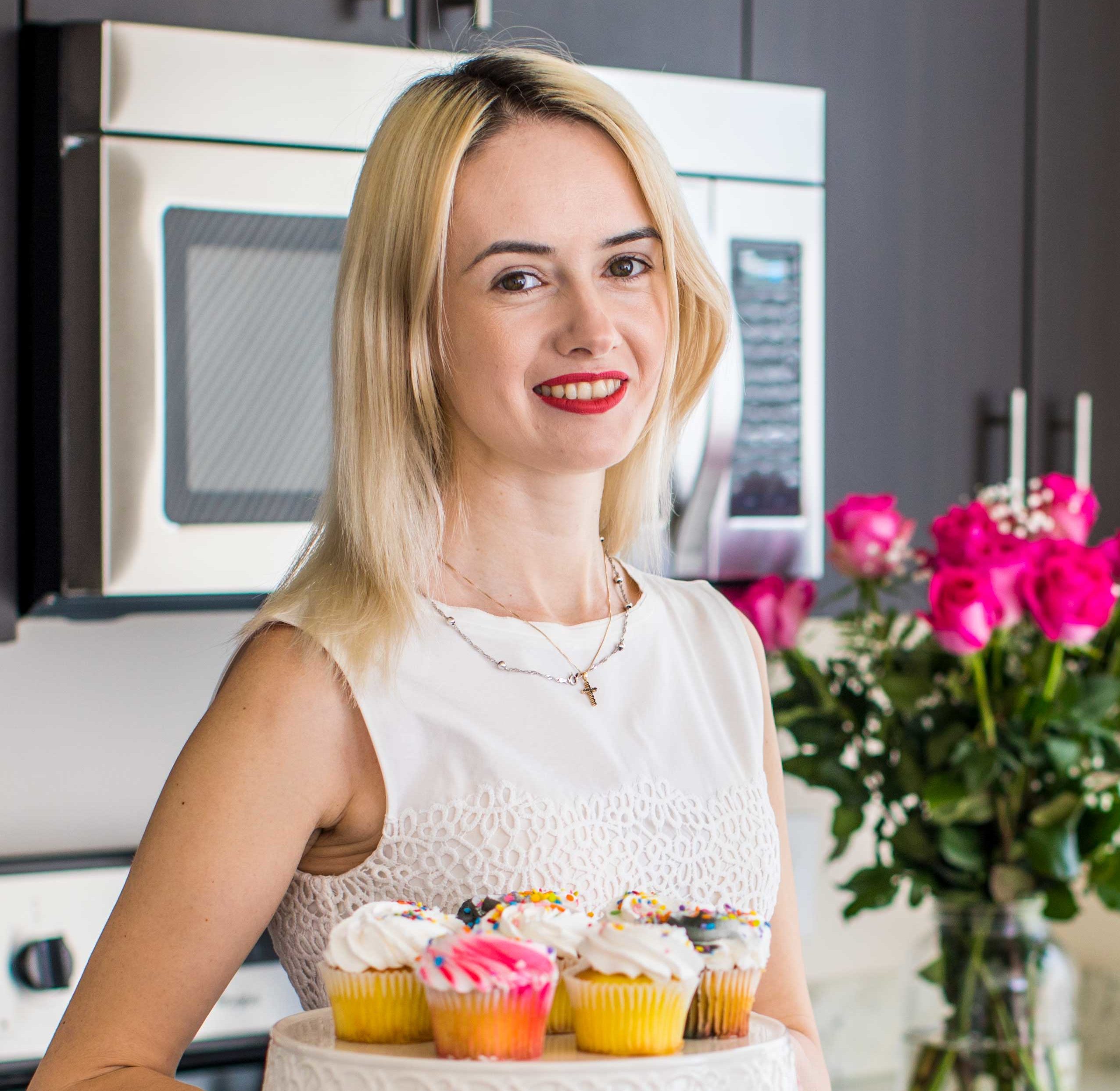 Follow us on Pinterest for more delicious recipes!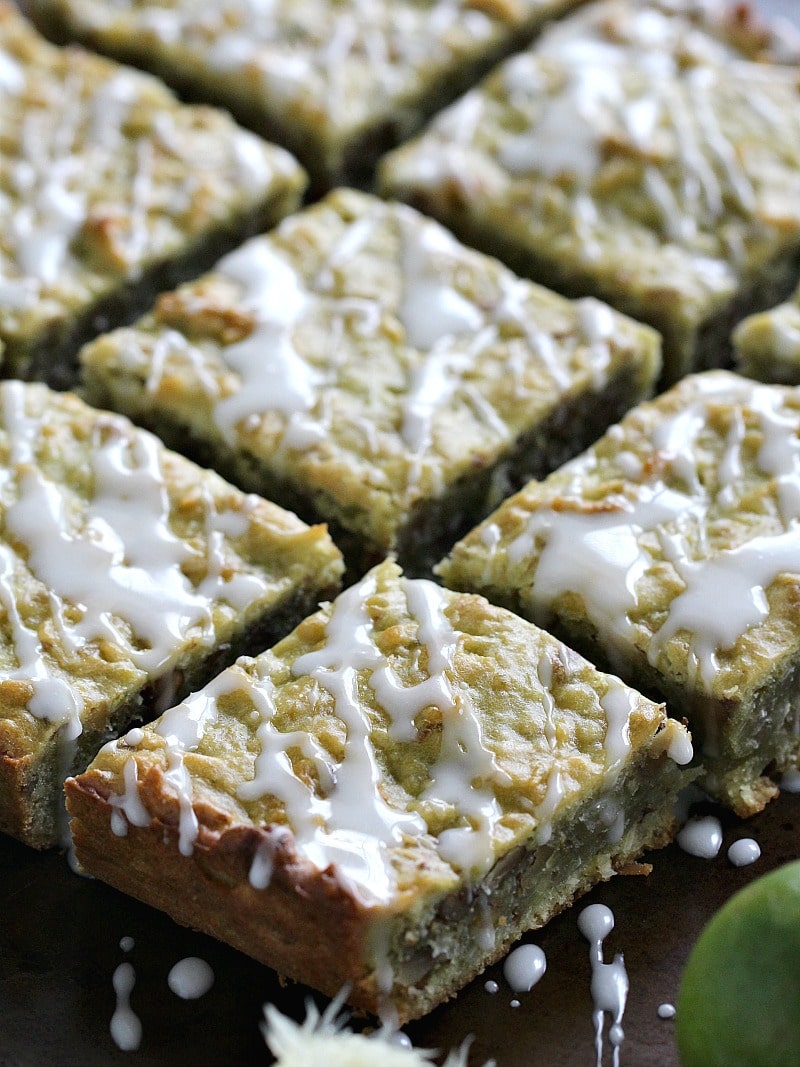 Why you'll love these Avocado Lime Bars
Firstly, they are very easy to make and ready under 45 minutes.
Flavorful and indulging, they can be a perfect snack.
Also, they are rich in avocado and lime flavor.
In addition, they are perfect cookies for the holiday season or special occasion.
Lastly, they can be made 1 or 2 days in advance so you don't have to worry about a last minute dessert.
How to slice or dice an avocado?
Cut the avocado in half.
Remove the pit – to do that, aim your knife at the pit and whack into it, twist the knife to pull out the pit.
Use your knife's tip to score avocado flesh, making squares, then scoop it out with a spoon.
If you are looking to slice the avocado, use a spoon to loosen skin all the way around, and scoop out the flesh whole. Place flat side down on cutting board and slice using the tip of your knife.
How to make Lime Zest?
Follow the easy steps below:
First, rinse the lime.
Then, set your tool over a cutting board. A microplane produces a very fine zest, perfect for baking and cooking. If you don't have a microplane, use the smallest holes on an ordinary grater.
Next, grate the green skin of the lime only. Grate just enough to get through the green skin, this way you can avoid the bitter white pith underneath.
Lastly, rotate the lime and repeat. Once the white pith is exposed, rotate the lime and zest the next strip of peel. Repeat until most of the peel is removed, or until you have enough zest for your recipe.
CAN YOU FREEZE THE Avocado Lime Bars?
First, cool the bars completely. Then, fully wrap the bars in plastic wrap, tightly. After that, wrap in aluminum foil or place in freezer bags. Freeze for up to 3 months. Defrost before serving.
Save Recipe
Avocado Lime Bars
Avocado Lime Bars are sweet, chewy, dense and refreshing. Loaded with citrusy lime zest, coconut flakes, avocado and walnuts.
Author: Catalina Castravet
Serves: 12 servings
Prep time:

15

minutes
Cook time:

45

minutes
Total time:

1

hr
Nutrition information
Calories: 239 Carbohydrates: 33 Protein: 4 Fat: 11 Saturated Fat: 4 Cholesterol: 14 Sodium: 67 Potassium: 174 Fiber: 2 Sugar: 16 Vitamin A: 75 Vitamin C: 1.7 Calcium: 65 Iron: 2
Save Recipe
More recipes you might love
Categories: