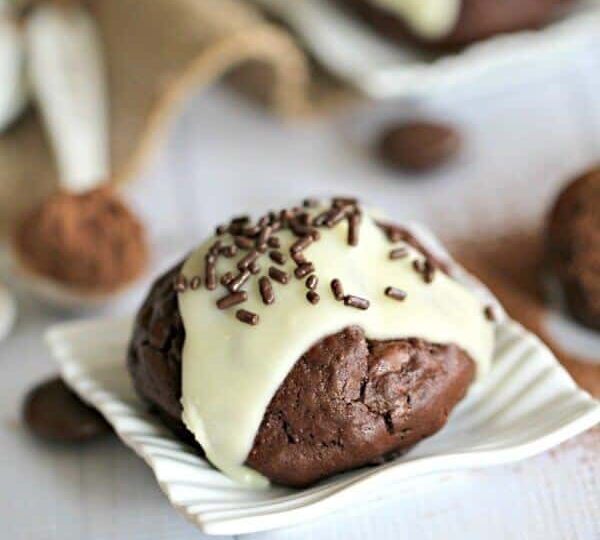 Chocolate Truffle Cookies with Sea Salt
Chocolate Truffle Cookies are loaded with Hershey chocolate drops and topped with white chocolate, combining the perfect mix in delicious cookies.
I like making chocolate desserts that are moist and tender like my popular Chocolate Banana Bread, Chocolate Brownie Cake and Chocolate Baileys Poke Cake.
Chocolate Truffle Cookies
This was my first time baking a truffle chocolate cookie and I am so happy that it turned out to be a success. In my opinion, chocolate makes everything better. The cookies are loaded with Hershey chocolate milk drops and covered in melted white chocolate and chocolate sprinkles.
I loved the texture of these cookies, not crumbly, yet perfectly delivering the truffle description, with a dense and chocolaty center. I am happy I used Hershey milk chocolate drops instead of chocolate chips, because they held their shape nicely. Also, when biting in a cookie you can see individual chocolate drops. Their sweetness was also a nice addition and diversified the palette as I used semi-sweet and bitter sweet chocolate for the cookies.The white chocolate coating is optional, but it's a nice change from all the cocoa going on. It adds some extra needed sweetness.
Why you will love these Chocolate Truffle Cookies?
The chocolate combo is to die for.
It is rich and chocolaty this is a show stopper dessert
Can be made 1 or 2 days in advance so you don't have to worry about a last minute dessert.
How long will Chocolate Truffle Cookies stay fresh?
The Cookies can be stored wrapped in plastic wrap at room temperature for about 5-7 days.
CAN YOU STORE AND FREEZE Chocolate Truffle Cookies?
Absolutely! Cool the cookies completely and fully wrap it in plastic wrap, tightly. After that wrap in aluminum foil. Freeze for up to 2-3 months. Defrost before serving.