Chocolate Truffle Cookies with Sea Salt
This post may contain affiliate links. Please read my disclosure policy.
These chocolate truffle cookies with sea salt, loaded with Hershey chocolate drops and topped with white chocolate are a treat that you don't want to miss.
This was my first time baking a truffle chocolate cookie and I am so happy that it turned out to be a success. These chocolate truffle cookies with sea salt where baked for a coworker who said that he likes chocolate cookies. Obviously, I couldn't just deliver regular chocolate cookies, even if I think that using the world "regular" and "chocolate" in the same sentence is a crime, as a chocolate dessert can never be considered ordinary or regular.

Chocolate makes everything better – it's a fact. Any break up, any interview fail, any missed bus or train, chocolate makes it better. But when that said chocolate looks like these chocolate truffle cookies with sea salt everything in the world slows down, you become care free and just celebrate the moment of each morsel touching your taste buds.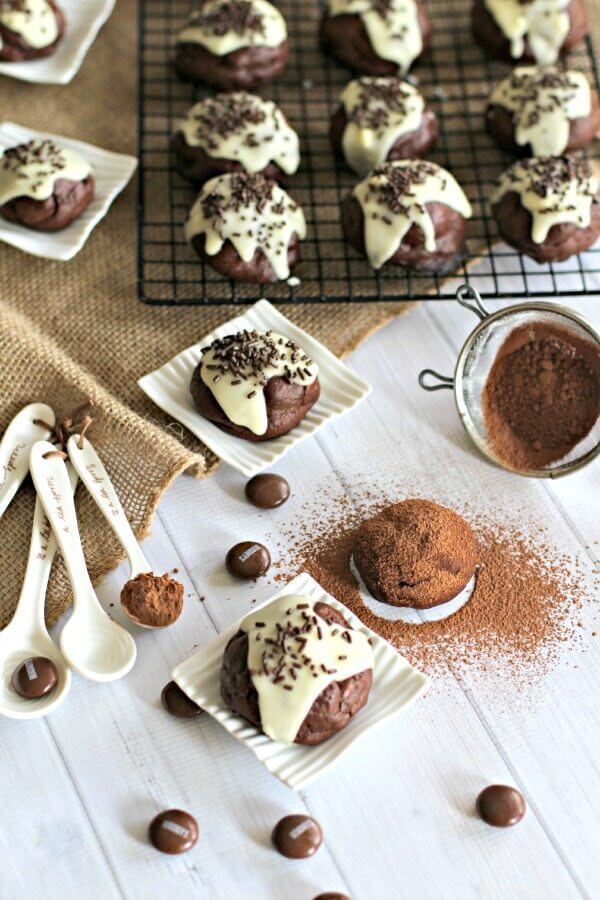 I settled on these chocolate truffle cookies with sea salt, not any sea salt, but pink Himalayan, which I personally find more flavorful and prominent when used in dessert recipes. The cookies are also loaded with Hershey chocolate milk drops and covered in melted white chocolate and chocolate sprinkles.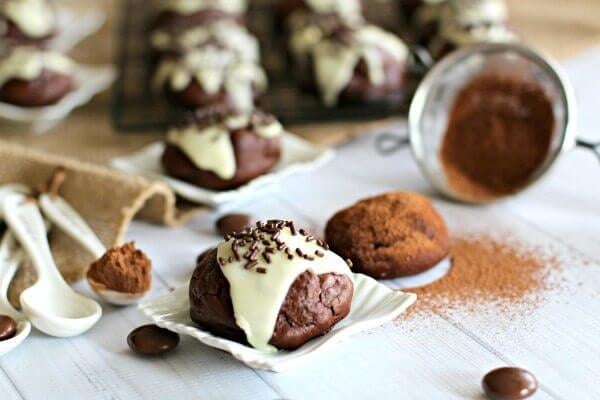 I want to rave at how much I loved the texture of these cookies, not crumbly, definitely delivering the truffle description, with a dense and chocolatey center. I am happy I used Hershey milk chocolate drops instead of chocolate chips, because they held their shape nicely, and when biting in a cookie you can see individual chocolate drops. Their sweetness was also a nice addition and diversified the palette as I used semi-sweet and bitter sweet chocolate for the cookies.

MY LATEST VIDEOS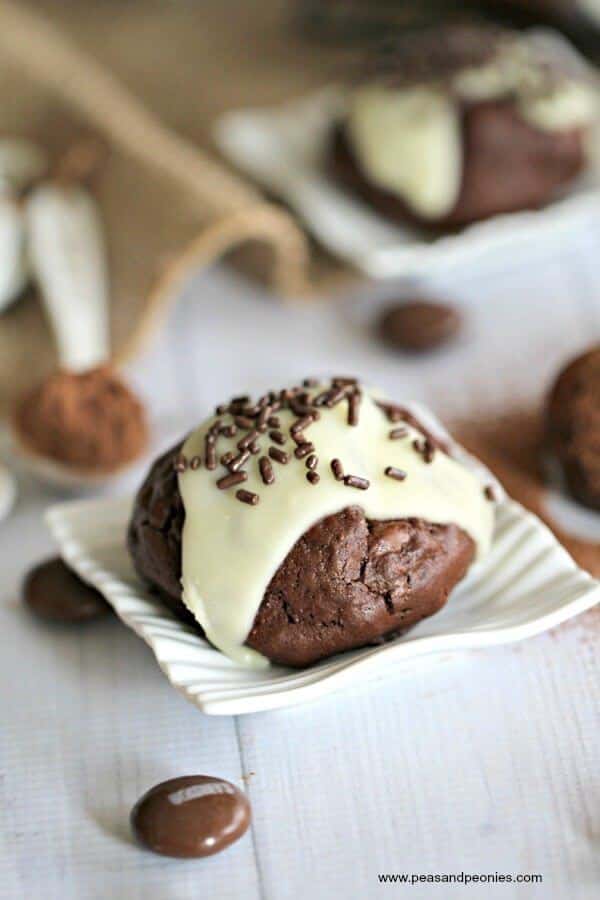 The white chocolate coating is optional, but I don't see why would someone skip it?! Its a nice change from all the cocoa going on, and it adds some extra needed sweetness, and I can't ever say no to sprinkles, they always work for me and make be eat stuff just because it has sprinkles on!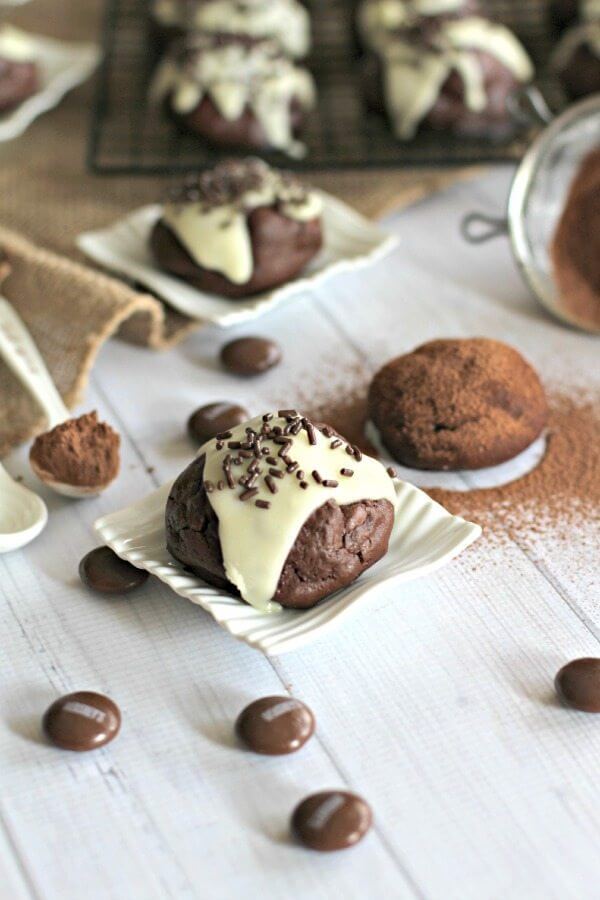 So if you plan on baking these for someone make sure you make a big batch as you may end up eating all of them before delivery!

Chocolate Truffle Cookies with Sea Salt and Hershey Drops
Unbelievably decadent these chocolate truffle cookies with sea salt, loaded with Hershey milk chocolate drops and topped with white chocolate are a treat that you don't want to miss.
Author:
Adapted from How Sweet Eats: Salted Dark Chocolate Truffle Cookies
Ingredients
6 tablespoons unsalted butter
4 ounces bittersweet, chopped
8 ounces semi sweet chocolate, chopped
1 cup Hershey milk chocolate drops
3 large eggs
¾ cup granulated sugar
2 teaspoons vanilla extract
½ cup + 2 tablespoons all-purpose flour
2 tablespoons dark chocolate cocoa powder
¼ teaspoon salt
¼ teaspoon baking powder
coarse sea salt for sprinkling (I used pink Himalayan)
Topping:
4 ounces white chocolate
chocolate sprinkles
Instructions
Place butter and chopped chocolate in a large microwave safe bowl, microwave for 40 seconds, stir and repeat in 30 seconds increments until fully melted. Set aside and let cool completely.
In a small bowl, combine flour, cocoa powder, salt and baking powder. Set aside.
Once the chocolate has cooled start on the cookies. In the bowl of an electric mixer fitted with the wire attachment beat sugar and eggs on high for 2-3 minutes, until light and fluffy.
Add in vanilla extract and melted chocolate/butter, beat on medium for another 1-2 minutes until combined.
Using a rubber spatula,scrape down the sides of the bowl and the wire attachment, then remove it and gently using your spatula stir in the dry ingredients until combined. Fold in remaining Hershey milk chocolate drops. Cover the bowl with plastic wrap and place in the fridge for 6 hours.
Preheat oven to 350 degrees F.
Place parchment paper on an ungreased baking sheet. Wet your hands with cold water and roll the dough into golf size balls, placing them about 2 inches apart. Sprinkle a bit of Himalayan sea salt on top of each dough ball and bake for 12-14 minutes. Remove from oven and let cool for at least 10 minutes before transferring to a wire cooling rack.
Let cookies cool completely before drizzling with white chocolate.
Bring a medium saucepan half filled with water to a boil. Place white chocolate in a medium bowl set over the saucepan of simmering water, let it melt, stirring just a few times. Make sure the bowl doesn't touch the boiling water, to avoid overheating. Remove bowl from heat and using a fork and using a spoon pour melted chocolate on top of the cookies, garnish with sprinkles.
Let stand for 15-20 minutes before serving for the chocolate to settle, or better place cookies in the fridge for the chocolate to harden quicker.
Peas and Peonies, LLC. owns the copyright on all images and text and does not allow for its original recipes and pictures to be reproduced anywhere other than at this site unless authorization is given. If you enjoyed the recipe and would like to publish it on your own site, please re-write it in your own words, and link back to my site and recipe page. Copying and/or pasting full recipes to social media or personal blogs is strictly prohibited. Sharing this recipe is very much appreciated and encouraged. Read my disclosure and privacy policy. This post may contain affiliate links.