Chocolate Chip Ricotta Muffins
Chocolate Chip Ricotta Muffins made with ricotta and cream cheese for a tender texture are loaded with chocolate chips and topped with melted chocolate.
Muffins are a specialty in our kitchen, and we love making them puffy and delicious like Ube Purple Muffins, Cranberry Orange Muffins and Chocolate Chip Ricotta Muffins.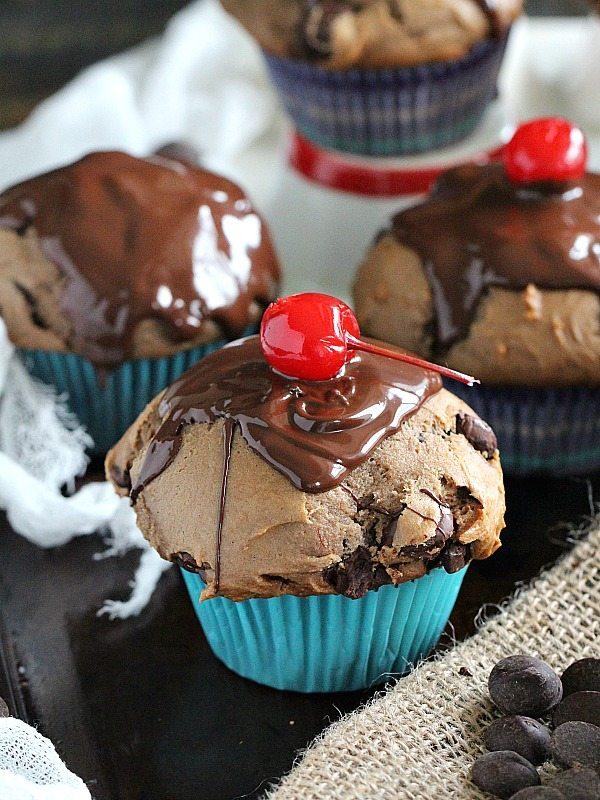 Chocolate Chip Ricotta Muffins
These Chocolate Chip Ricotta Muffins are moist and topped with melted chocolate. I love these muffins, they are not too sweet and are made with ricotta. Also, they have a denser and creamier texture, are fluffy and chocolaty. The batter for these Chocolate Chip Ricotta Muffins is very thick, almost not pourable. You actually have to scoop it into the muffin tins. However, don't be alarmed, you will get some fluffy and good looking muffins.
I completely adore their texture and the level of sweetness. Sometimes store bought or coffee shop muffins can be too sweet. On the other side, these muffins are soft, tender and perfectly sweetened. Adding ricotta to baked goods is one of my favorite things, it creates the most perfect and tender crumb. In addition, it gives it a soft and creamy texture while still being light and fluffy. If you have some Maraschino cherries on hand, definitely add some on top, they make the muffins look so much more festive!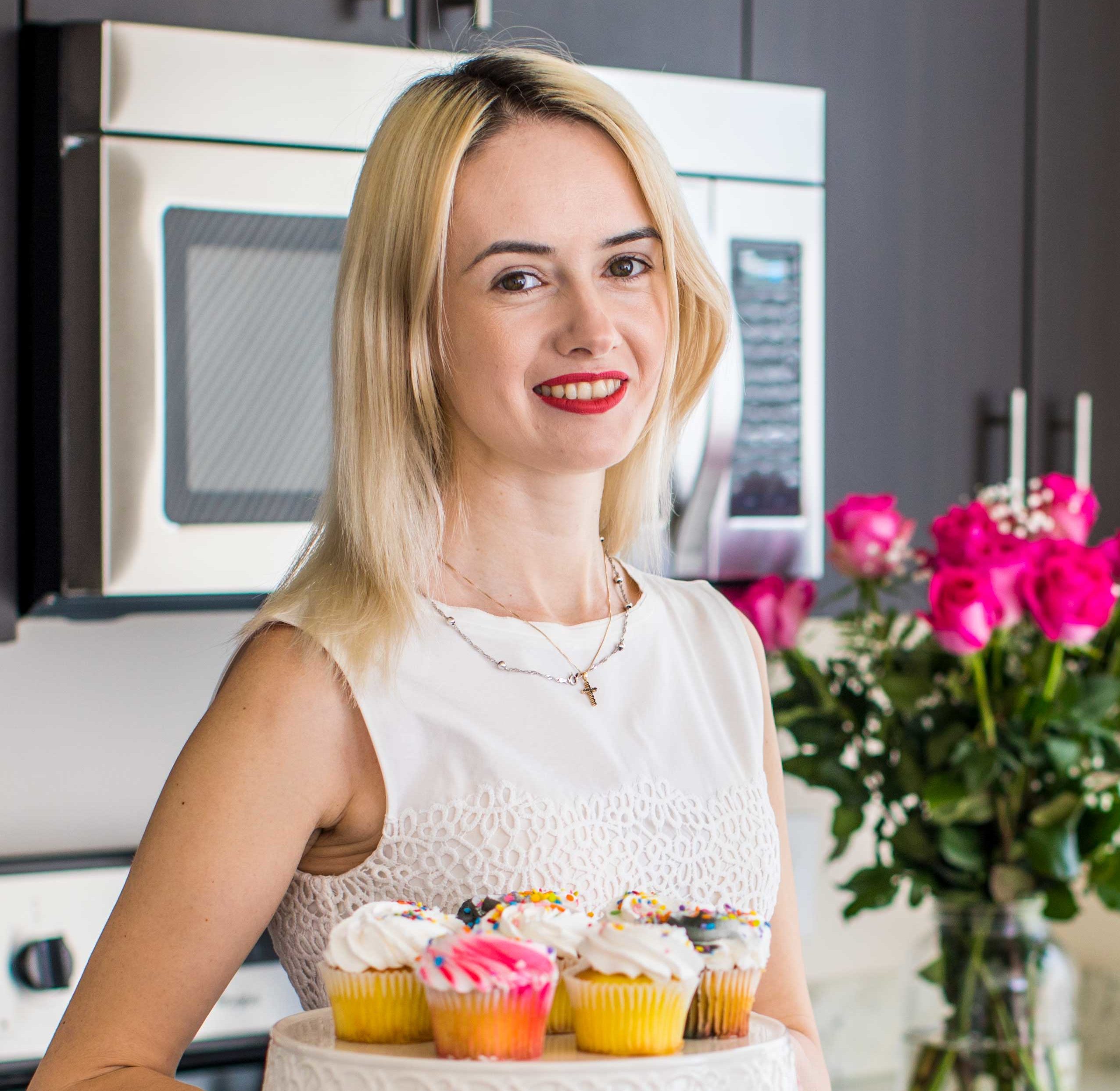 Follow us on Pinterest for more delicious recipes!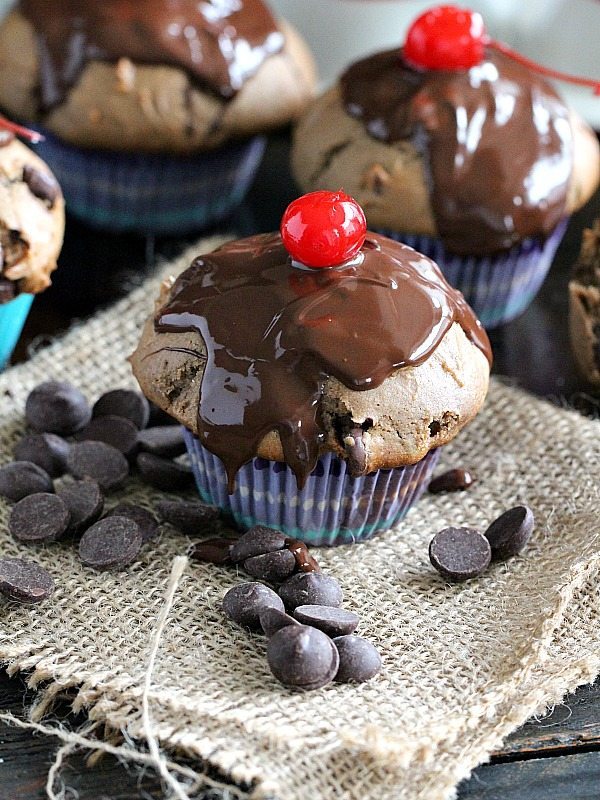 Why you will love these chocolate Chip Ricotta Muffins
Firstly, they are rich and chocolaty, this is a show stopper dessert.
Also, its easy to find ingredients and minimum prep work and dishes to clean.
Perfect for brunch parties and for bigger crowds.
In addition, easy to transport if you have to take it to a brunch party.
Lastly, they can be made 1 or 2 days in advance so you don't have to worry about a last minute dessert.
Can you freeze Chocolate Chip Ricotta Muffins?
Yes, you can! First, cool muffins completely and do not frost. Then, wrap tightly each muffin in freezer wrap and add them in batches to freezer bags. Muffins can be stored frozen for up to 3 months at 0 degrees F or lower.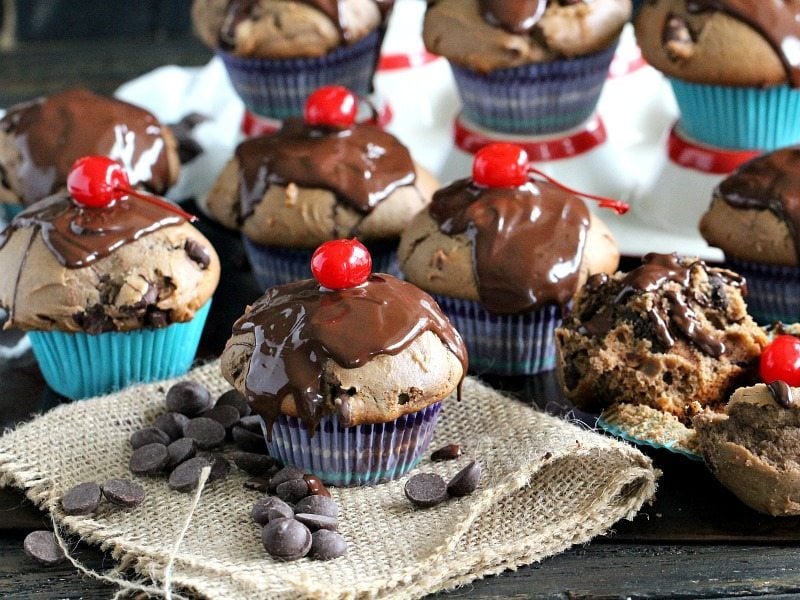 Save Recipe
Chocolate Chip Ricotta Muffins
Author: Catalina Castravet
Serves: 18 servings
Prep time:

20

minutes
Cook time:

30

minutes
Total time:

50

mins
Nutrition information
Calories: 321 Carbohydrates: 44 Protein: 8 Fat: 14 Saturated Fat: 9 Cholesterol: 57 Sodium: 227 Potassium: 252 Fiber: 3 Sugar: 23 Vitamin A: 295 Calcium: 134 Iron: 2.8
Save Recipe
More recipes you might love