Chocolate Chip Mascarpone Cookies
Chocolate Chip Mascarpone Cookies made with ricotta cheese and almonds are the perfect homemade treat with their abundance of chocolate and great texture.
I love making easy and delicious chocolate desserts. After making Baileys Chocolate Cookies and Chocolate Truffle Cookies, I decided to indulge you with these easy and delicious Mascarpone Cookies.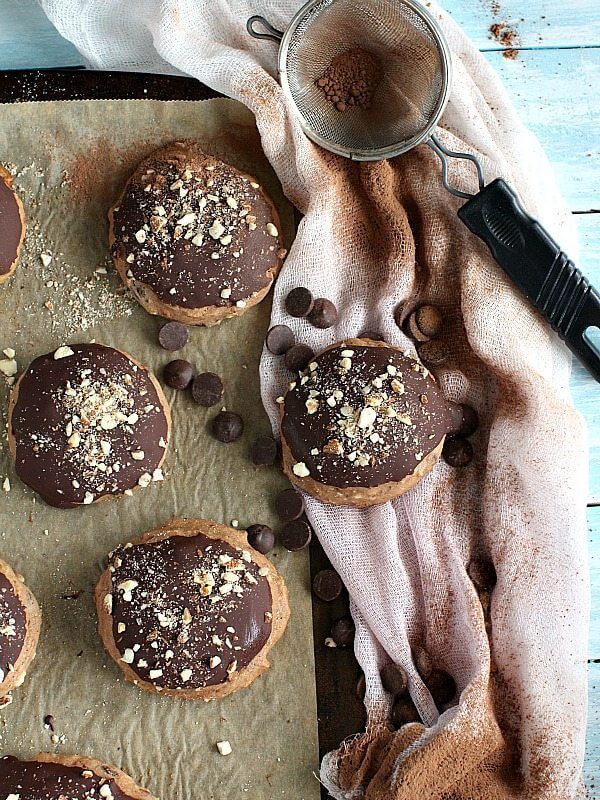 Chocolate Chip Mascarpone Cookies
These Chocolate Chip Mascarpone Cookies are a true delight. With Valentine's Day around the corner, you must have some of these on your kitchen counter. You can gift them to friends, your other half or just bake them for yourself and eat them while watching The Notebook.
The cookies are dense, they have a cake like texture, but are not too fluffy. Also, they are rich, decadent with an amazing chocolate flavor. In addition, they are loaded with chocolate chips, crunchy almonds and dipped in melted chocolate for the most fabulous finish.
The batter is made with mascarpone and ricotta to achieve the perfect texture. Each bite of these Chocolate Chip Mascarpone Cookies is chocolaty, rich and soft. With a glass of milk, these Chocolate Chip Mascarpone Cookies are an unbelievable treat. Just look at them! I just want to grab one from the screen!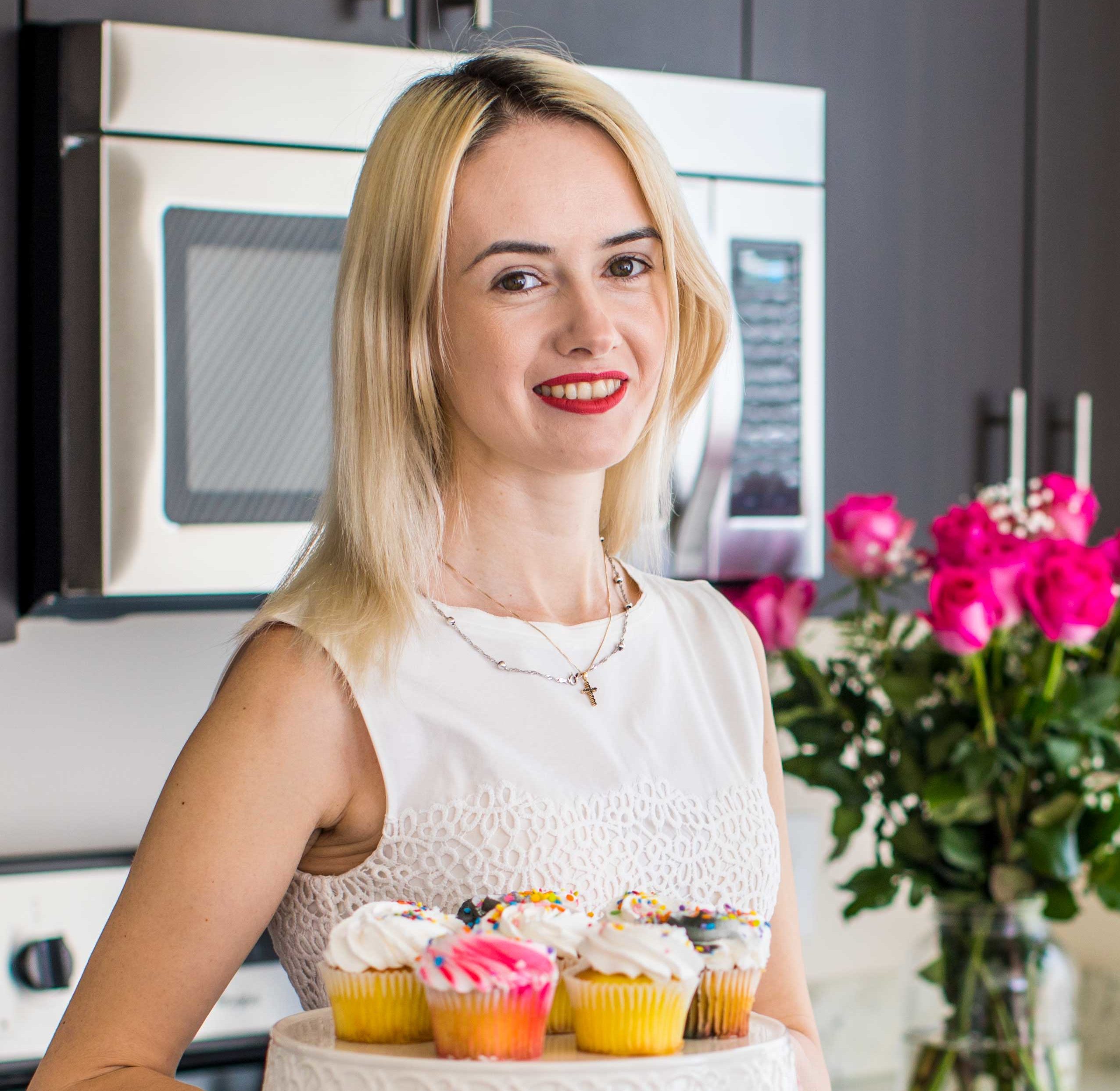 Follow us on Pinterest for more delicious recipes!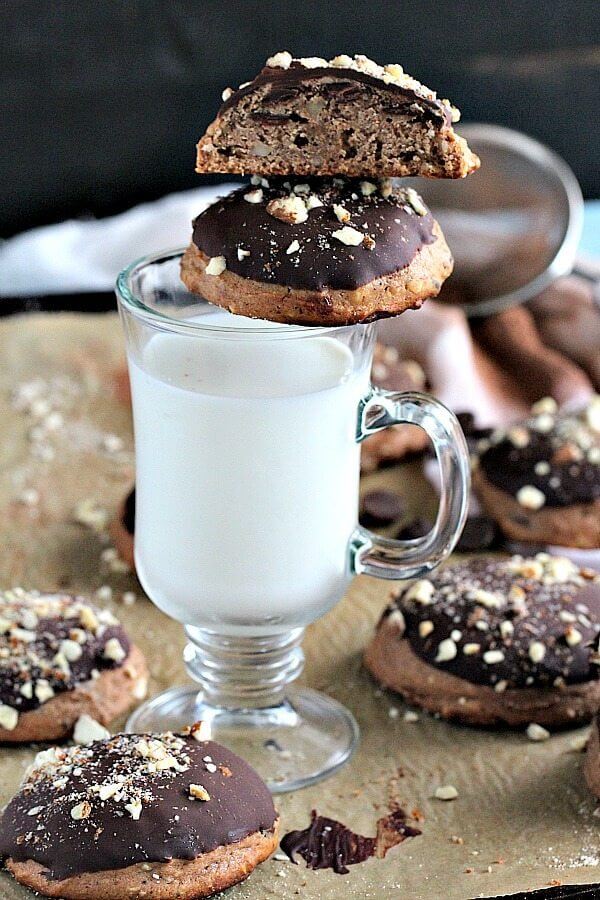 Why You'll Love These Chocolate Chip Mascarpone Cookies
Firstly, the chocolate flavor is front and center.
Also, they can be easily made, and baked in another 15 minutes.
Perfect hostess gift.
In addition, they can be perfect for special occasion such as Valentine Day.
Rich in chocolate and creamy, that both kids and grownups would love.
Foolproof, easy to follow recipe.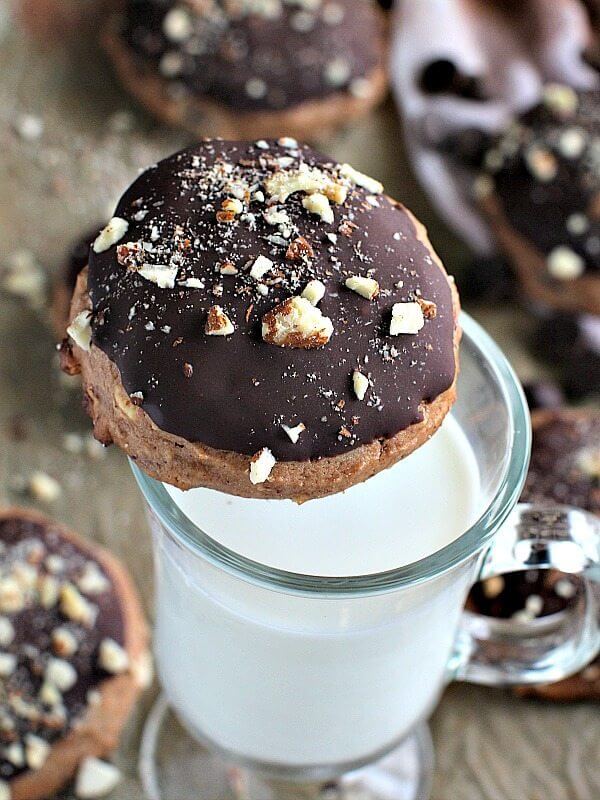 How long will Chocolate Chip Mascarpone Cookies
The cookies can be stored wrapped in plastic wrap at room temperature for about 5-7 days.
Can you store and freeze these Cookies
Absolutely! First, cool the cookies completely and fully wrap it in plastic wrap, tightly. After that wrap in aluminum foil. Freeze for up to 2-3 months. Defrost before serving.
Save Recipe
Chocolate Chip Mascarpone Cookies
Author: Catalina Castravet
Serves: 45 servings
Prep time:

30

minutes
Cook time:

15

minutes
Total time:

45

mins
Ingredients
2 1/2 cups all-purpose flour
1 teaspoon baking powder
1 teaspoon salt
3 tablespoons unsweetened cocoa
1 stick unsalted butter (softened)
1 cup granulated sugar
1 cup brown sugar
2 eggs
8 ounces whole milk ricotta cheese
8 ounces mascarpone cheese
1 1/2 cups finely chopped Almonds
1 cup chocolate chips
8 ounces bittersweet chocolate (chopped)
Instructions
Preheat oven to 375F.
In a medium bowl combine dry ingredients: flour, baking powder, cocoa and salt. Whisk and set aside.
In a large bowl using an electric mixer beat the butter and sugars until light and fluffy, about 3 minutes. Add the eggs, one at a time, beating until incorporated. Add the ricotta cheese and mascarpone cheese. Beat to combine. Stir in the dry ingredients, 1 cup chopped almonds and chocolate chips.
Line 2 baking sheets with parchment paper. Spoon the dough (about 2 tablespoons for each cookie) onto the baking sheets. Bake for 15 minutes (switching racks mid baking, lower baking sheet goes up, and the upper one down), until slightly golden at the edges. Remove from the oven and let the cookies rest on the baking sheet for 20 minutes, before moving to a cooling rack.
Once the cookies have cooled, fill a small saucepan with water and bring to a boil and let the water simmer, choose a heat safe bowl that would sit nicely over the sauce pan and add the remaining 8 ounces of chopped chocolate to it.
The bowl should not come into contact with the water in the saucepan as this can cause overheating. Remove the bowl from the saucepan while there are still a couple of small lumps of un-melted chocolate, stir until completely until melted and smooth. If there are a few lumps that didn't melt just put the bowl back over the saucepan of hot water for a minute or two and stir again.
Dip each cookie top into the melted chocolate and sprinkle with the remaining chopped almonds. Place cookies in the fridge for 30 minutes for the chocolate to harden.
Calories: 146 Carbohydrates: 19 Protein: 2 Fat: 7 Saturated Fat: 2 Cholesterol: 12 Sodium: 60 Potassium: 131 Fiber: 2 Sugar: 11 Vitamin A: 95 Calcium: 43 Iron: 1.4
Save Recipe
More recipes you might love