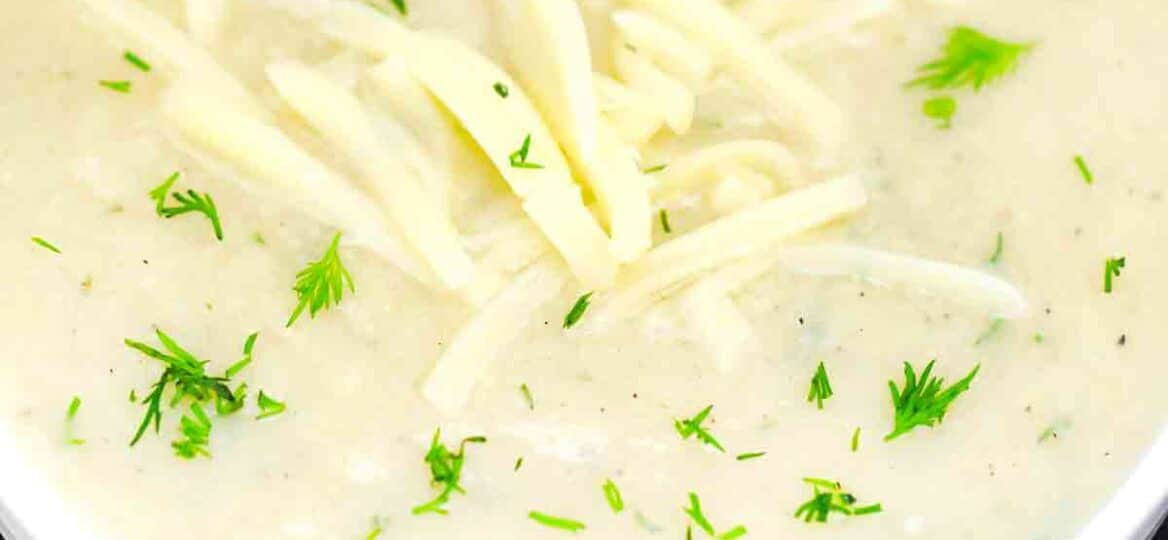 Creamy Cauliflower Soup Recipe [Video]
Creamy Cauliflower Soup is hearty, luxurious, and rich without any cream at all! This homestyle soup contains an entire head of cauliflower, plus sharp cheddar, herbs, and a couple of surprise ingredients. You're going to love it!
Cauliflower is such a delicious and versatile vegetable! Try it as a low-carb substitute for rice, mashed, or in a nutritious salad with broccoli.
Homemade Cauliflower Soup
Creamy Cauliflower Soup feels so nice and comforting especially when it's cold out. It's everything you could ask for in a homemade soup – hot and hearty, full of flavor, and good for you.
Another wonderful thing about this recipe is that there are zero creams involved, so it's lighter than the usual versions. Instead, it has two ingredients that may surprise you: potatoes and beer!
The tender, pureed potatoes thicken the soup without weighing it down. The beer gives it that simmered-for-hours flavor, but the recipe only takes around 30 minutes. In all, it's an amazing dish that I can't wait for you to try!
Is cauliflower soup healthy?
Yes! It's a great way to get more healthy vegetables and complex carbs into your diet! For one, cauliflower is an excellent source of fiber. Along with potatoes, it's full of nutrients, antioxidants, and minerals.
Both have been linked to better heart health, improved digestion, and a stronger immune system. In addition, it's also very filling. I find that if I have a bowl for lunch, I'm set for dinner and rarely need to snack in between.
What ingredients go into creamy cauliflower soup?
Cauliflower: A whole head of it!
Butter: Irish is best, but use any you have on hand.
Olive oil: For sauteing the aromatics.
Aromatics: Onion and fresh garlic.
Herbs: Dried parsley and fresh dill.
Leeks: Adds a delicate onion taste. We're using the white ends only, so make sure to chop off the green tops and wash any sand or dirt away.
Potato: We're using starchy russets to thicken and add body.
Blonde beer: No need to use the expensive stuff! Choose one that's good enough for you to drink.
Cheese: I prefer Irish Dubliner to complement the butter and beer, but sharp cheddar will do.
Broth: Homemade stock is hard to beat, but there's no problem with using the store-bought kind!
How to make Creamy Cauliflower Soup?
Sauté. First, cook the leeks and onion, followed by the garlic and dried parsley.
Deglaze. Next, pour beer to deglaze all the brown bits from the bottom.
Cook. Add the broth, florets, potatoes, and season. Boil until the veggies and potatoes are tender enough to be pierced easily with a fork.
Puree. Use an immersion blender to puree until smooth with only a few chunks left for texture. Stir in the dill and cheese.
Serve. Lastly, top with more cheese and green onions or dill. Enjoy hot!
Recipe Variations and Substitutions:
Roast the vegetable: Roasting the florets until slightly caramelized adds tremendous flavor to the dish!
Use broccoli: You can use fresh broccoli florets as the base.
Vegetarian: Use veggie broth, vegan butter, and use vegan cheese or skip it completely.
Include more veggies: Make it healthier by adding more veggies like carrots, baby spinach, mushrooms.
Keto: Skip the potatoes and beer, and use heavy cream to thicken the dish instead.
Try different garnishes: Top with crispy croutons, toasted pine nuts, and bacon.
How to make Cauliflower soup in the slow cooker?
You can easily adapt this for the crockpot. First, add everything except the cheese and dill into the pot.
Then, set up the cooking time to 4 hrs. (HIGH) to 8 hrs. (LOW). Puree, blend in the cheese and dill, and season. Serve.
How do you thicken cauliflower soup?
You can puree cooked potatoes with the veggies, use a cornstarch slurry, or a flour and butter roux. The cream is a great thickener too. You can also use coconut milk, but it can change the flavor a bit.
Make sure to simmer the liquid down if you find it too watery. Finally, finish the dish by pureeing the ingredients to get a uniformly thick consistency.
What to serve with creamy cauliflower soup?
Bread, of course! Pair it with fresh dinner rolls, crusty beer bread, keto bread, or stuffed loaves like olive bread and sundried tomato mozzarella bread. Don't forget bread bowls, too!
It also goes well with salads, mains like roasted chicken, pork loin, and salmon. A bowl is hearty enough to be a meal on its own, but it's also a great starter.
How to store leftovers?
Cool it all first before transferring to a container or freezer baggies, if freezing. Consume within 5 days if you're keeping it in the fridge. Frozen, it will last up to three months. Thaw before reheating.
Reheat over low heat in a skillet. Add broth as needed to loosen it up, and simmer until hot.
More healthy soup recipes:
Recipe tips:
If you like your soup a little chunky, reserve some before pureeing. Also, try mixing the chunks into the puree for texture.
Don't have an immersion blender? Use a traditional one, pureeing in batches.
In addition, I recommend shredding the cheese really finely, so it melts into the soup well.
Deliciousness to your inbox
Enjoy weekly hand picked recipes and recommendations