Caramelized Apple Custard Tart
This post may contain affiliate links. Please read my disclosure policy.
The most creamy, rich and decadent caramelized apple custard tart with slight vanilla notes, raisin and a sweet and buttery crusts that melts in your mouth.
I go through phases when I like to eat dessert for breakfast, first I think this is totally acceptable and if you haven't tried it you should. All that talking about getting a sugar rush and after that a crash, it doesn't apply to me, I am completely fine having my cupcake before the sun goes up or this amazing caramelized apple custard tart that technically has fruit in it and that makes it so much more breakfast appropriate.

When me and my mom baked this caramelized apple custard tart I actually started looking forward to my 7am alarm, with a warm cup of chocolate flavored tea it was the most perfect start of the day.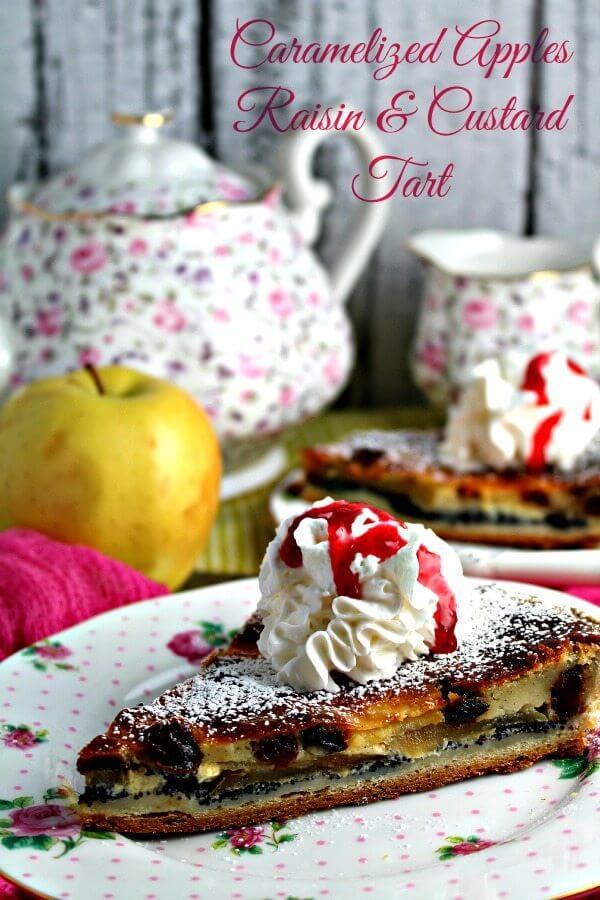 This tart is so good with a sweet and buttery golden crust that reminds me of freshly baked short bread cookies, loaded with moist, soft apples, that have been caramelized in brown sugar and baked into the most velvety and rich vanilla custard, topped with sweet raisins and more custard. I added some poppy seeds just for fun, since I really like them, but you can totally skip it if its not your thing.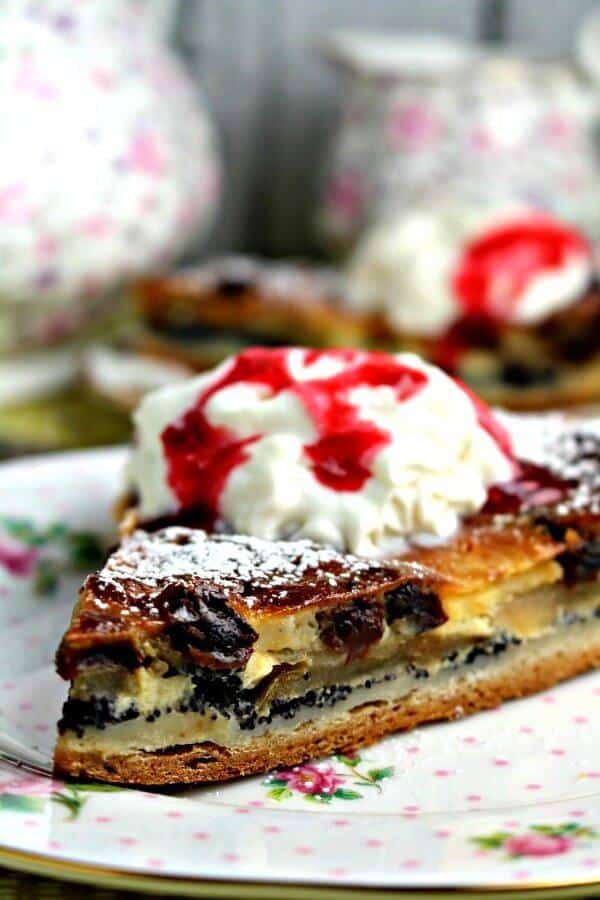 I served this caramelized apple custard tart with whipped cream and homemade raspberry sauce and savored every single bite of richness and decadence.

Caramelized Apple Custard Tart
The most creamy, rich and decadent caramelized apple custard tart with slight vanilla notes, raisin and a sweet and buttery crusts that melts in your mouth.
Author:
Katalina Kastravet
Ingredients
Pastry Crust:
1½ cups all purpose flour
¼ cup granulated white sugar
¼ teaspoon salt
½ cup / 1 stick (113 grams) unsalted butter, room temperature
1 large egg, room temperature
Caramelized Apples:
3 medium sized Golden Delicious Apples
1 tablespoon butter
4 tablespoons brown sugar
½ cup raisin
Vanilla Custard:
1 cup heavy cream
1 cup milk
8 egg yolks
½ cup caster sugar
1 tablespoon vanilla extract
¼ poppy seeds
Instructions
Pastry Crust:
Place butter in a large bowl of an electric mixer, fitted with the wire attachment, and beat until softened. Add the sugar and beat until light and fluffy. Gradually add the egg, beating just until incorporated. Replace the wire attachment with the hook attachment and add flour and salt and mix just until it forms a ball.
Butter an 8 - 9 inch tart pan with removable bottom and set aside.
Flatten dough into a disk, cover with plastic wrap, and refrigerate about one hour or until firm.
On a lightly floured surface, roll the pastry into an 12 - 13 inch circle.
When desired size is achieved, lightly roll the pastry around the rolling pin, dust off any excess flour as you roll. Unroll over the top of the tart pan. Gently press the pastry onto the bottom and up the sides of the pan. Roll your rolling pin over top of pan to get rid of excess pastry. Prick bottom of pastry with the tines of a fork.
Cover and refrigerate for about 20 minutes. In the meantime prepare the apples and custard.
Caramelized Apples:
Peel, core, and cut the apples into ¼ inch slices.
In a large skillet over medium heat melt the butter and stir in the sugar. Add the apples and sauté until they just begin to soften around 3-5 minutes. Remove from heat and let cool slightly.
In a kettle, bring water to boil. In a deep dish, place the raisin and pour over it 1 cup of boiled water. Let is soak for 10 minutes, drain. This will soften the raisin.
Vanilla Custard:
In a medium sauce pan over medium heat bring the cream, milk, poppy seeds and vanilla to a boil.
Place egg yolks and sugar in the bowl of an electric mixer, fitted with the whisk attachment, and beat until pale. Pour hot milk and cream over, beating as you go. Strain custard into a jug, allow to settle for a few minutes, then skim off any froth.
Assemble and Bake:
Preheat oven to 400 degrees F.
Line the chilled unbaked pastry shell with parchment paper. Fill tart pan with pie weights ( rice or beans work as well), making sure the weights are evenly distributed over the entire surface. Bake crust for about 20 minutes or until crust is golden brown around the edges. Remove from oven and remove parchment paper and weights. Reduce oven temperature to 350 degrees F. Place back into the oven for about 3-5 minutes until dry to the touch.
Remove from oven, pour half of the custard over the tart crust, top with the apple slices (leave out any excess sauce from the pan) by arranging them in a circle, pour the rest of the custard and top with raisin.
Bake for 40 minutes or until just set with the slightest wobble in the middle. Remove from oven and leave to cool completely before serving.

MY LATEST VIDEOS
Peas and Peonies, LLC. owns the copyright on all images and text and does not allow for its original recipes and pictures to be reproduced anywhere other than at this site unless authorization is given. If you enjoyed the recipe and would like to publish it on your own site, please re-write it in your own words, and link back to my site and recipe page. Copying and/or pasting full recipes to social media or personal blogs is strictly prohibited. Sharing this recipe is very much appreciated and encouraged. Read my disclosure and privacy policy. This post may contain affiliate links.