Camo Shirt and Distressed Jeans for a Casual Look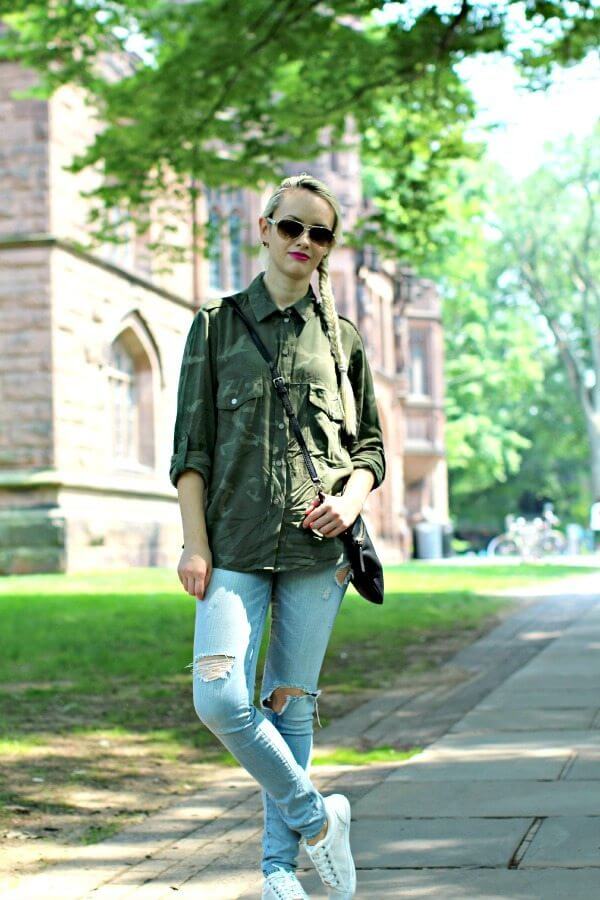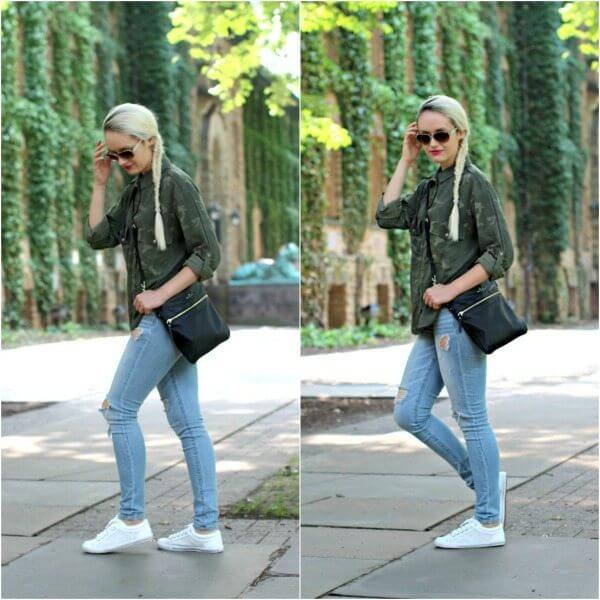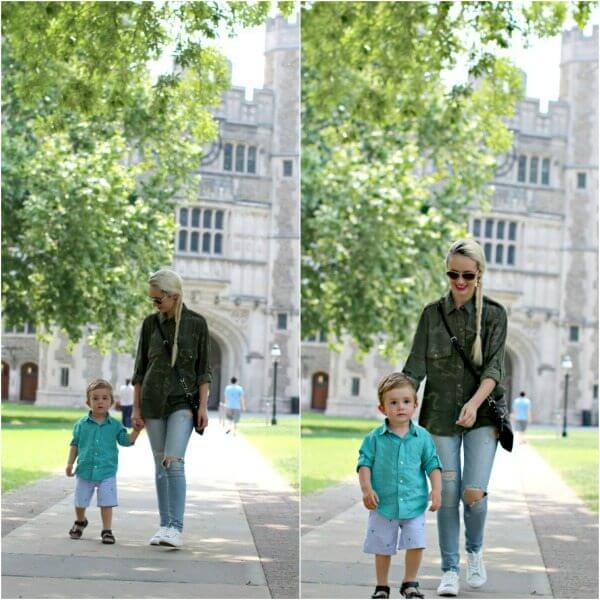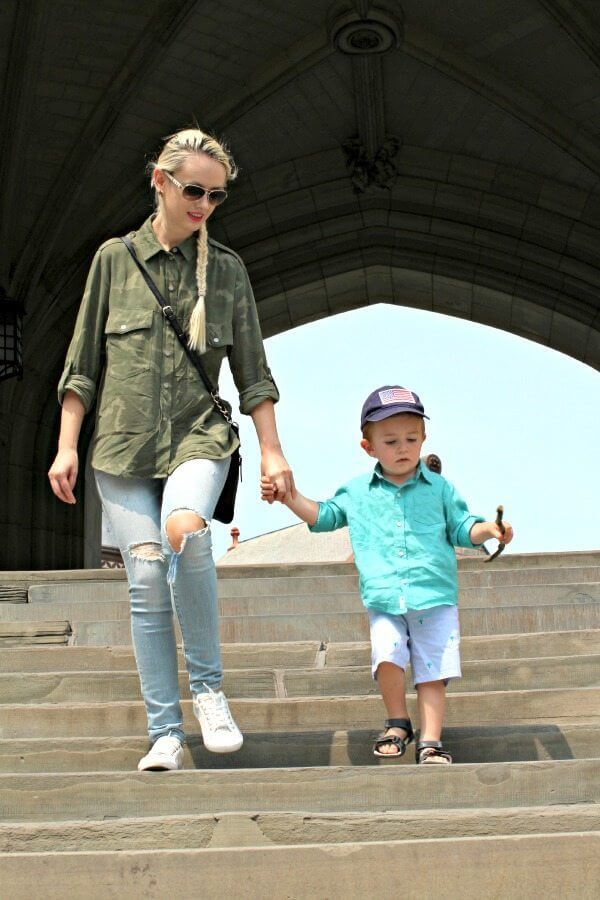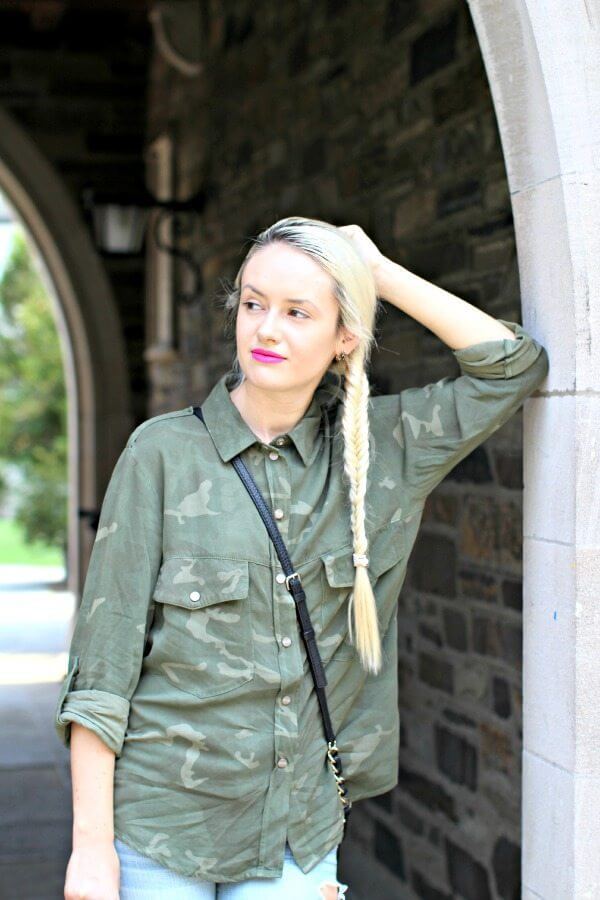 Shirt: Sanctuary | Jeans: Abercrombie & Fitch | Sneakers: Coach | Sunglasses: Kate Spade New York | Bag: Kate Spade New York | Makeup: BB Cream Tarte | Lips: Kat von D in Backstage Bambi, MAC pencil in Candy Yum-Yum | Jewelry: gift – custom made gold flower earrings with black stones |
Me and my husband have been away all last week, returning home on Friday night, all this time we have missed our little love bug like crazy. It was the most amazing feeling when after a very long flight we got home and Sebastian greeted us with the most sincere and beautiful smile. He started running around, hugging us, and wouldn't let go of us. How much I want to get the same reaction when he will be a teenager. I know, probably I am day dreaming 🙂
Since we haven't seen him for so many days, we decided to make the weekend a little more special and took him and the rest of the family: my in laws and my father, on a little out of town adventure. We drove one hour South to Princeton university and spent our afternoon walking and admiring the gorgeous campus. We are huge fans of university campuses, everytime we visit a city we try to see an university. So far UNC in my favorite, maybe because my husband graduated from UNC, but I definitely loved it, the architecture, the vibe, combined with the warm weather and southern charm its the perfect campus for me.
Princeton is a close favorite, the history, the old buildings raising like a castle, the small and chic main street makes you feel like you are somewhere in a small village in Italy.  We enjoyed ourselves walking around, taking pictures, chasing Sebastian and Sebastian chasing squirrels. It was a good thing that I wore such a comfortable outfit. This distressed jeans from Abercrombie & Fitch and so comfortable and soft that they almost feel like leggings on my body. The camo shirt added some color, and also blended so well with the surroundings, making me feel part of the architecture and greenery that was all over. My white sneakers are from Coach, and I have them in two colors, white as you can see here and I also own a black&white version for more day to day use. I like the crisp white color and freshness that these shoes add to a casual outfit, it also helps that they are very comfortable, affordable and cute.
After a few hours of walking we decided to stop by THOMAS SWEETS ice cream, a friend previously recommended this spot to me, since I am a crazy ice cream lover, we had to give it a try. I got a blended one, chocolate ice cream with peanut butter cups, and I must say that I liked it a lot, but didn't love it, I still think Cold Stone is better. While the quality of the ice cream was good, many selections as well, I like to feel and taste my peanut butter cups in my ice cream, you know what I mean?! This one was too blended, so the pb cups are turned into crumbs and they become part of the ice cream. My husband got chocolate with brownies, and the brownies were so blended that you could feel the crumbs only. When I ask for something to be blended into my ice cream I like to taste it, at Cold Stone they chop the add ins and you get huge brownie bites and peanut butter cups in your ice cream. But anyway, we loved it, and enjoyed in on that hot afternoon.
We asked Sebastian if he will go to Princeton when he is a grown up, and he said yes 🙂 lets see if he changes his mind in 16 years!