Butter Garlic Pepper Shrimp – 30 Minutes Meal
Butter garlic pepper shrimp is cooked in delicious butter with spicy and sweet peppers, lemongrass, loads of fresh herbs and white wine.
Hello everyone, I am scheduling this post in advance while we are getting ready to leave for Paris! I had to leave you with something extra tasty, and this butter garlic pepper shrimp fits the bill perfectly. Hopefully by the time this post goes live we will be walking on the streets of Paris. I am so excited for this trip!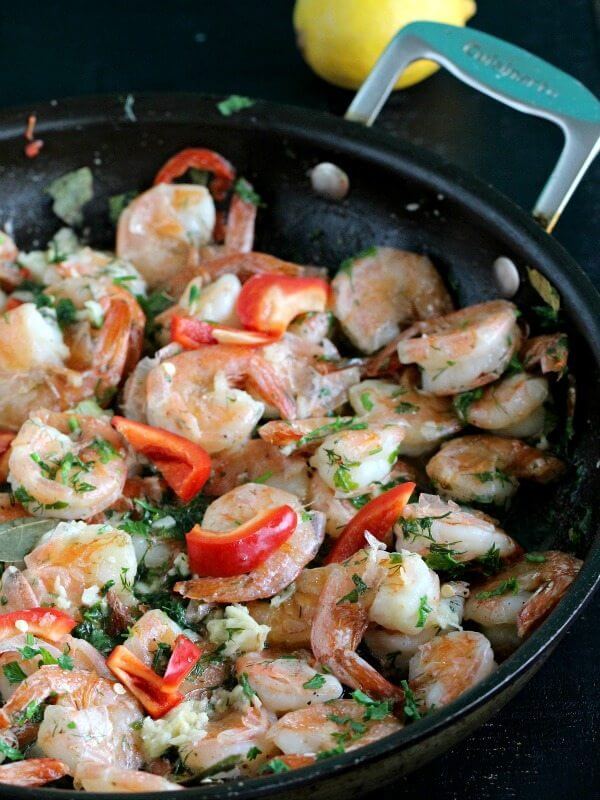 As I have mentioned in other posts, shrimp is my husband's speciality, he cooks it perfectly and creates the most amazing dishes featuring shrimp. All I have to do is get some crusty bread and impatiently wait for him to be done! This butter garlic pepper shrimp as expected was exceptional as well. This is a twist on his classic garlic shrimp that my friends is one of the most popular recipes on this blog.
This time he actually added lemongrass paste, spicy peppers and as well bell peppers to add a little sweetness to the dish. Must I specify that all this delicious ingredients are cooked in BUTTER! Yes, butter, that gets sweet, spicy and garlicky with nice lemon notes, so perfect for dipping that crusty bread.
Get some bread and dip into that sauce!

I honestly can't get enough of these butter garlic pepper shrimp so perfectly soft, juicy and delicious. This is the perfect quick and easy meal, its done in less than 30 minutes, it actually takes him 20 minutes, amazing no? But for the sake of this blog to try to be as accurate as possible lets keep it at 30 minutes! That is so little time for such an amazing meal, that you really have no excuses if you choose to order take out. This can be done in less time and it will be 100 times better!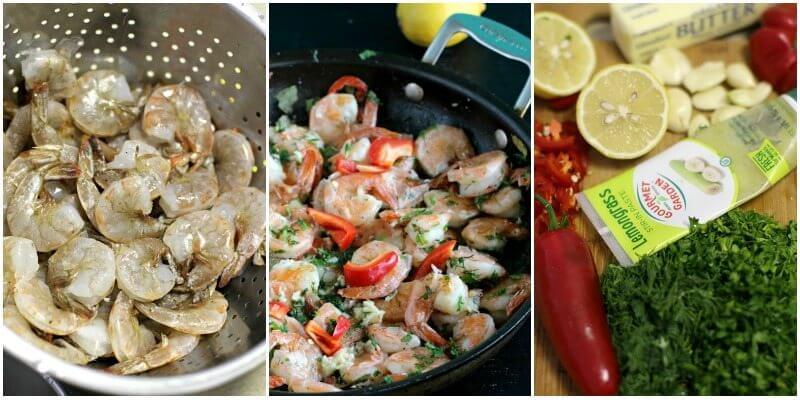 Loaded with fresh herbs and so many flavors these butter garlic pepper shrimp is a seafood lover dream come true!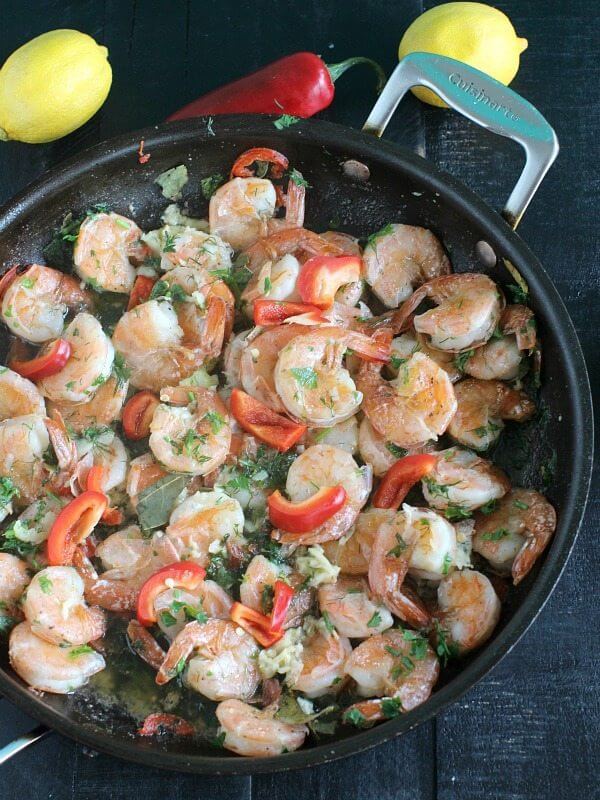 Enjoy!
Butter Garlic Pepper Shrimp Ready in 30 Minutes
Butter garlic pepper shrimp is cooked in delicious butter with spicy and sweet peppers, lemongrass, loads of fresh herbs and white wine.
Author:
Katalina Kastravet
Ingredients
2 pounds medium-large shrimp, peeled or unpeeled (we prefer ours unpeeled)
2 garlic heads, chopped garlic (heads not cloves)
4 tablespoons unsalted butter
½ cup white wine
Juice of 1 lemon
1 tablespoon lemongrass paste
1 fresh hot pepper, chopped
1 red bell pepper, chopped
½ cup fresh dill, chopped
½ cup fresh parsley, chopped
Salt and Pepper
Instructions
In a large nonstick heavy skillet over medium-low heat add the butter, when it is melted and barely starts to simmer add half of the chopped garlic, hot peppers, lemon grass and bell pepper. Cook for 5 minutes, stirring occasionally.
Add the shrimp to the skillet, sprinkle generously with salt, pepper. Cook for 4 minutes and add the lemon juice, wine and the rest of the garlic, stir gently and continuously until the shrimp are just cooked, another 4-6 minutes.
Taste the mixture and add a little more salt if needed. Keep the pan over low heat. Sprinkle the fresh chopped herbs on top of the shrimp, turn off the heat, cover the pan and let it stand for 5 minutes before serving, so the herbs will soften a bit.
Serve with bread for dipping.