Bundt Cake with Dates has some deep caramel notes and some juicy sour cherries for a surprise pairing.
Bundt Cakes are very popular on our blog. We have made quite a few of them, so you have a variety to pick from. Like the Ricotta Bundt Cake and Vanilla French Custard Bundt Cake.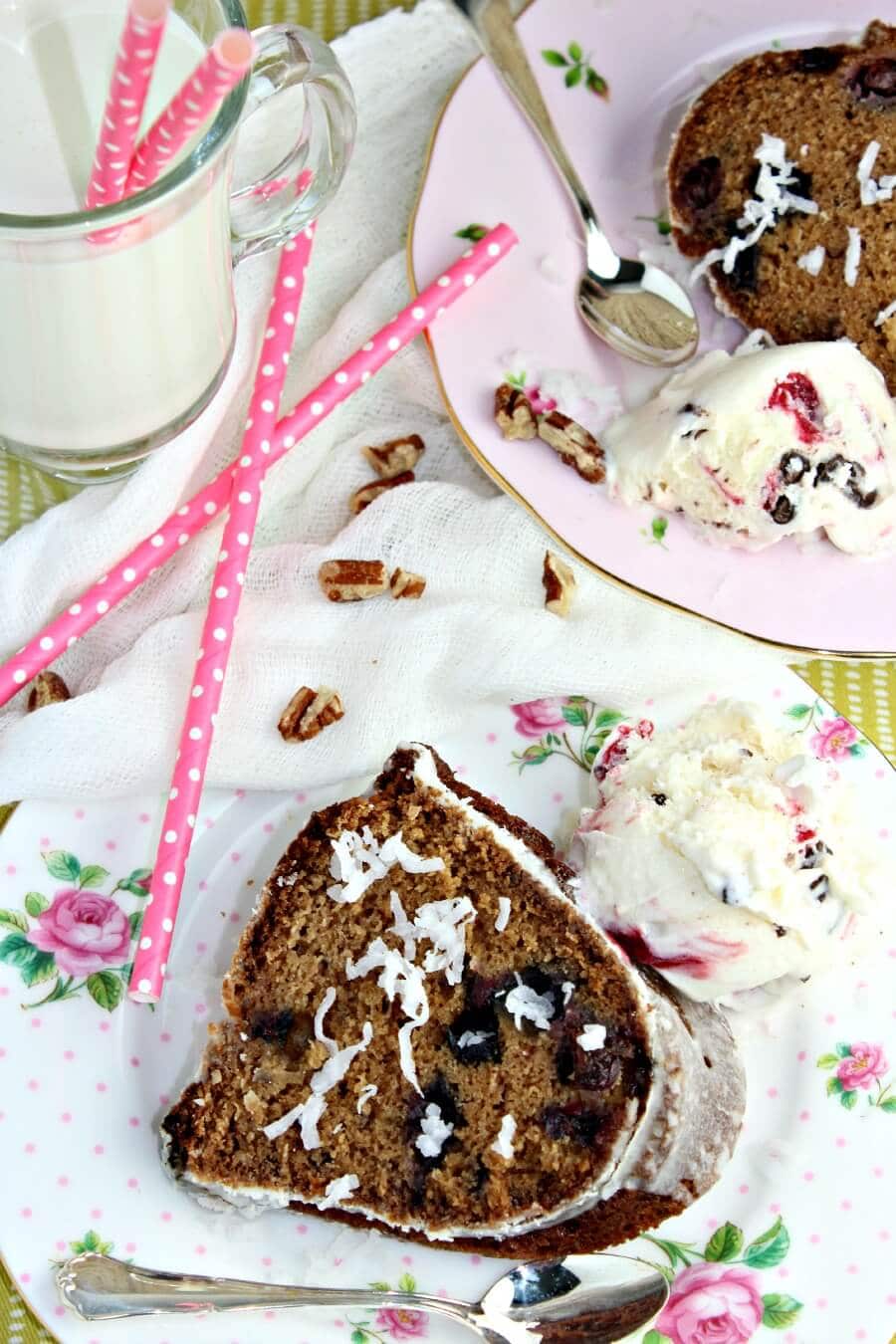 Bundt Cake with Dates
This Bundt Cake With Dates is great for all occasions. Firstly, it has an elegant appearance and a simple make. Also, the cake is soft, dense and with a caramel-nutty flavor form the dates. Sour cherries are the perfect pairing, since they balance the sweetness and add a nice burst of juice. Lastly, the simple sugar icing takes no time to pull together, and embraces the cake in a royal blanket.
This Bundt Cake with Dates and Sour Cherries was a hit with our guest. I served it just a little warm with some vanilla raspberry ice cream on the side. Also, since I am a sucker for coconut I topped mine with just a few flakes. The cake is perfect for the novice baker, because it's a breeze to make. Most of the ingredients are pantry staples, with just a fun twist with the dates and cherry additions, but still easy to find. Most of the preparations just consists of mixing the wet and dry ingredients. Then, bake and enjoy. If you have leftover icing, pour it into a jar and place it in the refrigerator for up to 2 weeks. You can use it to glaze other desserts or just eat it by spoon at night.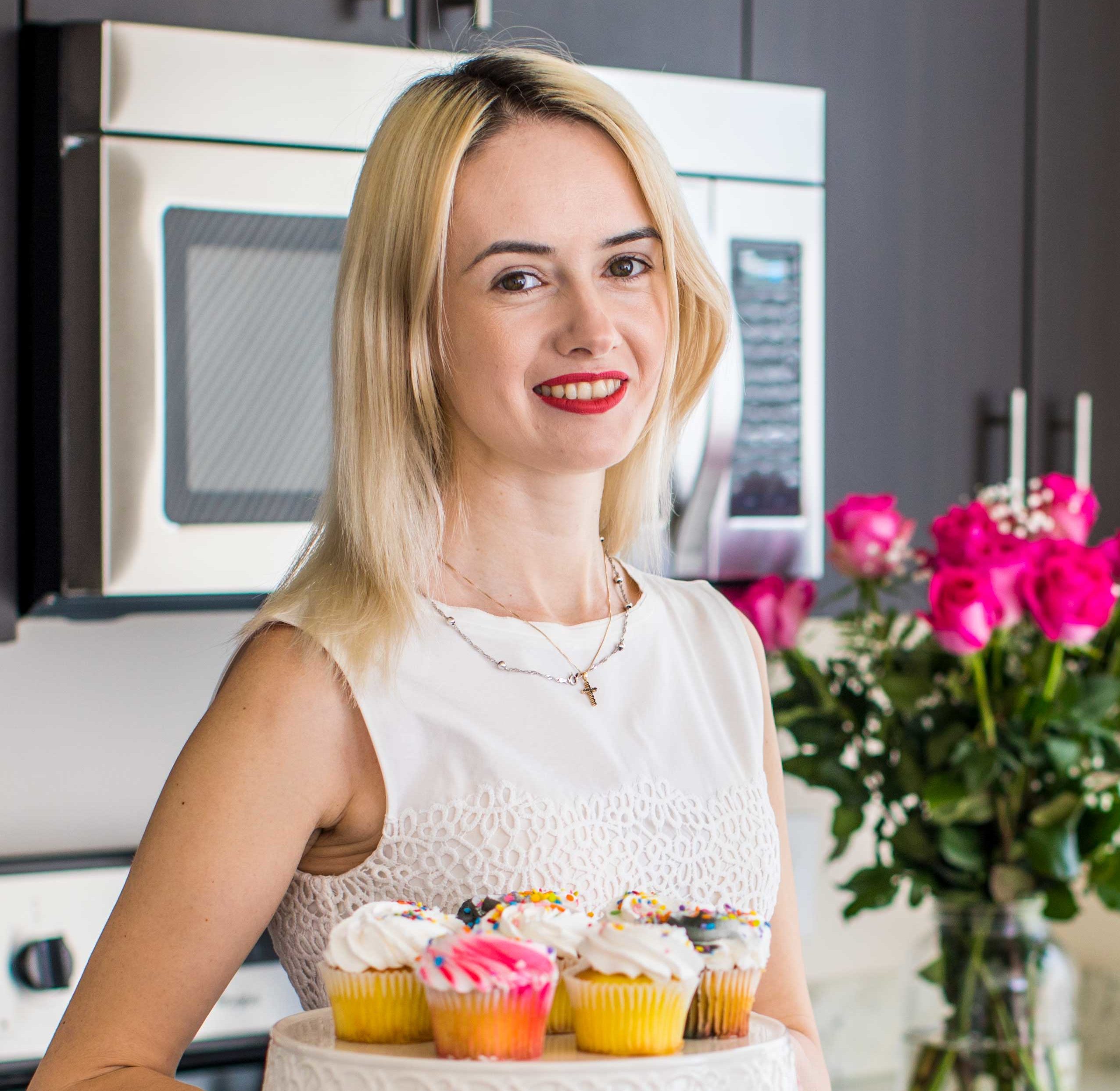 Follow us on Pinterest for more delicious recipes!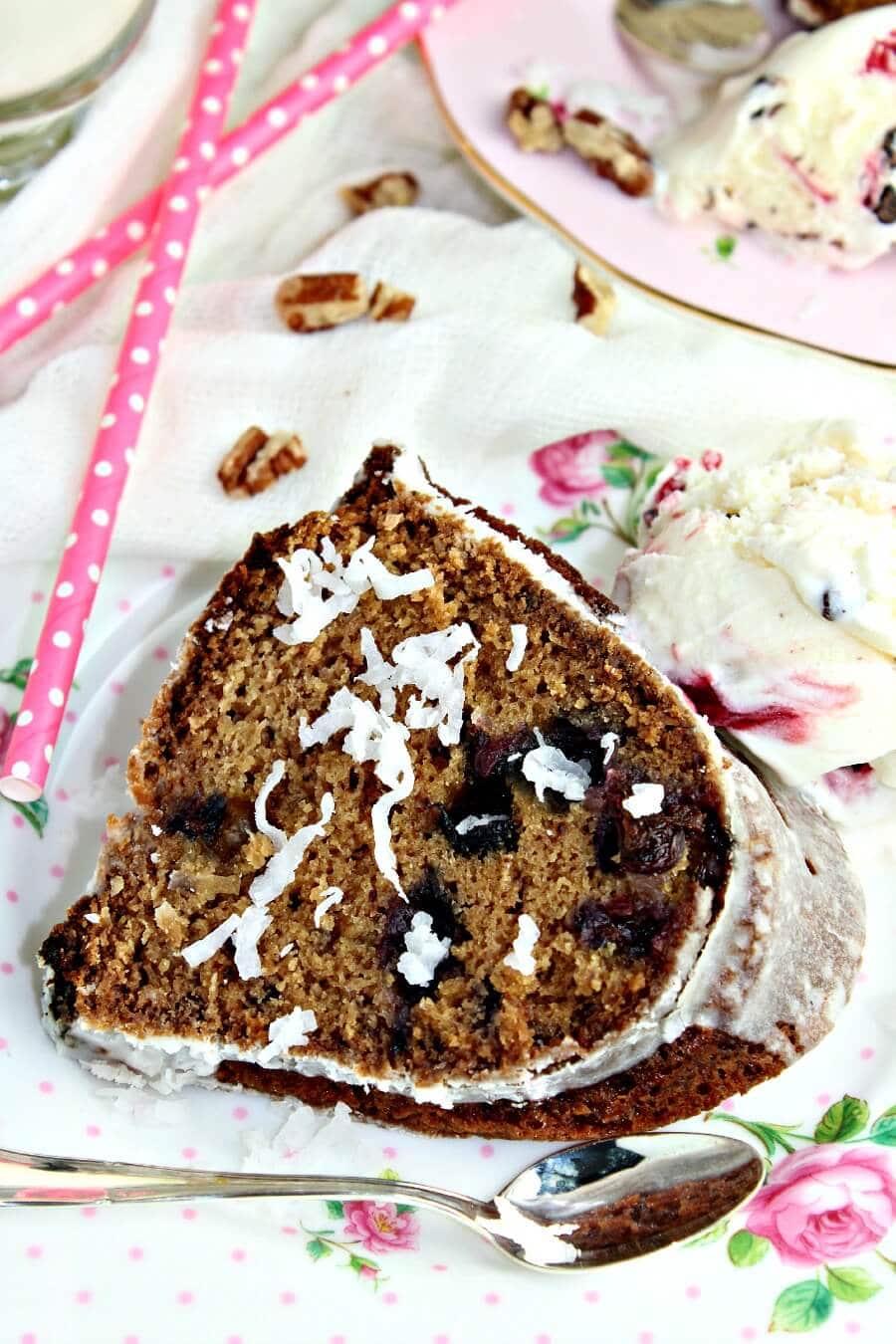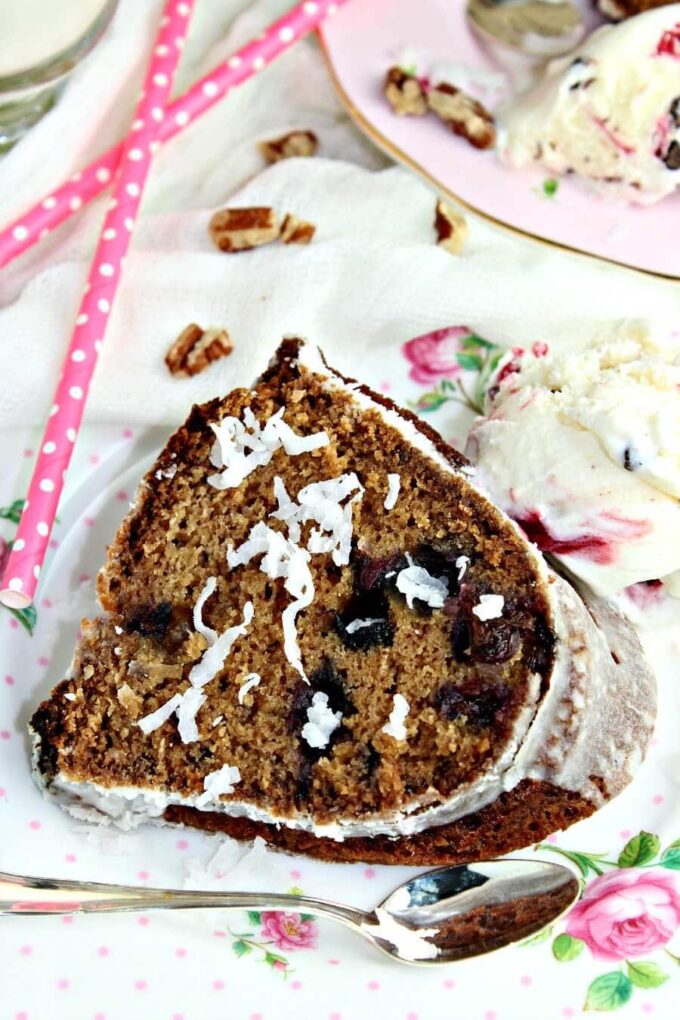 Why You'll Love This Bundt Cake with Dates
Festive and colorful the cake is perfect for a special occasion or birthday party.
Also, endless colorful possibilities, mix and match as you like. For example, you can add a drop of food coloring to change its appearance, or mix various other fruits.
In addition, it has delicious flavor and texture.
So good that kids and adults will love it equally.
Perfect project to do with the kids, everyone will have so much fun.
Bundt Cake with Dates Recipe Tips
Firstly, I prefer using a silicone bundt cake pan when baking bundt cakes. It just makes the removal process so much easier and its guaranteed that the cake won't stick to the pan.
Also, if you will be using a silicone bundt cake pan consider that it heats up quicker than a regular pan. Hence, check for doneness a few minutes earlier.
In addition, make sure you sift the flour, otherwise the cake may be not as smooth.
Similarly, make sure you use room temperature eggs, you will be whisking them with warm-hot cream. If the eggs are very cold, they will curd and cook.
When mixing in the cream mixture into the eggs, do it very slowly, as the egg mixture needs to warm up. Otherwise, you may end up "cooking" some of the eggs, and the batter will become unusable.
In addition, vanilla beans are very, very expensive. You can skip them in this recipe and use vanilla extract if you want. Please use 1-2 teaspoons of vanilla extract. Based on how much vanilla flavor you prefer in your desserts.
Tools/Ingredients I used to make this Vanilla French Custard Bundt Cake Recipe:
Silicone Bundt Cake – I love using this one, makes cake removal a breeze!
Vanilla Beans – these are the ones more reasonably priced, if you decide to splurge and get some for the holidays.
Vanilla Extract – if you decide to use the extract instead.
Save Recipe
Bundt Cake with Dates
Bundt Cake with Dates has some deep caramel notes and some juicy sour cherries for a surprise pairing.
Author: Catalina Castravet
Serves: 14 servings
Prep time:

15

minutes
Cook time:

1

hour

5

minutes
Total time:

1

hr

20

mins
Ingredients
For the cake:
For the icing:
Nutrition information
Calories: 359 Carbohydrates: 55 Protein: 3 Fat: 14 Saturated Fat: 8 Cholesterol: 70 Sodium: 349 Potassium: 350 Fiber: 3 Sugar: 35 Vitamin A: 675 Vitamin C: 0.3 Calcium: 89 Iron: 2.1
Save Recipe
More recipes you might love
Categories: