Bundt Cake with Dates and Sour Cherries
This post may contain affiliate links. Please read my disclosure policy.
This Bundt cake with Dates has some deep caramel notes and some juicy sour cherries for a surprise pairing.
This bundt cake with dates is great for all occasions, it has an elegant appearance and a simple make – ahead preparation process. The cake is soft, dense and with a caramel-nutty flavor form the dates. Sour cherries are the perfect pairing, since they balance the sweetness and add a nice burst of juice. The simple sugar icing takes no time to pull together, and embraces the cake in a royal blanket.

This Bundt Cake with Dates and Sour Cherries was a hit with our guest, I served it just a little warm with some  vanilla raspberry ice cream on the side, and since I am a sucker for coconut I topped mine with just a few flakes.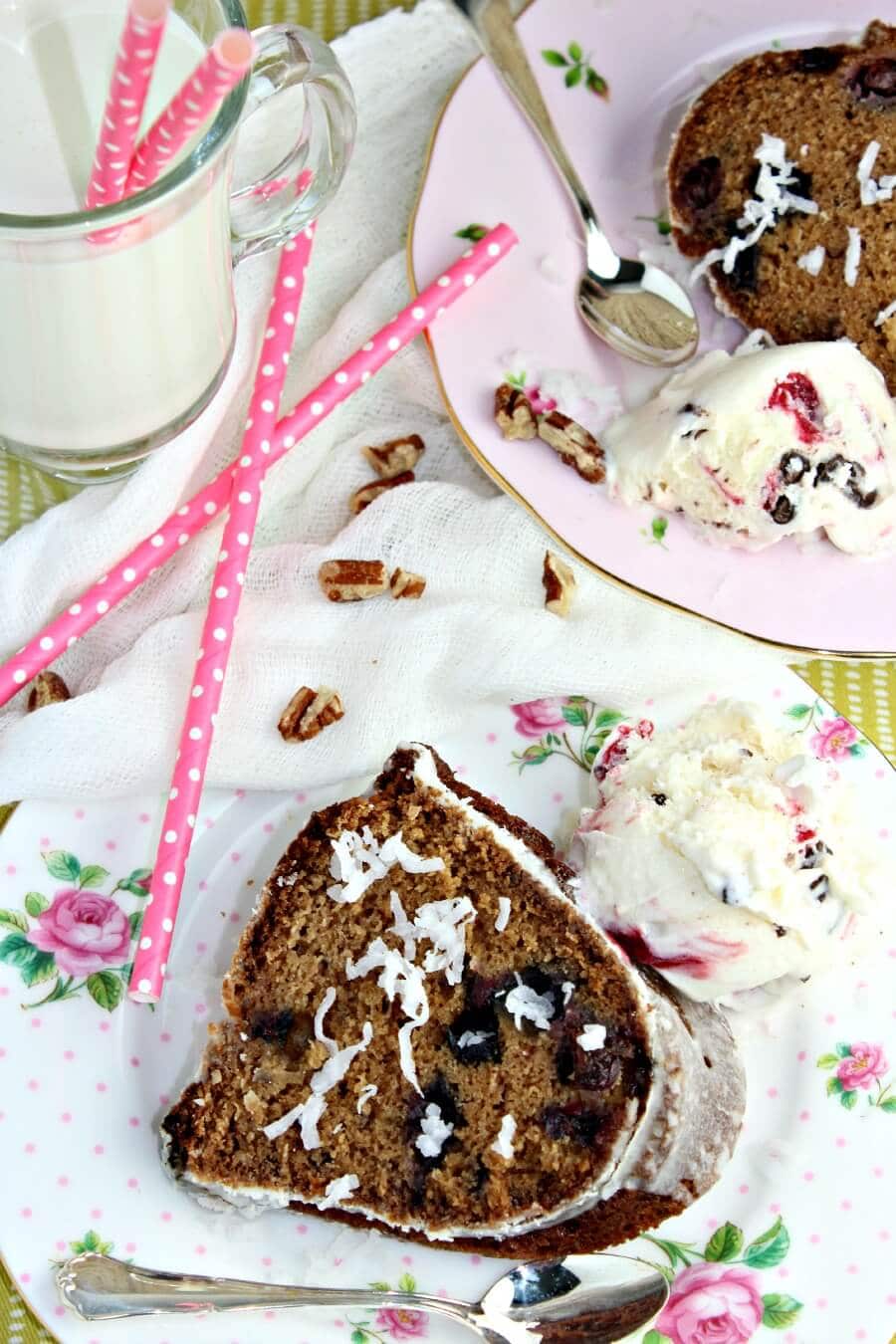 This Bundt cake is perfect for the novice baker. It's a breeze to make, most of the ingredients are pantry staples, with just a fun twist with the dates and cherry additions, but still easy to find. Most of the preparations just consists of mixing the wet and dry ingredients, bake and enjoy. If you have leftover icing, pour it into a jar and place it in the refrigerator for up to 2 weeks. You can use it to glaze other desserts or just eat it by spoon at night.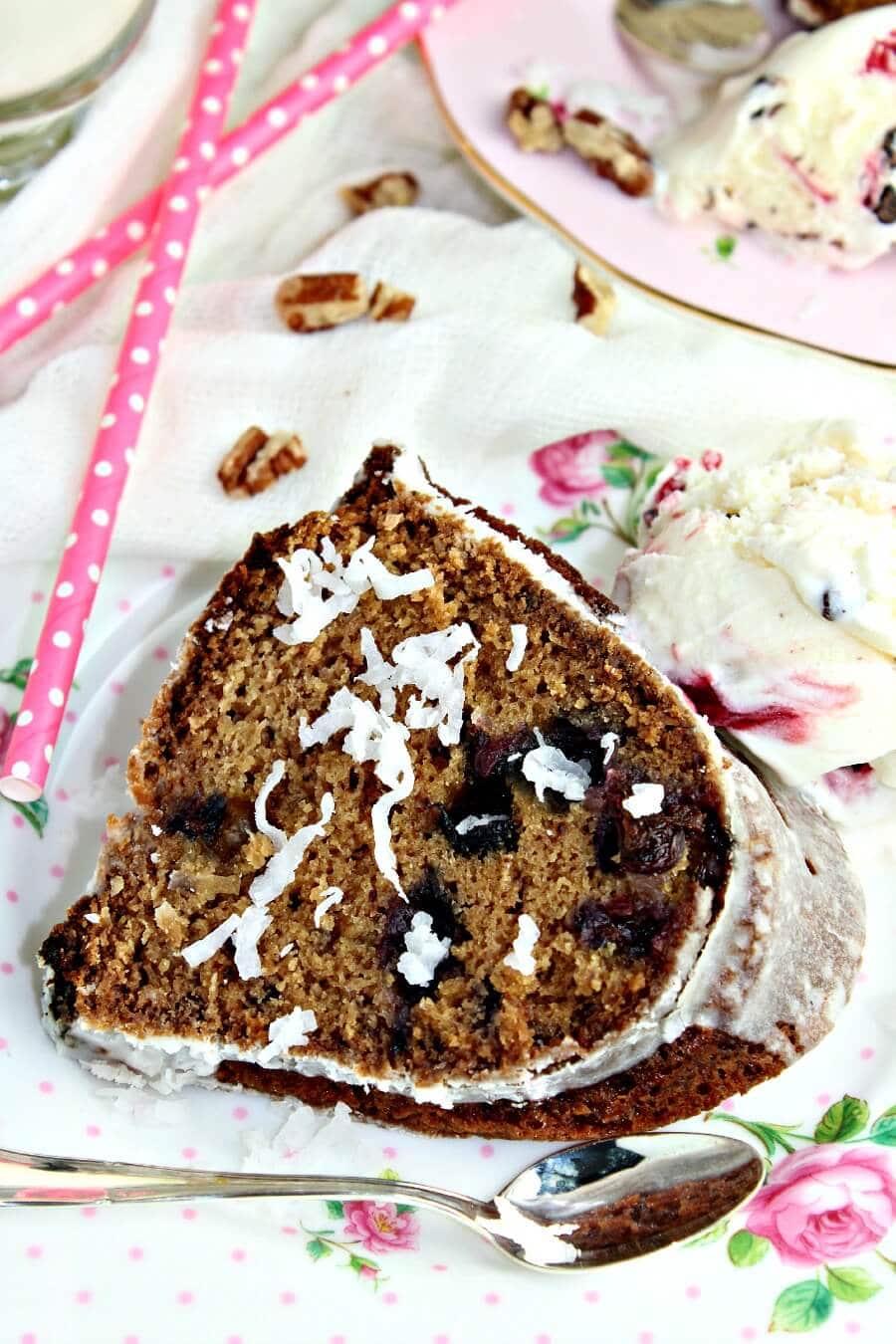 The cake also stores nicely at room temperature, we kept it on the counter for 3 days and enjoyed slices for breakfast (yes, we eat cake for breakfast), and some nibbles for dessert.

MY LATEST VIDEOS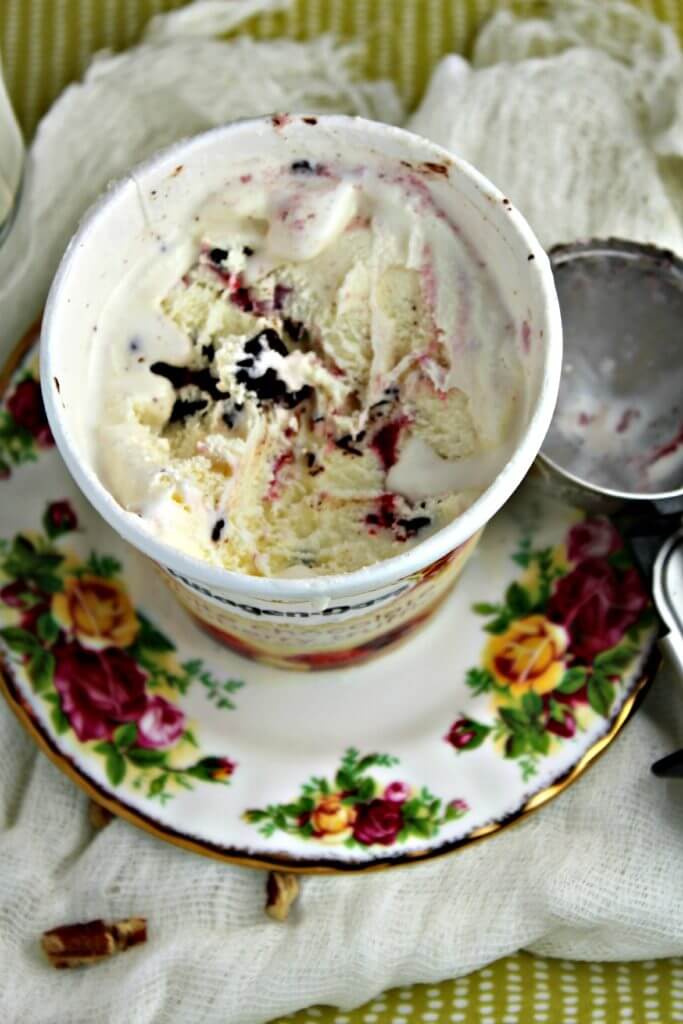 Don't forget the ice cream….

Bundt Cake with Dates and Sour Cherries
This crowd-pleasing cake features a classic date flavor, with some deep caramel notes and some juicy sour cherries for a surprise pairing. The cake is served just warm and with a liberal amount of ice cream.
Author:
Katalina Kastravet
Ingredients
For the cake:
14 oz. pitted dates, chopped
1 1⁄2 tsp. baking soda
2 1⁄4 cups all-purpose flour
1 1⁄2 tsp. baking powder
1⁄2 tsp. salt
1 cup unsalted butter, softened
1⁄2 cup brown sugar, packed
3 large eggs
For the icing:
1 cup powdered sugar
½ tsp. vanilla extract
5 tbsp. milk
1 tbsp. vanilla extract
1 cup sour cherries, drained
Instructions
Preheat oven to 350 degrees F. Coat the inside of a 12-cup Bundt pan with butter and sprinkle with a little flour.
In a medium bowl, mix together flour, baking powder, baking soda, salt and set aside.
In a large bowl, with an electric mixer fixed with the paddle attachment beat together butter & brown sugar until smooth, about 2-3 minutes.
Add eggs one at a time, beating well after each addition, on medium speed.
At low speed, beat in flour mixture until just combined.
Process pitted dates in a food processor until a paste forms. Add date paste and beat on low until just combined.
Using a rubber spatula, carefully fold in the cherries.
Transfer the mixture into the greased Bundt pan and bake 50-55 minutes or until toothpick inserted in center comes out clean or just with a few crumbles.
Cool on a wire rack for 30-40min before serving.
Mix powdered sugar, vanilla and milk (1 tablespoon at a time), until spreadable, the mixture will thicken slightly as it sets.
Using a spatula decorate the cake.
Peas and Peonies, LLC. owns the copyright on all images and text and does not allow for its original recipes and pictures to be reproduced anywhere other than at this site unless authorization is given. If you enjoyed the recipe and would like to publish it on your own site, please re-write it in your own words, and link back to my site and recipe page. Copying and/or pasting full recipes to social media or personal blogs is strictly prohibited. Sharing this recipe is very much appreciated and encouraged. Read my disclosure and privacy policy. This post may contain affiliate links.