Brown Butter Cookies with Reese's Pieces
Brown Butter Cookies that are chewy, soft and dense on the inside, loaded with Reese's pieces and salted peanuts for the ultimate great taste.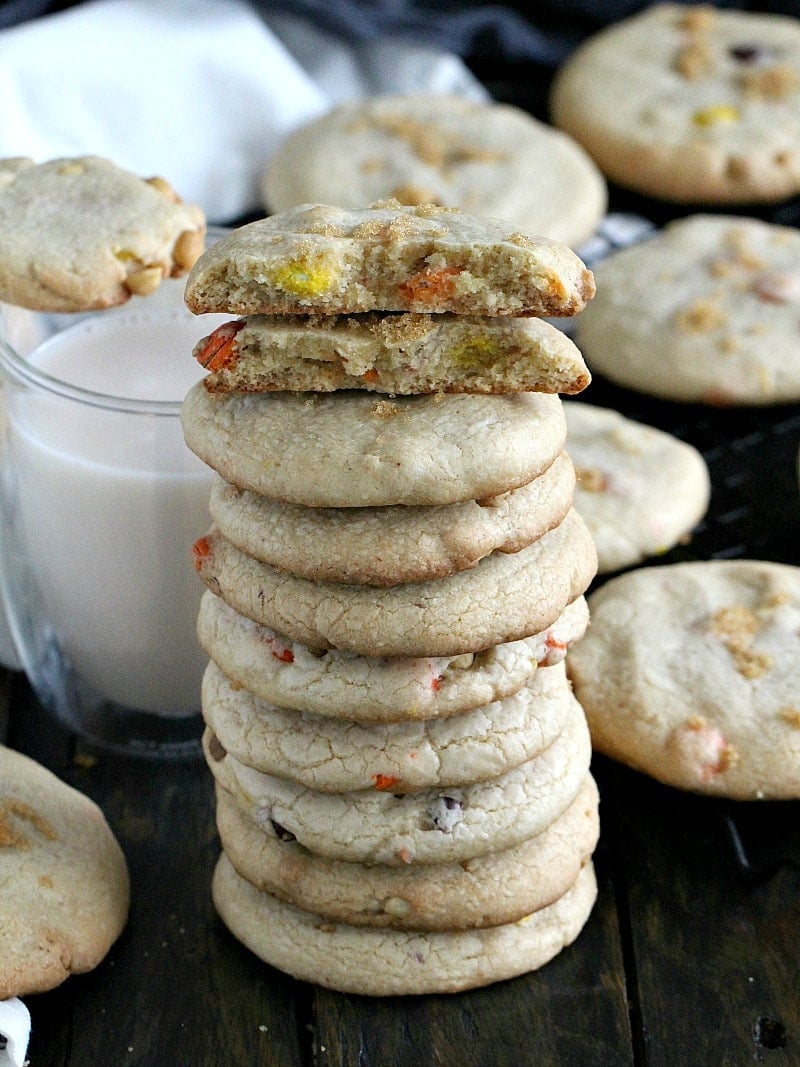 Brown Butter Cookies rule the taste buds world! I am not kidding, these babies are one of the best cookies that came out of my oven and even my kid can't get enough of them. My kid loving these is saying a LOT, as the cute little guy usually licks the powdered sugar or tries to get out the sprinkles and doesn't even care about the cookie.

These Brown Butter Cookies where a success, first, I had so much fun with my little guy in the kitchen. He is a cute, sweet, little helper that can't wait to lick the spatula clean. He is also very independent and insists on measuring the flour and cracking the eggs all by himself.
As you can see I am doing quiet a bit of baking, I always get asked where do I buy most of my ingredients and I must say that I am a huge fan of BJ's Wholesale Club. I have one across the street and I am very happy with the product options. We have a membership and we usually go every two weeks to stock up on meat, fresh produce and any baking ingredients I may need.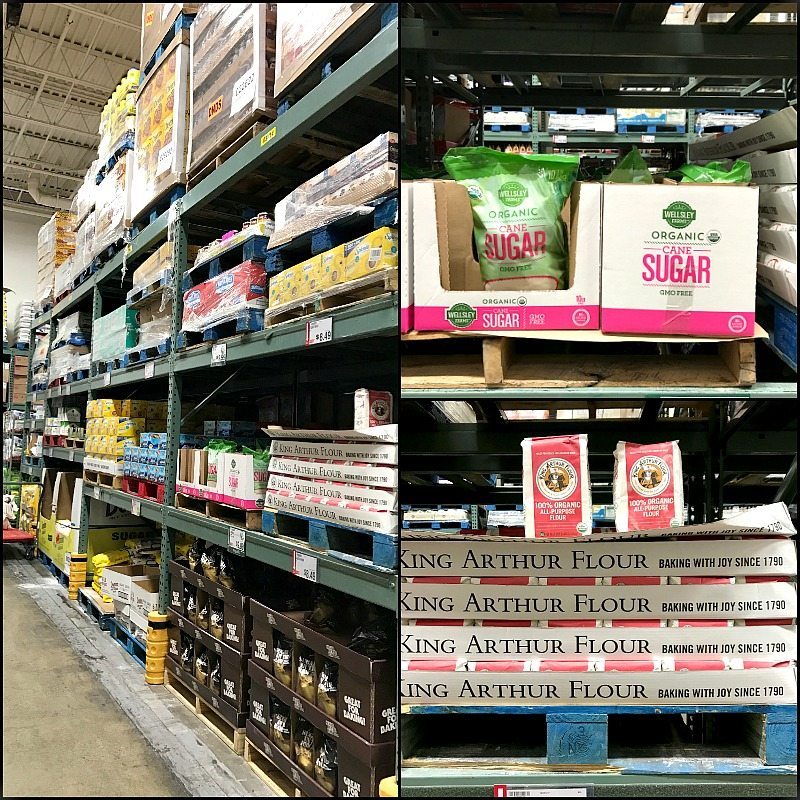 The Baking Aisle is like heaven for me, and I am so happy that they carry organic items. I always buy organic sugar, flour, eggs and butter in bulk as I only use quality ingredients in all my recipes.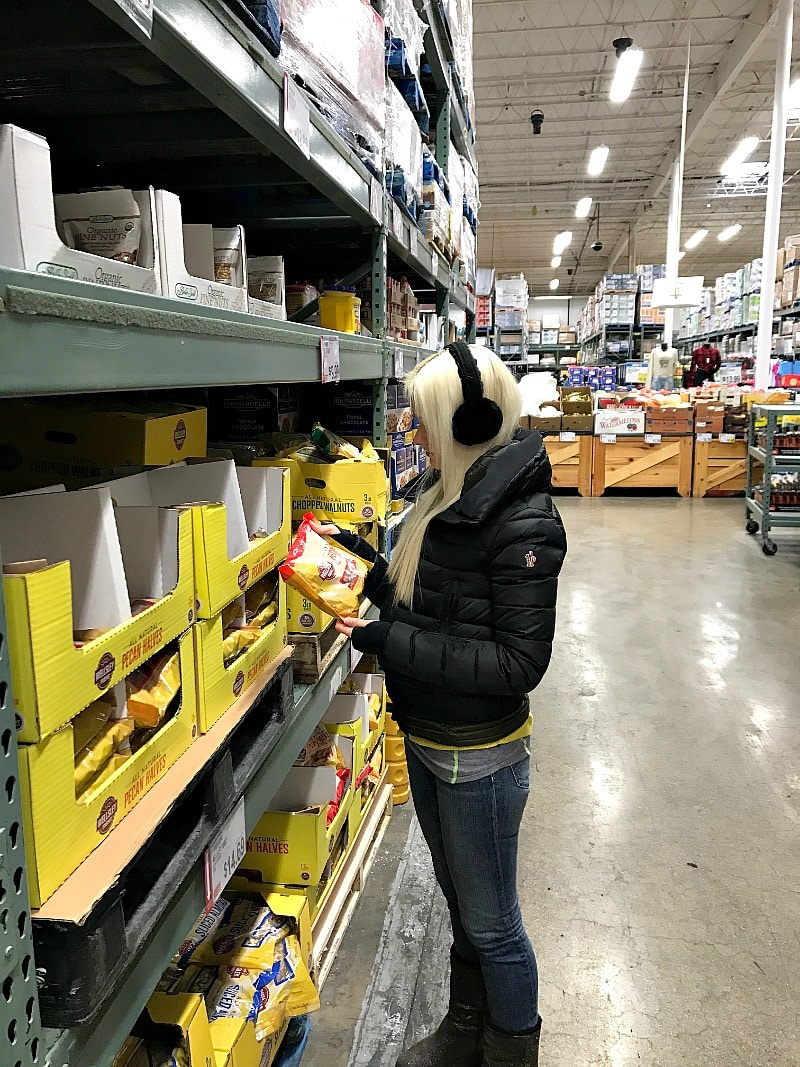 BJ's Wholesale Club is offering now a 90 days free trial, so make sure you get yours and give it a try! You will love it, especially with all that holiday shopping coming soon!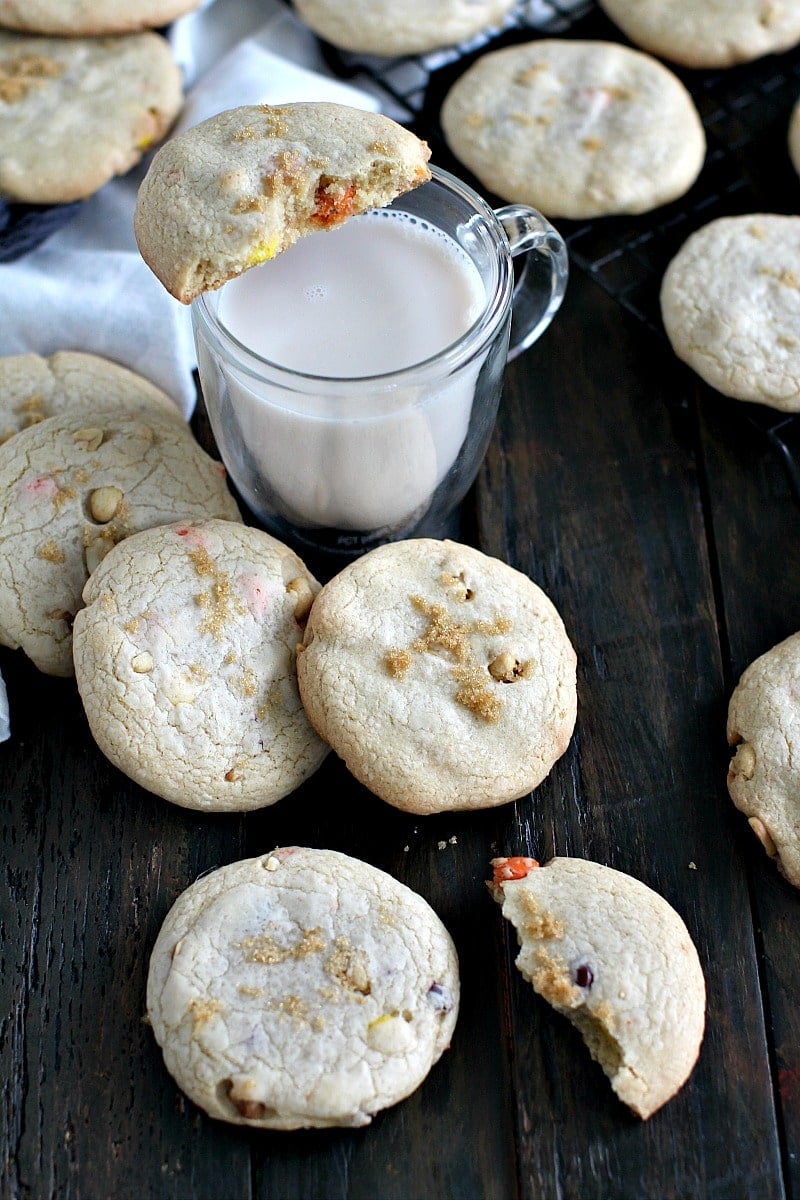 The Brown Butter Cookies are loaded with Reese's pieces and salted peanuts. I intended to add even more Reese's pieces, but a cute candy monster ate half of them, so I improvised and added salted peanuts, which was a very good decision. I like how the sweet and salty compliment each other, especially with the caramel aroma of the brown butter.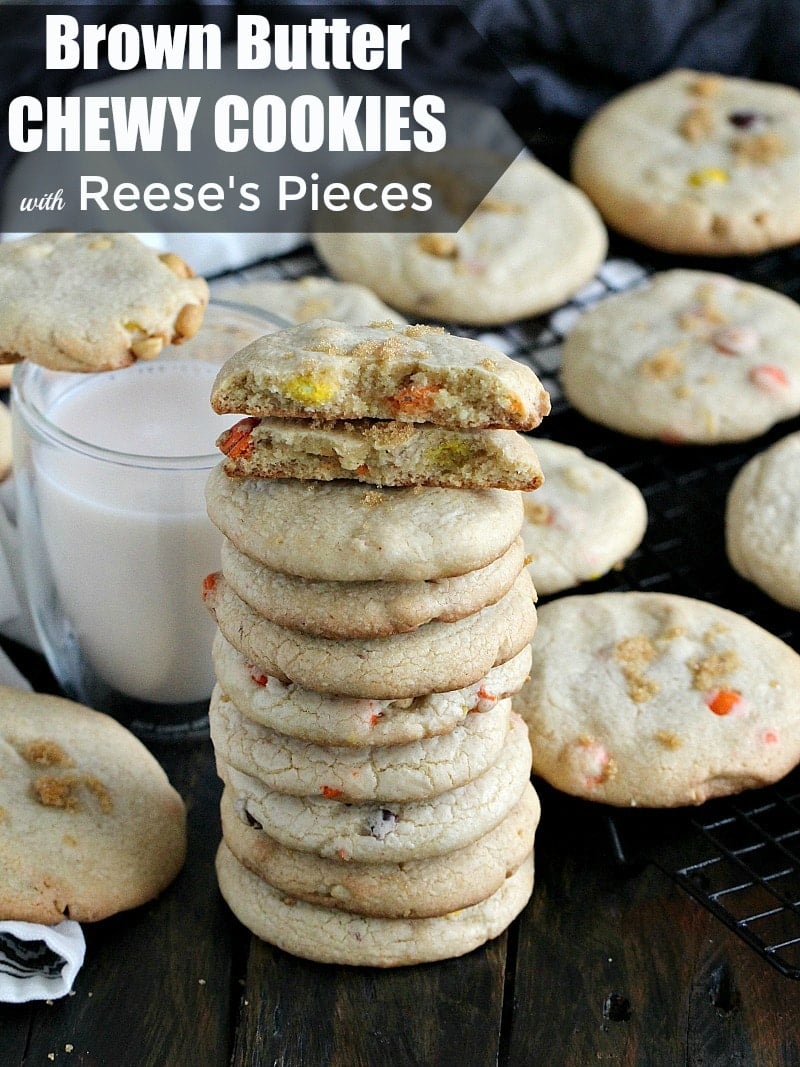 If you never tried Brown Butter Cookies you are missing out and you should make these asap. It will only take you 30 minutes and you will have a soft, freshly baked cookie in your hand and a glass of milk in your other hand. The cookies are very easy to make, they smell delicious and have a caramel undertone from all that glorious browned butter.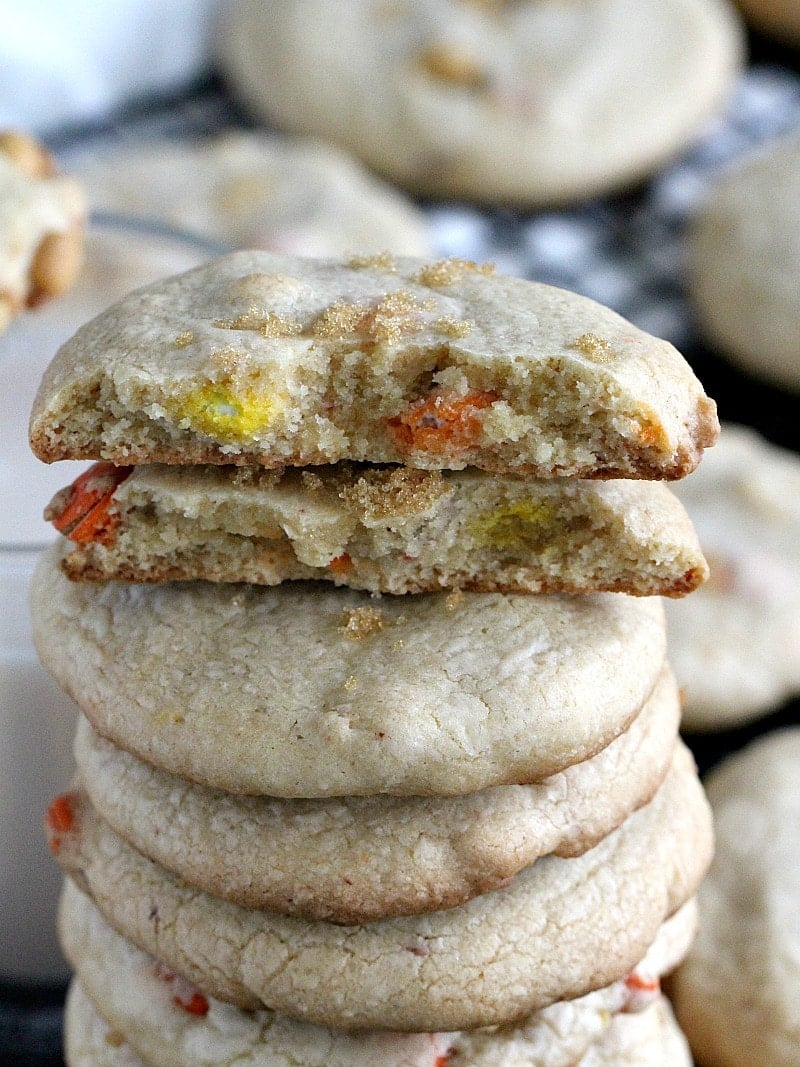 With a perfect outside, the cookies are moist, dense and chewy on the inside, just check that bite! They will melt in your mouth! Absolutely must try!
Brown Butter Cookies with Reese's Pieces
Brown Butter Cookies that are chewy, soft and dense on the inside, loaded with Reese's pieces and salted peanuts for the ultimate great taste.
Author:
Katalina Kastravet
Ingredients
4½ cups all-purpose flour
1 teaspoon baking powder
28 tablespoons butter, unsalted
1 cup white sugar
1½ cups packed light brown
1 teaspoon salt
1 tablespoon vanilla extract
2 large eggs
2 large egg yolks
1 cup Reese's pieces
1 cup salted peanuts
Optional: 2 tablespoons brown sugar
Instructions
Preheat oven to 375F.
Line two large baking sheets with parchment paper and set aside.
In a medium bowl, whisk together flour, baking powder and salt. Set aside.
Add 18 tablespoons of the butter to a medium skillet set over medium high heat. Allow the butter to melt for 1 - 2 minutes. Swirl it around the pan, allowing it to brown, browning takes about 3 minutes. The butter will acquire a golden brow color and a nutty flavor.
Remove the pan from the heat and transfer butter to a large, heat-safe mixing bowl. Add the remaining 10 tablespoons of butter to the melted butter, and stir gently until all melted and combined.
Add the sugars and vanilla extract to the butter and whisk until all combined.
Add the eggs and egg yolks one at time, whisking after each addition.
Allow the batter to rest for 3 minutes, then whisk for 30 seconds more. Repeat two more times, the end result should be a thick and shiny batter.
Add the flour mixture and stir in until just combined.
Fold in Reese's pieces and salted peanuts.
Form each cookie with 2 - 3 tablespoons of dough. Roll into a ball and flatten the cookie into a ½ inch disc.
Place cookies 2 inches apart on the prepared baking sheets (optional: sprinkle cookies with brown sugar) and bake one tray at a time, 10 to 14 minutes, on the middle rack of your oven.
Rotate baking sheet mid-baking and check the cookies after 10 minutes of baking, the edges should be golden brown. I baked my cookies for 11 minutes.
Allow to cool on the pan for 1 to 2 minutes, then transfer to a wire rack to cool completely.
Enjoy!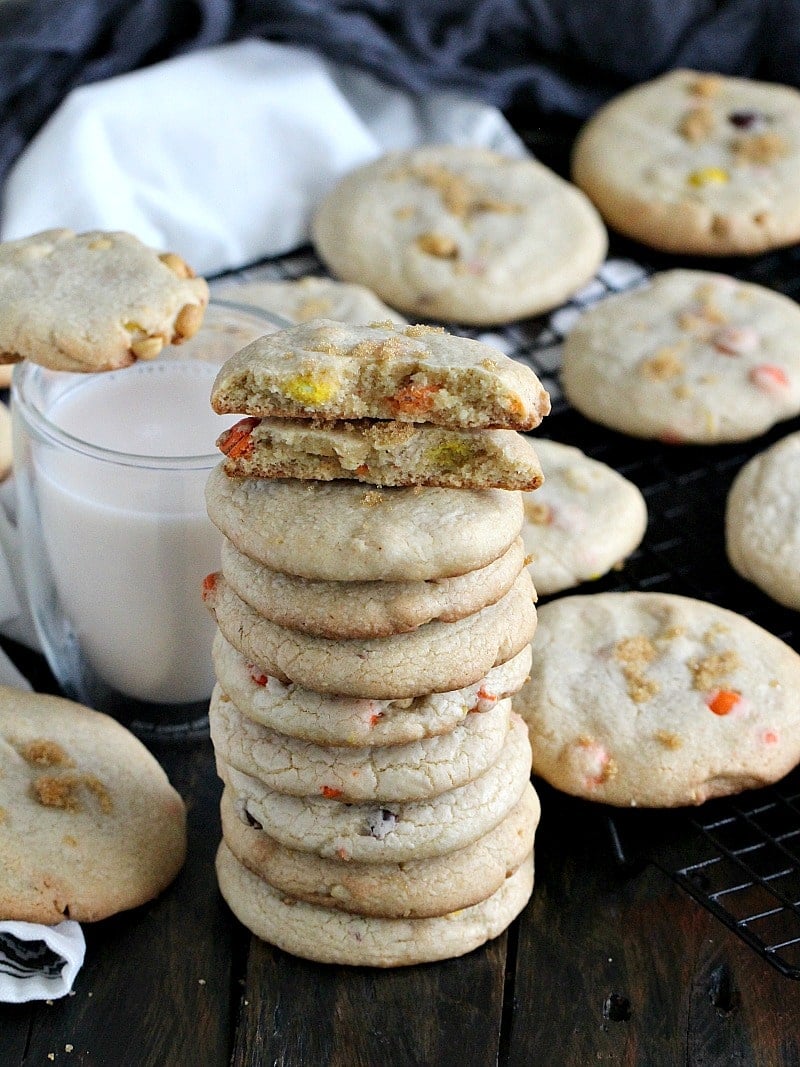 So gorgeous!