Black and White Cake with Caramel Buttercream
Black and White Cake with Caramel Buttercream is rich and flavorful, loaded with vanilla and chocolate cake layers, and topped with silky smooth frosting and fresh strawberries.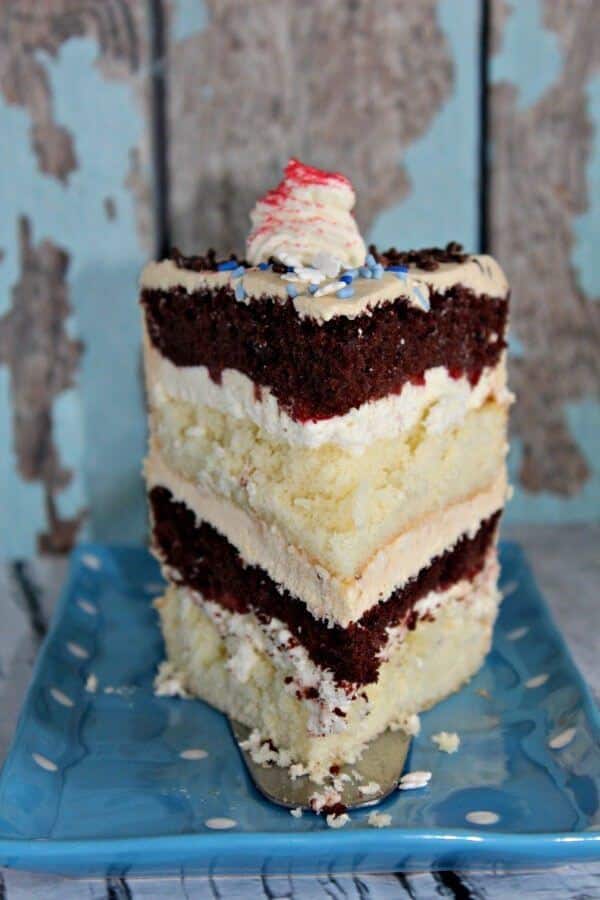 Black and White Cake with Caramel Buttercream
This Black and White Cake has layers of chocolate and vanilla, topped with a sweet and fluffy vanilla mascarpone buttercream, and fresh strawberries. To make it even more decadent, I covered it in a blanket of caramel buttercream. While this sounds like a high maintenance cake, it actually isn't. This Black and White Cake is easy to pull together. You may have a few bowls to clean because of all the great flavors going on here, it's totally worth it.
This cake was a big hit with my family. The texture can only be described as dreamy, very soft, but not crumbly. The strawberries add some freshness, a change of texture and some nice pop of color along with the tiny black specs from the vanilla beans. The layer of caramel buttercream is very subtle, and not overly sweet. I recommend using high quality caramel, if you have time, and are brave enough to make your own, go for it.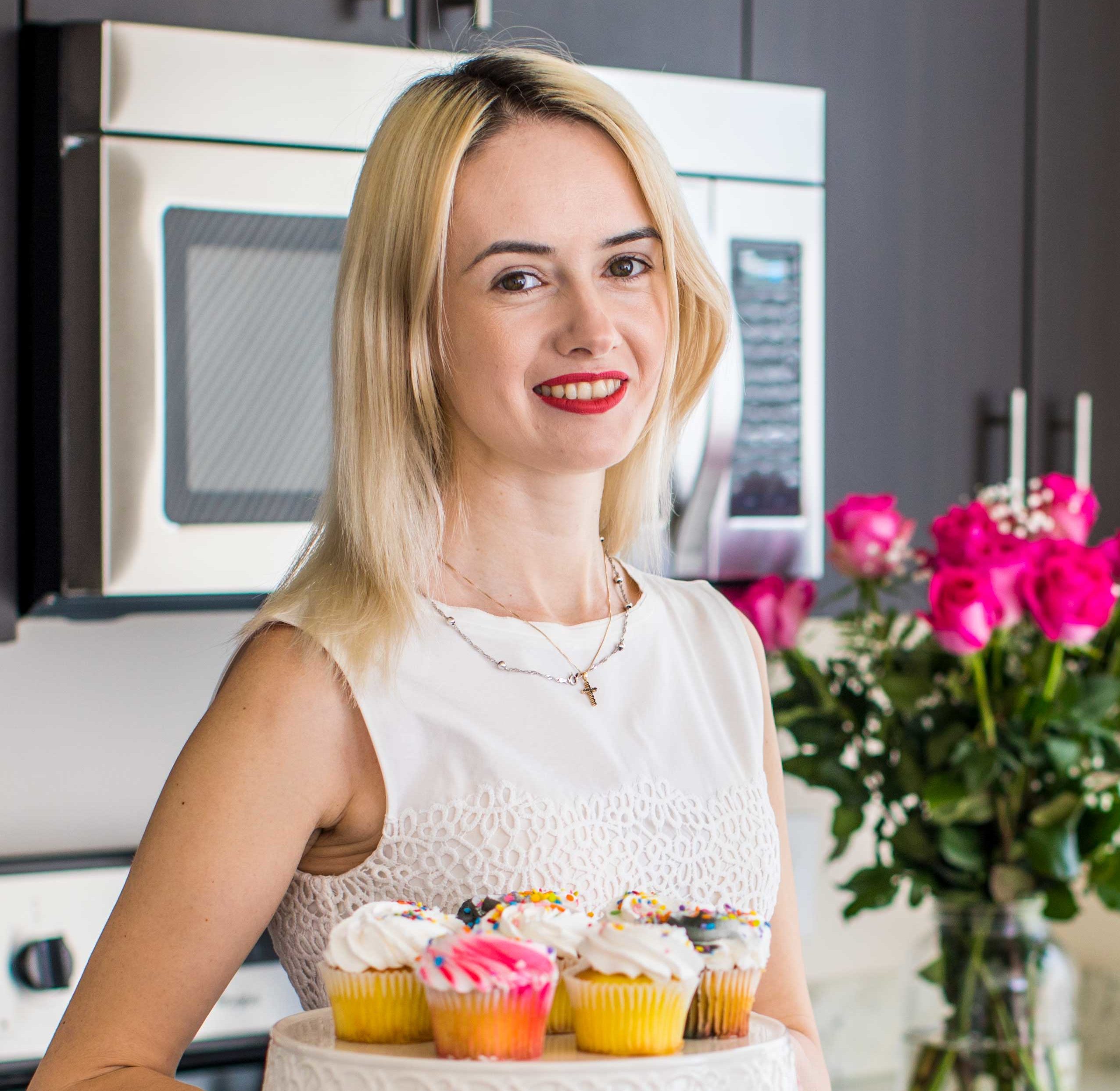 Follow us on Pinterest for more delicious recipes!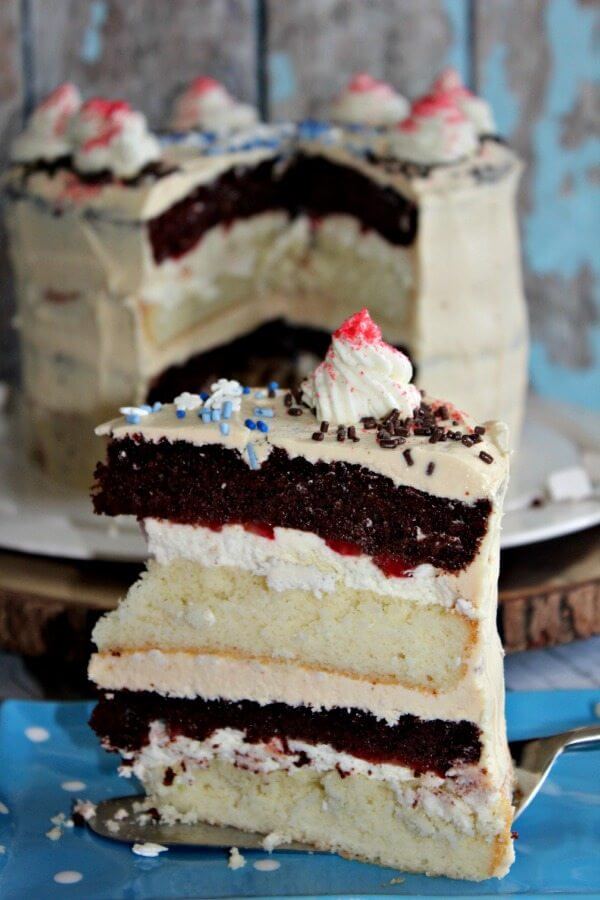 As much as I like to make everything from scratch, sometimes I just don't have time, that is when kitchen shortcuts like cake mixes are a blessing.
To cut out preparation time, I used:
1. French Vanilla Cake Mix
2. Decadent Triple Chocolate Cake Mix
To reduce the cleaning process, I baked the cake layers in round foil cake pans. Voila, great time saving tips!
Tips to Make the Best Black and White Cake:
Ingredients should be at room temperature before you start baking. Also, the oven should be pre-heated.
Make sure the cake is fully cooled before frosting it.
If the frosting is too thin, add more powdered sugar 1/4 cup at a time.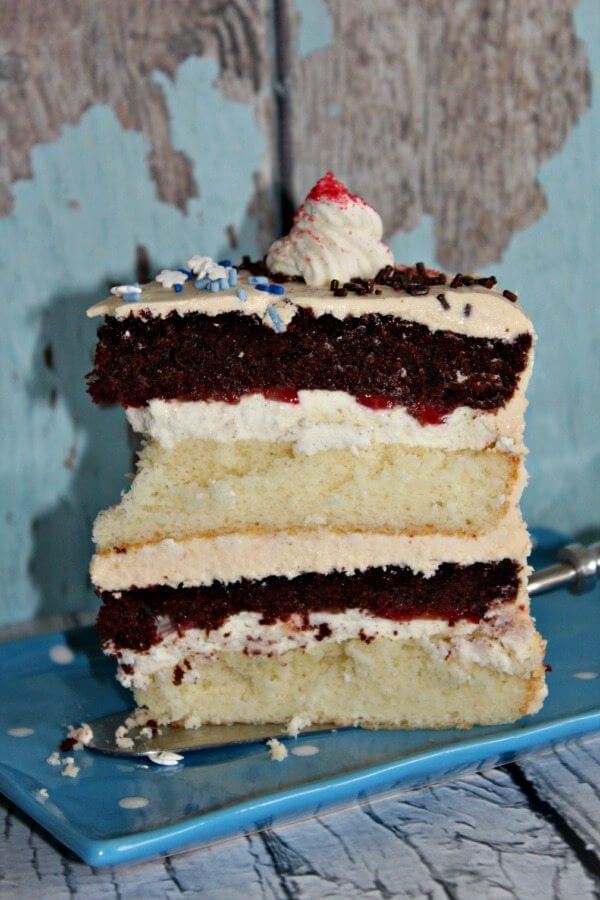 How to freeze cake layers:
You can make the cake layers in advance and freeze them, thaw them when you are ready to decorate the cake. To freeze the unfrosted cake layers, follow these steps:
Bake the cake layer and cool each layer on a wire rack. Make sure the cake layers are fully cooled before freezing.
Wrap each cake layer in plastic wrap, preferably freezer wrap. After that wrap tightly in aluminum foil and place in a freezer ziplock bag (if it fits).
Write the date and cake type on the ziplock bag.
Lay the cake layers flat in the freezer.
Cakes can be frozen for up to 3 months.
Save Recipe
Black and White Cake
Author: Catalina Castravet
Serves: 12 slices
Prep time:

1

hour

50

minutes
Cook time:

30

minutes
Total time:

2

hrs

20

mins
Ingredients
For Cake Layers:
For Vanilla Mascarpone Buttercream
For Caramel Buttercream
Instructions
For Cake Layers:
For Vanilla Mascarpone Buttercream:
For the Caramel Buttercream:
Assemble the Cake
Nutrition information
Calories: 441 Carbohydrates: 57 Protein: 3 Fat: 22 Saturated Fat: 14 Cholesterol: 92 Sodium: 120 Potassium: 59 Fiber: 0 Sugar: 49 Vitamin A: 435 Vitamin C: 7.1 Calcium: 38 Iron: 0.5
Save Recipe
More recipes you might love
Categories: