BBQ Chicken Enchiladas stuffed with mushrooms and jalapenos are the ultimate comfort food. Easy to make in the slow cooker, this is a perfect weeknight family dinner.
We love making easy and delicious comfort food that feeds a crowd, like our famous Chicken Jalapeno Casserole, Chicken Pot Pie Pasta and Chicken Enchilada Pasta.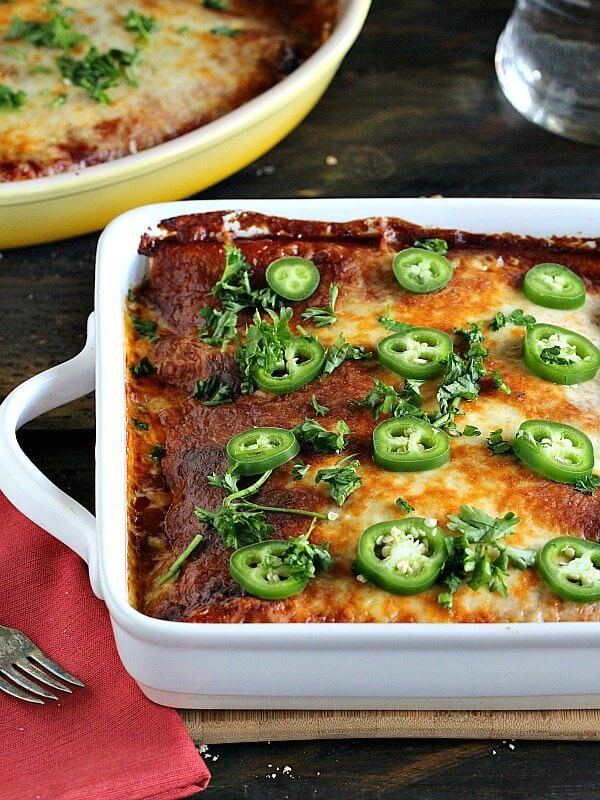 BBQ Chicken Enchiladas with Mushrooms
These BBQ Chicken Enchiladas are stuffed with slow cooked chicken and soaked in sweet BBQ sauce. A mixture of sauteed mushrooms, jalapeno and onions is added as well. Topped with an amazing BBQ enchilada sauce, sliced jalapenos, chopped parsley and an ocean of cheese, these BBQ Chicken Enchiladas are comfort food at it's best.
BBQ Chicken Enchiladas is an easy to make dinner, while the slow cooker does most of the work. All you have to do is stuff the tortillas, and cook the jalapeno mushrooms mixture, which only takes 10 minutes. Then roll the tortillas, top them with enchilada sauce, cheese and bake. The enchilada sauce is also delicious, it absorbs all the liquid from cooking the chicken in the slow cooker. As a result, you will have a meal full of flavors for family to enjoy.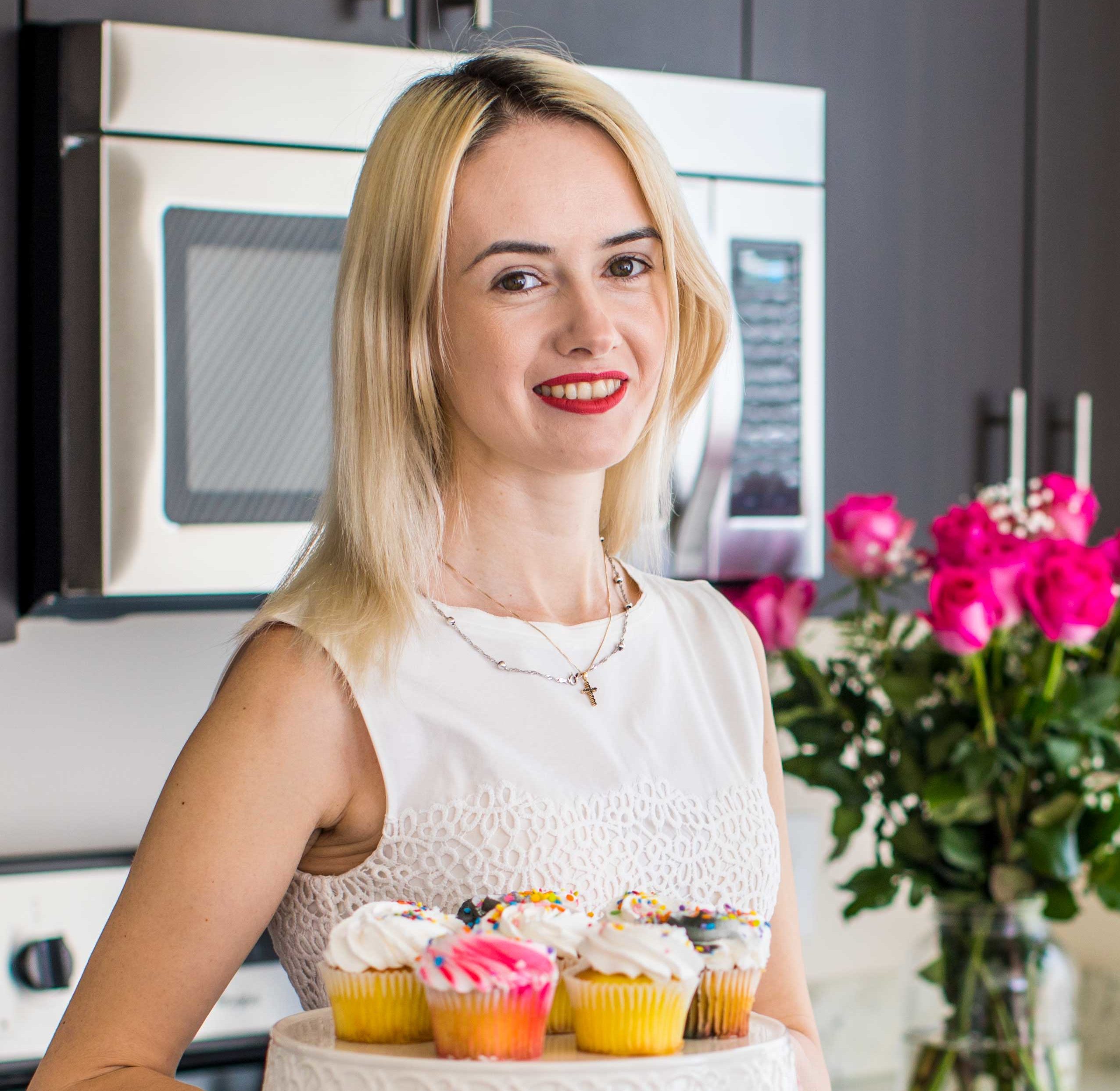 Follow us on Pinterest for more delicious recipes!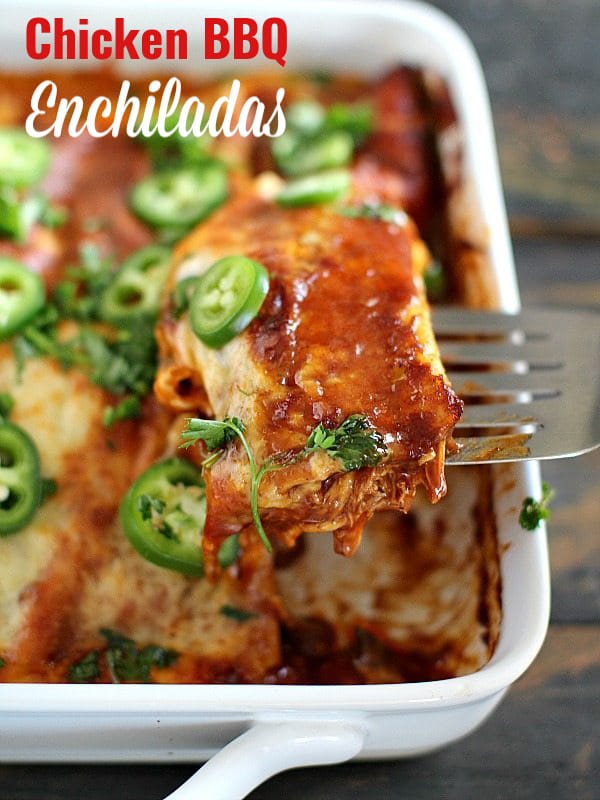 BBQ Chicken Enchiladas Recipe Tips:
I like to make this recipe with chicken breast, but you can also use boneless/skinless chicken thighs or pork.
Once you start shredding the chicken, add as much sauce as needed to make it moist, but not soggy.
You can add even more garlic, or if you please less, I personally love garlicky meals, so the more the merrier for me.
For a spicier kick, add 1-2 teaspoons of red pepper flakes.
You can adjust the taquitos liking as you prefer, you can skip the corn and just add cheese. You can also add chopped bell peppers and mushrooms.
Crockpot – I cooked the chicken in the slow cooker first, but you can save some time by using rotisserie chicken.
BBQ Chicken Enchiladas topping suggestions:
Cheddar cheese or American cheese
Chopped green onion
Dollop of sour cream
Crema fresca
Fresh salsa
Chopped jalopenos and guacamole.
How to freeze BBQ Chicken Enchilada:
To freeze, transfer the mixture to a buttered 9-by-13-inch freezer-to-oven baking dish. Cover tightly with aluminum foil. Freeze for up to 3-4 months. Bake, frozen and covered with foil, at 350°F, for 30-40minutes.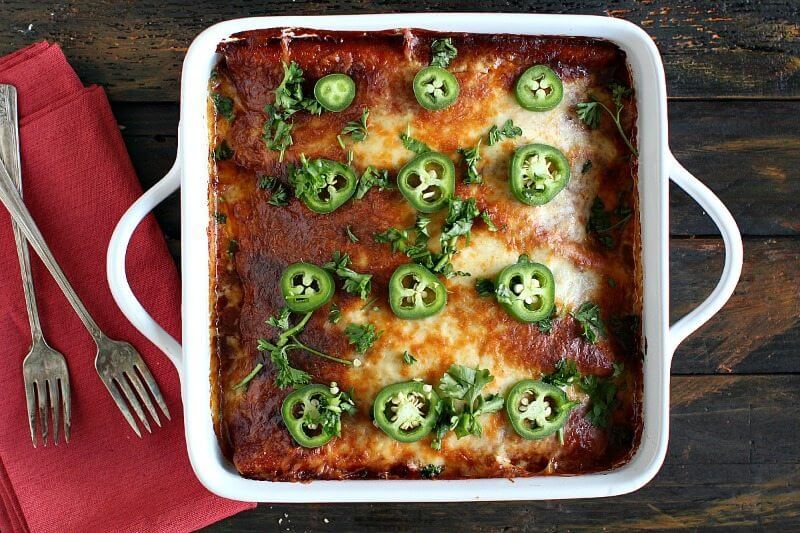 Love Slow Cooker Recipes? Check these out:
Save Recipe
BBQ Chicken Enchiladas with Mushrooms
Author: Catalina Castravet
Serves: 10 servings
Prep time:

30

minutes
Cook time:

5

hours

30

minutes
Total time:

6

hrs
Ingredients
Filling:
Enchilada Sauce:
Garnish:
Instructions
Filling:
Enchilada Sauce:
Assembling & Baking:
Nutrition information
0 Calories: 455 Carbohydrates: 53 Protein: 31 Fat: 13 Saturated Fat: 7 Cholesterol: 51 Sodium: 2375 Potassium: 914 Fiber: 3 Sugar: 30 Vitamin A: 950 Vitamin C: 10.5 Calcium: 398 Iron: 2.9
Save Recipe
More recipes you might love