No Knead Vanilla Ricotta Doughnuts Recipe
This post may contain affiliate links. Please read my disclosure policy.
Very easy, ready in 30 minutes, these ricotta doughnuts recipe is a must try, with vanilla glaze, pistachios and graham cracker crumbs.
How are you guys, are you ready to eat some doughnuts? I am asking because this Vanilla Ricotta Doughnuts recipe is ready in minutes, there is no crazy technique involved, the secret ingredient is the ricotta cheese, that makes these donuts rich, a little chewy and very delicious.

These are so perfect for busy families, they are fun to make with children, and hey they are loaded with calcium from the ricotta cheese, so don't feel that bad serving them for breakfast. You don't even need an electric mixer for these, all you have to do is mix the ingredients in a bowl, roll, cut the doughnuts, fry and enjoy.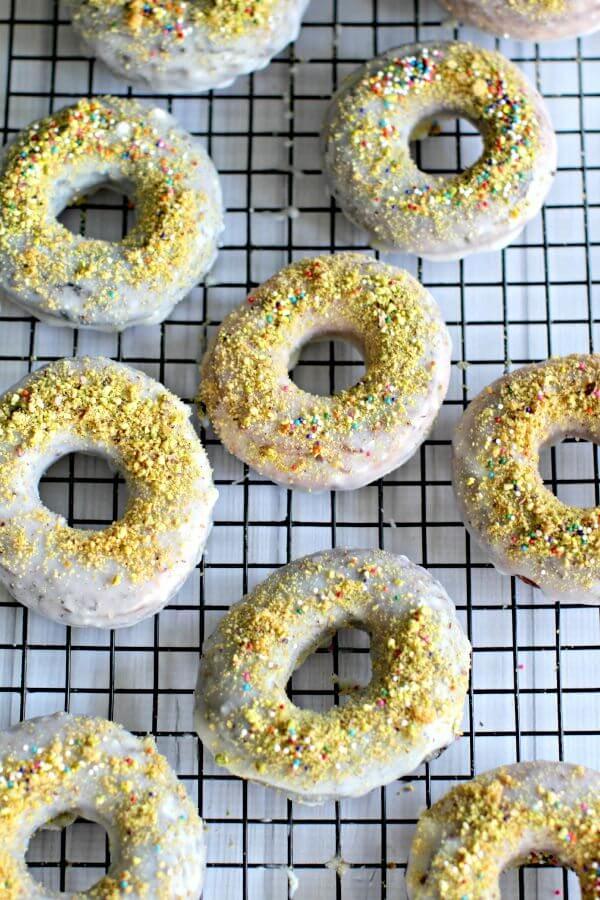 My baby was invited to a picnic party, and obviously I had to make/bake something. These donut recipe is very popular in Eastern Europe and as well Italy. The ricotta cheese adds some texture, so they are not airy like the regular western donuts, they are chewy, and by the way you can't taste the cheese, it just adds lots of texture.

MY LATEST VIDEOS
I have topped the donuts with a vanilla bean icing, crushed graham crackers and grinded pistachios, the combination of flavors is irresistible, they totally melt in your mouth, and I just love how easy they are to make. They are definitely a sweet treat that can be done during the week, so busy moms take a note and save this recipe.
Traditionally in Eastern Europe these ricotta doughnuts are not topped with icing, they are served naked with sour cream and jam, so if you want to try the traditional version go ahead, I prefer mine dressed up with icing, you can add a handful of chocolate chips to the icing for a chocolate glazed doughnut. The doughnut holes were also fried and rolled in vanilla glaze, graham crackers and pistachios, for a sweet little bite.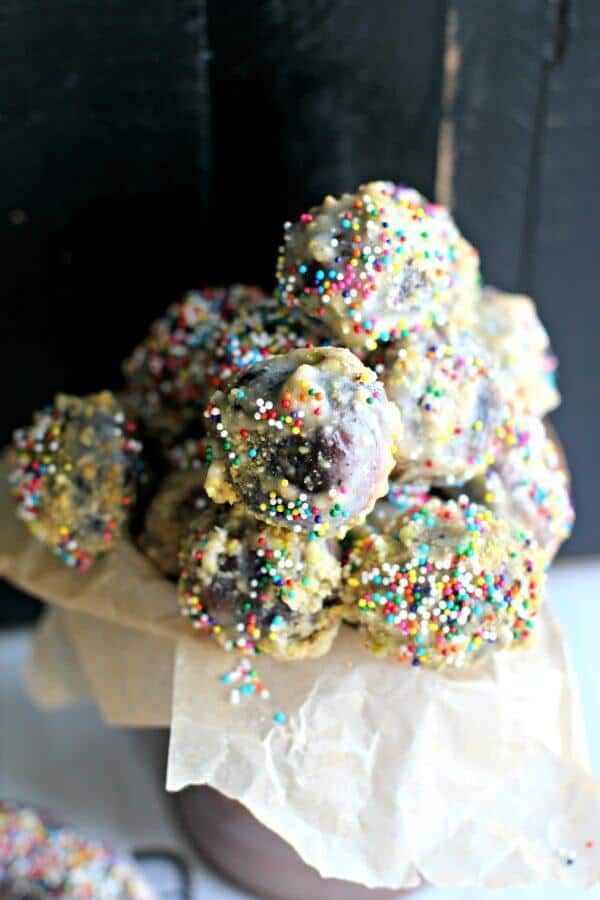 If you are a donut lover you have to add these bad boys to your collection, this ricotta doughnuts recipe is the perfect one to start with, its easy to follow, and you can dress up your doughnuts the way you want, if you want to go a little crazy add some mini chocolate chips to the dough, the chocolate will melt in delicious puddles of goodness, and well, chocolate makes everything better, even doughnuts!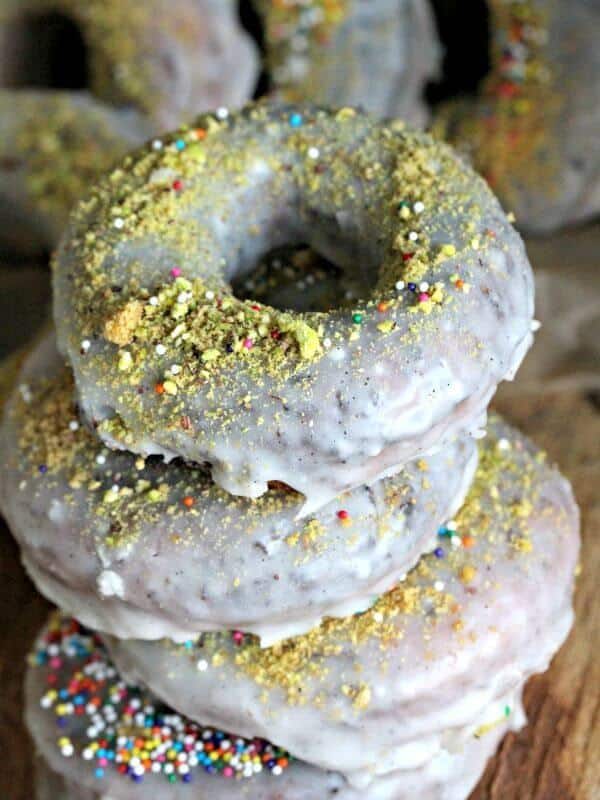 30 Minutes No Knead Vanilla Ricotta Doughnuts Recipe
Very easy, ready in 30 minutes, these ricotta doughnuts recipe is a must try, with vanilla glaze, pistachios and graham cracker crumbs.
Author:
Katalina Kastravet
Ingredients
For the Doughnuts:
1 lb ricotta cheese
2 eggs
⅓ cups of granulated sugar
2 cups flour, plus extra for the working surface
3 vanilla beans, cut in half and seeds removed
¼ teaspoon baking soda
¼ teaspoon baking powder
1 cup canola oil
For the Glaze:
2⅓ cups powdered sugar
¼ cups whole milk
3 vanilla beans, cut in half and seeds removed
Optional:
½ cup grinder pistachios
½ cup graham cracker crumbs
sprinkles
Instructions
For the Doughnuts:
In a large bowl using a fork, mix together until just combined ricotta cheese, eggs, vanilla seeds and sugar. Add the baking powder, baking soda and flour. Mix with a fork or spatula until combined.
Sprinkle a little flour on a working surface, form the dough in a ball, place on the working surface and roll into a ½ inch disk.
Using a water glass, dip it in flour and cut circles, using a shot glass, dip it in flour and cut holes in the circles.
Place a large skillet on the stove over medium heat, when the skillet is hot add the oil, and wait for the oil to heat up, about 1 minute. Place doughnuts into the hot oil and cook until they start to have a golden, light brown color, turn on the other side and cook until light brown (about 1 minute on each side), watch them carefully as they can be burned quickly. Remove and place on paper towels to absorb extra oil.
Repeat with the rest of the doughnuts and doughnut holes.
For the Glaze:
In a small saucepan over medium-low heat, whisk together sugar, milk, and vanilla. Glaze should be heated through, but doesn't need to come to a boil. Remove glaze from heat and start dipping the doughnuts, place them on a wire rack and immediately garnish with sprinkles, pistachios and graham crackers crumbs.

mmmmm, hi beauty: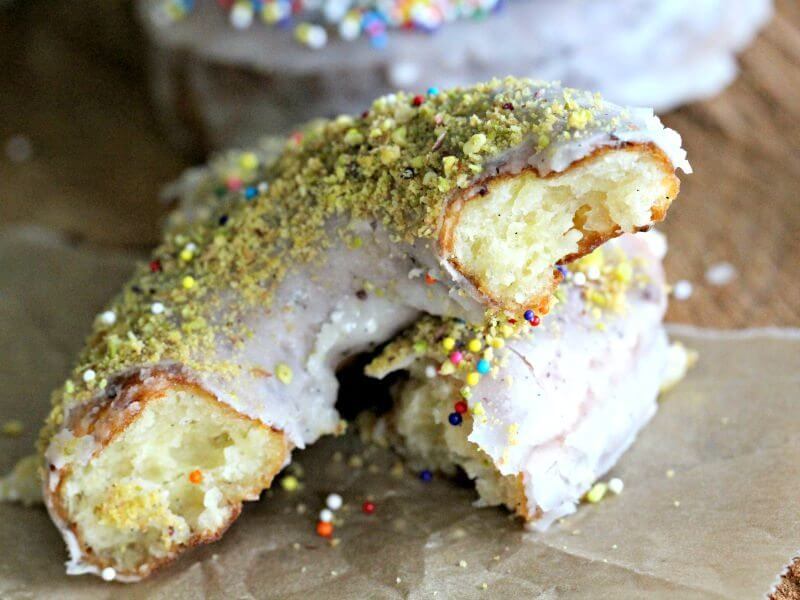 Peas and Peonies, LLC. owns the copyright on all images and text and does not allow for its original recipes and pictures to be reproduced anywhere other than at this site unless authorization is given. If you enjoyed the recipe and would like to publish it on your own site, please re-write it in your own words, and link back to my site and recipe page. Copying and/or pasting full recipes to social media or personal blogs is strictly prohibited. Sharing this recipe is very much appreciated and encouraged. Read my disclosure and privacy policy. This post may contain affiliate links.